Most Recent Update: January 19, 2022*
Stay safe, everyone. I love you. - Lynnita
The KWE is online throughout 2022 thanks to a web hosting gift that was given by Maurice "Dick" Wainwright
in honor of the Korean War veterans of the Casualty Section, Adjutant General's Office, Headquarters, 45th Infantry Division.
*Updates are generally made on two locations on this page: Latest News and Newest Additions. Be sure to check both places when you see that an update has been made.
This website was created by Lynnita Brown, founder, Korean War Educator. Lynnita, who holds Korean War veterans in the highest regard, is solely responsible for the monitoring and posting of all of the contributed and self-generated text that appears on the Korean War Educator. Technical changes to the website are courtesy of Webmaster Jim Doppelhammer, who also has a strong appreciation for our nation's veterans. Lynnita can be reached at 111 E. Houghton St., Tuscola, IL 61953; ph. 217-253-4620 (home). Lynnita's e-mail is lynnita@thekwe.org. Lynnita holds three jobs, so the best time to reach her is at home in the evening. (She stays up late.)
Thank you to all veterans for
protecting our freedom.
- Lynnita
---
Page Index:
Recent Updates:
January 19, 2022 - See Newest Addition
January 04, 2022 - See Newest Addition
January 02, 2022 - See Latest News

December 14, 2021 - See Newest Addition
December 12, 2021 - See Newest Addition
December 07, 2021 - See Latest News
December 07, 2021 - See Latest News
November 06, 2021 - See Newest Addition
October 29, 2021 - See Latest News
---
Latest News:
[The following news and commentary is posted with the most recent news at top, followed by older news. Latest News is written by Lynnita Brown.]
Thanks to a $200 donation from Holly H. Ryan of Connecticut, two more years of web hosting were funded in memory of Holly's father, Sgt. William J. Huebner. A war correspondent, 3rd Infantry Division veteran, and twice-recipient of the Bronze Star, Sergeant Huebner's Korean War experiences are currently in the works of our webmaster's computer and will soon be available for viewing on the KWE. [Posted 1/02/2022]
---
The General Operating Fund of the KWE was boosted this week with a $1,000 donation in memory of our dear friend Charles Scott. As mentioned in our October 06 update, Charles (Sr.) died on September 09 of this year. Throughout the past several years he and his family have been strong supporters of the Korean War Educator. Even in his pending death he thought of the KWE and me, and we will be forever grateful to him--not only for his financial support, but also for his terrific Korean War memoir posted on the KWE. Our thanks to his daughter RuthAnn for her loving support, too. [Posted 12/07/2021]
---
Tucked inside his Christmas card to the KWE was a $100 gift to our General Operating Fund from 1st Sgt. Jerome Bonkowski (USMC Ret.) of Illinois. A repeat supporter of the KWE, we appreciate his "Merry Christmas" note and gift. Have a very Merry Christmas yourself, "Bonkers". [Posted 12/07/2021]
---
I am pleased to announce that a check in the amount of $5,000 has been awarded to the Korean War Educator. The following news release explains the grant.
"A non-profit organization in Tuscola, Douglas County is the recipient of a $5,000 grant from Illinois Humanities, with funds from the National Endowment for the Humanities and the American Rescue Plan Act of 2021. The Korean War Educator, a foundation established and operated by Lynnita Aldridge Brown of Tuscola, was one of 254 organizations in 72 Illinois counties to benefit from the grant program.

Noting that some non-profits are often by-passed by traditional funding streams due to size, organizational capacity or geographic location, the IHC offers them an opportunity to apply for general operating funds. According to Brown, the grant to the Korean War Educator (KWE) will be used to transcribe memoirs of Korean War veterans, generate new topics pages for the KWE website at www.thekwe.org, and provide funds for various general operating expenses associated with those two objectives.

Illinois Humanities, the Illinois affiliate of the National Endowment for the Humanities, is a statewide nonprofit organization that activates the humanities through free public programs, grants, and educational opportunities that foster reflection, spark conversation, build community, and strengthen civic engagement.

The Korean War Educator is one of the largest all-Korean War websites in the world, receiving over a million visitors per year. The KWE provides general and specific information about the Korean War, including an array of veterans' memoirs, casualty data, award citations for heroic action in Korea, branch accounts, minority involvement, and much, much more. A new Topics page about African-Americans in the Korean War is near completion. Sponsored by Sheila Kronenberger of Southern Illinois, the page includes little-known facts about the role of black Americans who fought and participated in the war. The IHC grant will make the site's new Native American page possible, as well as the transcribing and posting of Illinois-based Korean War veterans memoirs and other topics."
Needless to say, we are thrilled at the award! Our thanks to the Illinois Humanities Council for understanding our need. [Posted 10/29/2021]
---
It has come to our attention that quite a lot of Korean War history is being lost needlessly because one particular aspect of the many unique opportunities available to veterans through the Korean War Educator is little known. The KWE exists to educate the public about the Korean War--at no cost to Korean War veterans. Here is what is happening that doesn't need to happen:
Individual Korean War veterans and Korean War veteran reunion groups often have small, medium and large websites on the Internet. Unfortunately, as the veterans age and financial resources to stay online dry up, these informative websites are being pulled off the Internet one by one and the history found on them is being lost forever.
Please spread the word that the Korean War Educator's "Topics" page can absorb these increasingly-disappearing websites at no cost. All you have to do is turn the text and photographs over to the KWE for permanent posting on the Korean War Educator. Naturally, a little money to help make the transaction would always be welcome, but it is most certainly not mandatory. The KWE is a free service to Korean War veterans and always will be--no strings attached. How does one move a Korean War-related website over to the KWE? Simple. Contact Lynnita! [Posted 8/29/2010]
---
Do you have a short story about Korea? Send it our way! We have recently opened a short story section on the KWE's Memoirs page. Lynnita's e-mail address is lynnita@thekwe.org. Her U.S. mail is Lynnita Brown, 111 E. Houghton St., Tuscola, IL 61953. Be sure to include a picture of yourself to go along with the story. Sending more than one picture is okay, too. [Posted 2/16/08]
---
Newest Additions to the KWE
---
Notice:
Officials of a past administration of the Korean War Veterans Association, Inc. telephoned the KWE's largest funding source to date to request that it not support the Korean War Educator. (Korean War veterans everywhere should be outraged at the KWVA's maltreatment of the KWE.) Subsequent KWVA administrations have done nothing about this injustice. As a result, that funding source is no longer available to the KWE. Until the Korean War Educator receives another grant, your financial support is needed to help keep the Korean War Educator going. Please join as a member, because your dues money is what keeps this site going. You are always welcome to e-mail me at lynnita@thekwe.org or call me (217-253-4620 at home or 217-253-5171 Thursday-Saturday at my store) Illinois time if you have comments, concerns, questions, or suggestions. [Posted 2004]
--
As always, Korean War veterans and their families throughout the world are invited to participate in the educating of the general public about the Korean War by sending information, memoirs, photos, and more to the Korean War Educator. - Lynnita Jean Brown
---
A Team Effort
The Korean War Educator is a team effort between Lynnita Brown of Tuscola, Illinois, as well as Korean War veterans and their families worldwide. Lynnita is directly involved with the daily updates visitors see on the KWE. All text appearing on the Korean War Educator is either generated by or routed through Lynnita. Webmaster Jim Doppelhammer handles the technical aspects and makes improvements to the Korean War Educator website. If you find a technical glitch anywhere on the site, be sure to contact Jim at webmaster@koreanwar-educator.org. If you find text errors on the site or want to add material to it, be sure to contact Lynnita at lynnita@thekwe.org. We'll see what we can do to fix them. If our KWE visitors see typographical and/or grammatical mistakes, Lynnita encourages those who discover them to contact her. There is no such thing as an error "too small" to be corrected.
Lynnita can be reached by phone at 217-253-5171 (her store) from 10 a.m. until 3 p.m. Thursday through Saturday (and generally on Monday-Wednesday from May to December, too--but not always!). Her home phone number in Illinois is 217-253-4620 (she rises early and stays up late). Feel free to reach Lynnita is at her home number if you can't catch her at her store. If she is not home, your call will be picked up by an answering machine or her husband, Dale. Please feel free to leave a message. She will call you back--probably the same day or evening. Her e-mail address is lynnita@thekwe.org.
---
KWE Progress Report
Site Statistics:
As of April 17, 2011, the KWE has had 192,390 since January 1, 2011.

A review of the Year 2010 traffic statistics for the Korean War Educator shows that 681,927 visitors stopped by to view the Korean War Educator from January 1 through December 31, 2010.

The Korean War Educator had 810,676 visitors in the year 2008. As the site continues to grow, so will the number of visitors. As an example of the KWE's fantastic growth rate, just think. In the year 2004 the KWE had only 24,152 visitors! The majority of visitors to the KWE website were from the United States, with visitors from the United Kingdom second and visitors from China third.

As of January 7, 2008, the KWE had 141,459 page views per month and an average of 2,000 visitors per day. The KWE website contains 5,645 files (748,966 KB). It has 3,364 photographs. There are 21,404 hyperlinks.

Due to a change of web hosts, we only have January and February and the December statistics from 2007, showing approximately 27,500 visitors per month in January/February and 30,000 visitors in December.

From 1/1/06-12/31/06, the KWE had 183,640 unique visitors (again, many came back to view the site over and over again, but they were only counted once) who viewed 1,132,528 of its pages.

From 1/1/05-12/31/05, the KWE had 222,072 unique visitors (many came back to view the site over and over again, but they were only counted once) who viewed 775,446 of its pages.
The Korean War Educator started to offer memberships at the end of September 2003. For the very first time, the Korean War Educator was able to use the General Membership dues ($10.00 annually) to establish a general operating fund that has enabled Lynnita to pay for her monthly internet connection, as well as incidentals such as reams of copy paper, ink cartridges, postage, etc., without taking it from her own pocket. Not only that, the Korean War Educator established an Endowment Fund to keep the Foundation going long after those of us living today have passed on. With an initial deposit of $50.00 (one half of the cost of Life Membership dues going into the Endowment) that special reserve fund has now jumped to $2,135.53, thanks to the most recent donations to it from the KWE's new life members Tom Cearlock and Carl Galey of Illinois. Our goal is to build up the principal in the account so that the annual interest will pay for each year's web hosting fees. You can find the roster of Korean War Educator members on the KWE's "Support" section at the top of all main pages. We are hoping that many more of our visitors will come aboard to help this great Korean War website become even greater. All funds go to support the Korean War Educator Foundation. No salary money is expended. Most of the KWE's limited funds are expended for internet/website expenses and printer ink.
It would be great if some of our regular visitors would support this important website by sponsoring a year of hosting (or more). Contact Lynnita at lynnita@thekwe.org about this possibility if you think you would like to sponsor a year's worth of KWE. The list of website sponsors to date is listed on the Support page of the KWE..
---
In Remembrance of Julian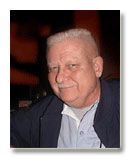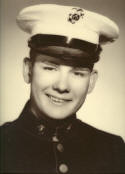 It is with great sorrow that I inform Korean War veterans and our other site visitors about the death of Julian "Buck" Blagg, original webmaster of the Korean War Educator website and a fine Marine. He died of lung cancer at 6:00 a.m., Sunday, June 1, 2003, at the age of 66. Julian was my dear friend, and I miss him. He helped me give the world the Korean War Educator.
- Lynnita Brown, Founder, KWE