Omaha Central High Korean War Casualties ~ 50th Anniversary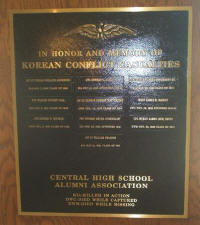 The fourth weekend of July, 2003 will be the 50th anniversary of the end of hostilities in Korea.
In 2001, Max Kennedy, an Omaha Central alumni, and Ginny Bauer, a staff member at the school, initiated their research to find the Omaha Central alumni who were casualties of the Korean conflict. Using the internet, school files and input from other Central alumni they found ten Central Korean casualties.
On Saturday July 26, 2003 at 1:00 pm in the Abbott Lecture Hall at the Joslyn Art Museum, a ceremony will be held to honor the casualties. Family members and friends will gather at the Durham Café in Joslyn prior to the ceremony for an informal luncheon. Relatives of the deceased are coming from Texas, Georgia, Colorado, California, Wisconsin, Oregon and Ohio for the dedication of a plaque with the ten names. Either a classmate or a family member will give a remembrance for each of the casualties.
Other participants in the program will include the Korea War Veterans Association, Nebraska Chapter #1 (invocation); The Epstein-Morgan Post, Jewish War Veterans (benediction); Central's ROTC (posting colors); and Central's band (playing taps). The plaque was provided by a Central alumnus, Jack Kidwiler.
It has already been placed in the east entryway of Central near memorials of Central casualties of World War I, World War II and Vietnam. For more information on the ceremony contact Max C. Kennedy, 402-398-1536 kenad@concentric.net .
Thanks to Max & Janeen Kennedy (kenad@concentric.net) for sending along this picture and information.