Hyannis, MA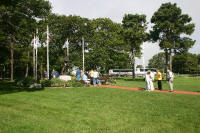 (Click picture for a larger view)
KWVA Cape Cod & Islands Chapter 1 Memorial
Veterans Park, Ocean Street
Photo courtesy Don Duquette.
Don also wrote: "Maybe you could use these two newspaper stories (or any part of them) to go along with the picture of our memorial that I sent yesterday."
Local soldier in famous photo missing after action
May 07, 2000 - by Tony Nauroth, The Express-Times
Lehigh Valley veteran John J. Allen is to be immortalized in bronze on June 25. That's when a Cape Cod, Mass., veterans group will dedicate a statue modeled from a famous photograph of Allen shot near Suwon, Korea, in 1951.
The only thing that might be missing at the June ceremony marking the 50th anniversary of the outbreak of "America's forgotten victory" is Allen himself. Despite a search through a thicket of people with the last name of Allen gleaned from Lehigh Valley telephone books, Internet searches, and contacts with local veterans organizations, little information on the man or his relatives, has been found. Several potential contacts actually named John J. Allen have denied any connection to the Korean vet.
Stan Jones, a member of the Korean War Veterans Association of Cape Cod & Islands Chapter I, said he has exhausted his resources. He turned to The Express-Times several months ago for help. "We would like very much for Mr. Allen, or his surviving relatives, to attend the unveiling," Jones said.
It seems Allen has dropped off the face of the Earth. The photographer who snapped the famous photo last saw Allen on a railroad platform somewhere in a small town in California at a newsstand where they both peered at a magazine cover featuring Don Duquette's photo.
"It was a coincidence," former Army combat photographer Duquette, now of Massachusetts, said last week. Both men were on their way home from the war. That was the second and last time they saw each other, although Duquette said he did write to Allen once afterward. "But it turned out we had little in common," Duquette said. Asked if he still had Allen's address, Duquette said, "I did have it in an old address book, but I threw it out a long time ago ... I wish I
hadn't."
Duquette said his photo was on the cover of "Look" or "See" magazine. It also appeared in several books on the Korean War, such as "In Mortal Combat -- Korea, 1950-1953," by John Tolland. "I wish I was collecting royalties," Duquette said.

The photo remains an icon of the spirit demonstrated by the infantryman in Korea. With rifle at the ready and bayonet fixed, the heavily shadowed Allen climbs a scrubby Korean hillside. He seems to be saying, "Follow me, boys!" It has been compared to the much more famous photo of Marines raising the American flag at the peak of Mount Suribachi on the island of Iwo Jima near the end of World War II.

In February and March 1951, the U.S. Eighth Army was recovering from the Chinese onslaught that had driven United Nations forces from the Yalu River down to the midpoint of the Korean peninsula. Duquette took the photo near the town of Suwon. Duquette said he was assigned by the Army to document the actions of the 25th Infantry "Tropic Lightning" Division, which included Allen's unit, the 35th Infantry Regiment. "My job was to go anywhere in the division to take photos," Duquette said. "I don't remember too many specifics of the photo. I talked with him for maybe a half hour."

Duquette says Allen came from Allentown and would be between 68 and 70 years old now. A check with William Allen High School yearbooks from 1945 to 1952 -- the time frame when Allen is likely to have graduated --reveals that no one by that name was in any of the senior classes at the city's only public high school at the time. He could have graduated from a parochial school, from another school somewhere else in the Lehigh Valley, or perhaps he did not graduate at all.
The mystery of the whereabouts of Allen or of his surviving family members comes at a time when Lehigh and Northampton county officials are searching for additional yet-to-be-identified Korean War veterans so they may be honored locally. On Friday, veterans and government officials kicked off the search near the women's Korean War memorial in front of the Lehigh County Courthouse. John J. Allen is only one among the missing.
The 8-foot-tall bronze statue will rest atop a 3-foot tall pedestal next to the memorial to John F. Kennedy overlooking Hyannis Harbor. Sculptor Robert Shure, whose work includes the Irish Famine in Boston, is casting the statue.
--
No longer missing in discharge
John Allen, whose photo is a model for a Korean War memorial, died in 1985.
By Tony Nauroth
The Express-Times
They called him "Jack" back where he went to high school in Frackville, Pa., about 50 miles northeast of Allentown. John J. Allen, whose famous photo is being used as a model for the Massachusetts Korean War memorial, was tracked down Tuesday to the Pennsylvania coal region in Schuylkill County where those who knew him say he was a nice guy. But his final destination is most likely under a plot of ground in Lantana, near Palm Beach, Fla. According to a Palm Beach Post obituary, Allen died Jan. 6, 1985. He was 58.
Elsie McHale of Kintnersville read of the search for Allen in a story Monday in The Express-Times. She read of the Cape Cod memorial organizers' unsuccessful efforts to find Allen in Allentown, where he was believed to have grown up. McHale knew better as soon as she saw the photo accompanying the story.
"That's Jack," she said. "He's not from Allentown. He's from Frackville." McHale remembers her mother shopping for stockings at Allen's mother's hosiery shop not far from where the Allen family lived at 9 Frack St. "I remember passing their house as a child and seeing them sitting on their porch all the time," she said. McHale e-mailed The Express-Times to steer the search in the right direction. She included the name of Roy Mengel, who is in charge of annual high school alumni reunions.
"I graduated in 1950," Mengel said Tuesday. "Jack graduated in 1946. I didn't know him that well, but I remember him as a real nice boy." Frackville historian Lorraine Stanton is the author of two books on Frackville history and included chapters about Allen in both of them. "We all called him Jack," said Stanton, who was one year behind Allen in high school.
When contacted by phone Tuesday, she flew to her Allen files, pulled out a "New York Times Magazine" article that was published in 1951, and insisted on reading from it. She said the photo was used with the story. The article said Allen was climbing a ridge near the present-day border
between North and South Korea when Don Duquette of Massachusetts, assigned as an Army combat photographer to cover the 25th Infantry "Tropic Lightning" Division, took the picture. The dramatic photo, compared in its power to the raising of the American flag on Iwo Jima in World War II, is actually named "The 38th Parallel," according to the article.
Allen was awarded the Bronze Star for heroism May 20, 1951. He was an only child and he never married. Allen attended the Neighborhood Playhouse School of Theater under the GI Bill and moved to New York City where he performed with the Lighthouse Theater for the Blind, according to his obituary. He appeared in several productions including, "Picnic," "The Glass Menagerie" and "Brigadoon."
Stanton's books, "Images of America: Frackville Book I" and "Book II" feature the photo. "I wanted to honor him because of the famous photo," Stanton said, "and because he was from Frackville. We only have 4,000 people. I'm really excited about it." Asked if she ever dated Allen, Stanton said, "Oh no, he was older. It just wasn't done but he was a great dancer."
Stan Jones is spearheading the June 25 dedication of the 8-foot bronze statue that will be placed next to the Kennedy Memorial in Hyannis looking out over Cape Cod Bay. Jones is a member of the Korean War Veterans Association of Cape Cod & Islands Chapter I. "The picture was chosen because of the dramatic action it portrays, and Don (Duquette) was a local guy who took the picture," Jones said Tuesday. "Basically it was nameless, and the statue is dedicated to the missing and killed in action, so we wouldn't want to individualize it. But it does make it more special now that we know what happened to him."
Despite the purposeful anonymity of the memorial, Jones originally wanted to find either Allen or a relative to attend as guests of honor. He now realizes chances of that are slim. With Allen dead, and with no siblings or offspring to represent him, only distant relations might still be found. So far, none has turned up. But Jones opened the door to anyone who might want to represent Frackville at the dedication.