A Patriot's Story - Written by Jay Conlan
"On October 6, 1952, the night sky above Outpost Frisco was filled with the artillery and mortar shells of the attacking Chinese army. The number of incoming rounds reached a rate of 1,000 per hour. Outpost Frisco was a forward observation point on a hill 600 yards in front of the main line of resistance. It was manned by one platoon of the First Marine Division.
Right in the middle of this fight was Newark-born Private First Class Herm Pizzi, the leader of a Marine fire team. During the bombardment, Herm was in a trench with three other Marines when an incoming round exploded, killing all three of the other men and leaving Herm with a concussion and broken ribs.
Before the barrage ended, the hillside was swarming with enemy soldiers who had tunneled underground for more than a mile to launch their surprise attack. They were bayoneting and burp gunning any Marine they could find. Herm, one of only eight Marines to survive the onslaught, was awarded the Silver Star, our nation's third-highest award for heroism. [Herm's exploits are best described in the Silver Star citation text below.] The American fighting force on Outpost Frisco consisted of one Marine platoon of about 54 men—only eight Marines walked off that hill.
Heroism was not a new trait for Herm Pizzi. Earlier in August of 1952, he was with a company of Marines on a Korean hill dubbed "Bunker Hill." His company was attacked by a Chinese communist battalion. They softened up the Marines with a 48-hour artillery barrage before launching their attack, which came in waves.
The Marines held Bunker Hill. When Herm was asked how he managed that against such an attack he said, "They wanted it, but we wanted it too, and we wouldn't give it up." Herm was awarded a citation for his fearless actions and devotion to duty.
During his tour of duty in Korea, Herm was wounded three times. One came close to ending his life. He and his fine team were ordered out on patrol. Herm and three other Marines went to get their gear which was stowed in a hut. As he picked up his flak jacket, they heard the twang of a grenade handle springing free. Someone had set a booby trap, removing the pin from the grenade and depressing the handle so that the grenade would detonate when he picked up the flak jacket. They all dove for cover, but took shrapnel. Fortunately, they all escaped with their lives. Unfortunately, they never found the person who set the trap.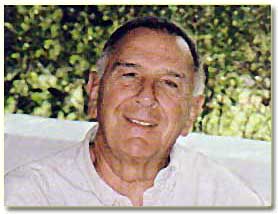 After his military service in 1953, Herm returned to college, where he earned his BS degree from Seton Hall University. He married his lovely bride, Maureen McKenna, in 1954, and the rest is history. Herm and Maureen have been married for 47 years, and revel in the stories about their five children and 11 grandchildren. Herm has been a tremendous asset to our club, serving on our board of governors for six years, and chairing numerous committees, including our Golf Committee, Long Range Planning Committee, and Senior Golf Committee. He has been a member of ECCC since 1981.
Herm is a reluctant war hero. I had to drag these stories out of him. I think if he hadn't just returned in May of this year from a Marine reunion in Branson, Missouri, he might not have been as nostalgic.
The Soviet-directed invasion of South Korea was the first major attempt at communist expansion since they gathered in the smaller European nations behind the iron curtain following World War II. Thanks to the men who fought for their country (like Herm Pizzi), the Russians failed in this attempt. In addition to the Silver Star medal, Herm was also a recipient of the Bronze Star, three Purple Hearts, and a Letter of Commendation with a Combat V for valor. (See Herm's citation below.)"
---
Citation Text: