Freedom is not Free
"Even though the horrible memories of the Korean War now grow dim in the world's conscience more than 50 years after the conflict, the memories are still quite vivid to me. I was just about 20 years old and living in the Seoul area when the war broke out on June 25, 1950. Over the next three years, I saw far more than my share of suffering, and felt the warmth of blood from numerous wounded and dying soldiers as I served with some of the bravest men this world has ever known."
"My contact with Americans dates to 1944 when I first worked with foreigners as an office boy in the Japanese government's offices in Korea. The Seventh U.S. Army's 32nd Regiment, under the command of the then Lieutenant General and later Captain Philips, came triumphantly into Seoul through Inchon without firing a single shot on August 15, 1945, and freed Korea from 36 years of provincial Japanese rule. Captain Philips befriended me and eventually adopted me, letting me stay with him and his dog, Lady."
"In 1949, Captain Philips helped me to get a job as office boy with the newly formed U.S. Embassy at Eul-Ji-Ro near the Ban Do Hotel, now the site of the Lotte Shopping Mall. I was the first Korean to work in the U.S. Embassy. [KW Educator Note: Lee worked in the Embassy as an Economic Cooperation Administration (ECA) office boy, living in the Embassy as an official resident.] A year later, I moved to the K.M.A.G. (Korean Military Advisory Group) at Young-San [Seoul] to work as an interpreter for them. That's where I was when the war started. Just three days later, on June 27, 1950, three members of the People's Army came to my house and arrested me because of my association with Americans. They subjected me to brutal torture in an attempt to learn where the U.S. military base was located. Throughout this difficult ordeal, I remained firmly resistant and never gave them the answer they were looking for."
"The number of people who were placed in confinement was roughly estimated at 2,800, and the majority was the intellectual elite of the state. Apparently, their intention was to brainwash them in a way that they could support the political idea associated with communism and to constrain obedience to the orders of the communist leader, Kim Jung-Il."
"After 95 days of confinement in a temporary jail located at the Soo-Sung Elementary School (now the JongRo District Office Building), I managed to carry out an escape plan that I had dreamed up, realizing that if I failed, it would be the end of my short life. [KW Educator Note: Lee escaped the temporary detention center at Soo-Sung Elementary School on September 27, 1950.] The hardships that I went through during the period of imprisonment are hard to describe with words. At about the same time, General MacArthur recaptured Seoul from the hands of the enemy."
"Throughout the rest of 1950, I served as a 1st Lieutenant with the ROKA, acting as an interpreter in numerous and varied situations. I worked with the U.N. forces attacking North Korea under Colonel Smith, K.M.A.G. (8th Army) supporting the ROKA 1st Cavalry, 12th Regiment under the command of Kim Suk Won. When the Chinese attacked the center of our front lines on December 1, I was with the U.N. forces that got surrounded at Pony Horse Passageway. How I ever endured for three days with no food in the 30-40 degrees below zero temperatures, I'll never know. At last, a British tank rescued me, the only survivor in the ice and snow at the frozen Chong-Chong River. I landed in the emergency room of a crowded medical tent, suffering from the effects of the cold and malnutrition."
"In times of war, military formalities are often forsaken for the more expedient. When one of the doctors at the field medical station, Lieutenant Commander Robert Guilleudeau, 8th Army, 629 Medical Clearing Company, 3rd Platoon, learned that I was an interpreter, he asked me if I would serve under him. [KW Educator Note: Robert Guilleudeau died in 2000.] I agreed, so with no fanfare, he promoted me to the rank of Lieutenant Commander in his platoon. He removed the Lieutenant Commander bars from his uniform and had me wear them on my hat, assuring me that he would report my position and status to the U.S. Army command." [KW Educator Note: The 629th Medical Clearing Company (Separate) was stationed at Wonju in 1951 and at Taegu in 1951-52.]"
"Needless to say, interpreters were rare and hard to find near the front lines, so I was called upon to do many hard and dangerous jobs, often outside our platoon. We consisted of two medical officers, 12 nursing aids, and one interpreter--me. Our patients were wounded U.S. Army, Japanese-Korean student soldiers, and enemy Chinese and North Koreans. My assignment was to induct them, taking their medical histories and making medial cards for them as well as stripping them of any weapons they might have brought with them. Once patients were stabilized with first aid, we air evacuated those who needed further treatment to Japan or Pusan in C-47 or C-54 transports. Sometimes soldiers died along the way."
[KW Educator Note: According to Bob Miller of Phoenix, Arizona, an Air Force veteran who worked with Mr. Lee at Hahn Air Base, the patients were transported from temporary air strips to Hahn AFB at Seoul, and then on to Tokyo General Hospital. In a testimonial letter about Mr. Lee's service during the Korean War, Miller stated, "I met and worked with Mr. Lee at Hahn AFB at Seoul, Korea, where we received and transported many patients to Tokyo General Hospital. His expertise with the languages was essential in explaining to those who did not speak English where they were being sent, and what would happen to them when they were well."]
"Closer to the front lines, there was a temporary airfield. About two hundred empty one-gallon cans were filled with D gel and put on both sides of the runway about every 20 or 30 meters. They were then set on fire to let arriving pilots locate the airfield. A searchlight also let them know the location."
"I remember that one day there was a line of people heading south to take refuge. I saw a pregnant woman with mud all over her. I picked her up and brought her to our field hospital. She delivered a healthy boy. After three weeks, she got her health back and I sent her and the baby to the Hong-Cheon Refugee Camp. This memory makes me very happy."
"When the situation where I was seemed as hopeless as it could be, a 'savior' came along in the form of the U.S.S. Consolation (AH-15). In spite of frigid 20 to 30 degrees below zero temperatures and gale winds with snow and freezing rain in the East Seas during December and January of 1951-52, this valiant ship and her crew risked their lives while under nearby enemy artillery fire. U.S.A.F., U.N., and U.S. Marine planes offered the ship a degree of protection 24 hours a day as intensive care and emergency surgeries were performed day and night. We had two helicopters that transported 20 to 30 patients a day between the war zone and the ship. Besides a medic and me, the choppers could carry up to two patients at a time in litters. I personally was responsible for rescuing about 3000 soldiers through this operation."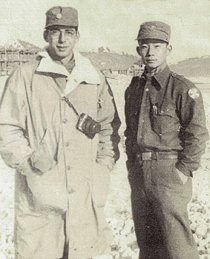 "There was often considerable tension between the enemy soldiers and our guys. One of my frequent duties was to restore law and order among the patients. During my time that I wore that Lieutenant Commander insignia, I never questioned the fact that I was a Lieutenant Commander in the U.S. 8th Army, and neither did the people whom I served and worked with. For around 18 months, my life was in constant jeopardy as I plodded through the miserable fields filled with a strange mixture of mud and blood. During August and September 1952, the temperature was 100-110. The flies were attracted to the smell of decaying wounds, and the maggots bred and emanated from inside the injuries. English, Chinese, Korean, and Japanese voices cried out, and I followed the voices that moaned and shouted out, 'Save me!' The noble of human life was over the limit of patience. What words could I express for this disastrous scene. I relentlessly struggled to save the lives of the young men who had forsaken their homes and families to help a far-away nation, with a foreign culture and language, whose people desperately needed their help. I wanted to do my very best to destroy Communism and protect Democracy."
"Even as the war started winding down near the time of the ceasefire in 1953, my life was never really what you would call safe. I was selected to be one of a three-man crew on a mission to drop propaganda leaflets in enemy territory, urging them to stop fighting and accept "freedom guarantees." Our plane from the Seventh U.S. Naval Carrier flew a low-level route between Kang-Won-Do, Gan-Sung, and In-Jae My job was to throw all the messages out of the window to the north side enemy zone. Shortly after all the messages were on the way to their targets, the plane suddenly shook and started to produce black smoke. The pilot was able to make an emergency landing at Hong-Chon Beach where he and I survived, but a third crew member died. The mission was judged to be a success because many Chinese and North Koreans came south; carrying the messages we had delivered."
"After the cease-fire, the need for interpreters became even greater due to the pending POW exchanges and the need to work out the terms and conditions of the agreements. The North Korean Army Chief of Staff, General Nam Il, refused to allow interpreters who were in the military services, so both sides had to resort to the use of interpreters from field hospitals, because they were deemed to be neutral."
"Major Guillaudeu approached me with an official document, requesting that I volunteer for the interpreter project. There was one catch; I had to relinquish my military status to do so. About a month earlier, I had been promoted to the rank of Army major, a position I took seriously and highly cherished. With the knowledge that there were young soldiers waiting to get back to their families and taste freedom and peace again, I chose to support them in the best way I could. Today, I have the satisfaction of knowing that I played a part in the exchange of at least some of the 230,000 war prisoners who made their way across enemy lines to return home."
"To the best of my ability, I've described the true facts and events I experienced in and around the time of the Korean War. I have in my possession numerous artifacts and pieces of evidence to substantiate the facts I have related here."
Lee, Hee Sung
---
Further Information Supplied by Major Lee:
The U.S.S. Consolation sailed for the United States in 1951 to Long Beach, California, where a new helicopter landing platform was installed. She returned to Pusan, Korea, arriving on 6 October. In December, the ship began Operation Helicopter, marking the first use of helicopters to evacuate casualties directly from the battlefield to a hospital ship.
"I still have memories about the field hospital ship (AH-15) that could hold up to about 3,000 soldiers. [KW Educator Note: The Consolation had 800 beds.] It was the first time that they came to Sok-cho-ri Sea in Kang-wo-do after World War II. About two miles from frontline to rear, we gave first aid treatment to wounded soldiers, and sent them to the rear by helicopters. The weather condition was 20-30 below zero, with gale sea wind, and the helicopter was flying 10 to 15 feet above ground-two patients each time with litter."
Richard Wagner of Westminster, Maryland was a ward corpsman on the USS Consolation from August of 1950 through June, July, and August of 1951. He remembers that the Consolation went back to the States for the installation of a helicopter platform, and then returned to the Korean War while he was serving on the ship After the helicopter platform was installed, Wagner rejoined the ship's staff, becoming medical records office technician on the Consolation from October of 1951 to May 14, 1952. He has an article that appeared in the New York Times that states that from December 16, 1951 to January 24, 1952, Marine, Air Force and Army helicopters made 23 landings on the Consolation, bringing a total of more than 400 patients. This was an experimental period for the new method of transporting wounded men directly from the field hospitals to the hospital ship.
Since 1999, Lee has presented some 500 medals to American Korean War veterans on behalf of the Korean people. On February 23, 2002, Major Lee presented a Korean War medal to Sgt. Major William (Bill) Conley, USMC, during a ceremonies day sponsored by the Ira H. Hayes American Legion Post No. 84. Bill Conley joined the Marine Corps in 1941, serving on Guadalcanal, New Britain, and Pelileu during World War II. He served on Guam and in China, but Conley was at Camp Pendleton when the Korean War broke out. He was sent to Korea, where he was a platoon sergeant and forward observer attached to H-3-5 Marines. On September 26, 1950, he was wounded in the back and hand by an exploding grenade. When he woke up, he and five others were among the wounded. Although wounded, the men walked back to battalion headquarters, and from there they went by jeep to Kimpo. From Kimpo, they were evacuated by air transport to a hospital in southern Japan. From there, the Marines went on to Yokosuka Naval Hospital. Due to a severe back injury and loss of one finger, Conley was back in the States by Christmas of 1950. Now a resident of Chandler, Arizona, Conley belongs to a group of veterans that is trying to get a monument in Sacaton, Arizona, in memory of Ira Hayes. Hayes made history when he helped to raise the American flag on Mt. Siribatchi after the battle for Iwo Jima. Korean War combat veteran Bill Conley has highest regards for Hayes, whom he met in person in Washington. He said that the Sacaton native grew up in poverty. Still, Hayes went on to graduate from high school, join the Marine Corps, and fight in World War II. Conley noted that Hayes also graduated from jump school-a school strictly reserved for "the best of the best."
---
Message to Korean War Veterans from Major Lee:
"Today a half century has passed already, but Korean War veterans still need medical treatment in their countries. In the about 18 months that I was at the battlefield aid station, we evacuated about 150,000 wounded soldiers through the 629th Medical Clearing Company, 3rd platoon. Who knows the miserable circumstances we saw, and who knows what is a war. To all the soldiers who fought in Korea, God will congratulate that. And from the bottom of my heart, thank you for all your military services and distinguished military services. The Korean people will never forget what you did for them, and it will brighten the world's people and American history in a future and new generation forever. Remember - Tell America - "Freedom is not free." You are good men and good soldiers. God bless you all. God bless America."
- Lee, Hee Sung