[The following memoir was written by Pell Johnson, based on the journal of his cousin, the late Dwight Raymond Johnson. Pell forwarded it to the KWE for inclusion on the website.]
Memoir Contents:
---
Dwight Raymond Johnson remembered the day he enlisted, January 13, 1951. Was it a 20th year birthday present to himself? No, it wasn't. Why?
The Early Years
Dwight Johnson was a rather imposing individual physically and mentally. He was raised on a small family farm located near the rural village of Norseland, Minnesota, along with an older brother and a younger sister. His father, Raymond Johnson, was a veteran of World War I. St. Peter Minnesota High School was fortunate enough to have Dwight for a student because he was a very good student and an outstanding athlete. About six feet tall and weighing about 205 pounds of mostly muscle, he was built like a refrigerator and was an outstanding football player, which was his first love.
When he graduated from high school he enrolled in a Lutheran College, Gustavus Adolphus College in St. Peter in the General College curriculum. It really was a football curriculum that he wanted. In his memoirs, written during his retirement years, he said, "It wasn't a tough decision to make since one of the best coaches and teams in the country were at the college and it was close to home."
He negotiated with the football coach to get him a summer job as a ward attendant at the local State Mental Hospital. It was a good job that paid both his tuition and living expenses. The college was a good choice; the football team never lost a game during his freshman year.
At the time, Dwight was thinking of entering the ministry. The college had a fine program if he chose to do so. At the end of his freshman year, he was offered a summer job as a student pastor in a church in Regina, Canada. Because he would be paid for the effort, off he went to Canada, where he was well received by the congregation. He was most grateful for a book of sermons he had brought with him. However, he felt the pressure to preach every Sunday was too much. There were too many meetings, and in a number of ways he felt he was not suited for the ministry.
Before leaving Regina at the end of his commitment, he decided there was something else of interest to look into. There was a Canadian pro-football team in Regina named the Rough Riders. They were having pre-season practices in town, so he went to see them. He made it known that he wanted to work out with the team and they allowed him to suit up and participate.
The first game was held in the Regina stadium. It was a bitterly cold and rainy day. When he first went in to play, they kind of looked down on him, but after the game it was a different story. They begged him to stay by offering to pay him $4,000 a year and a $10,000 a year job in the club owner's business. He turned it down because he felt that playing for a pro-team would make him ineligible to play for the college because he could be classified as a professional player.
In his second college season in 1950, the team was again undefeated and went to a bowl game. Alas, they didn't win that one. By the end of the fall semester at Gustavus, he felt he had fulfilled his goal of being in a bowl game and now had no particular reason to go to school. The coach wanted to enter his name for the All-American team, but he turned it down.
---
Enlistment and Basic Training
It was around 9 o'clock on a Saturday morning when Dwight lumbered up the stairs and woke his cousin Pell Johnson who had been out with friends the night before and was still sleeping. His cousin said that he loomed over his bed like a vulture on a road kill and said the strangest word: "Let's go and join the army." He told his cousin that he and friends tried to enlist in the Air Force and were informed that the Air Force was not accepting applicants. They would be placed on a waiting list with no assurance how long that wait would be.
Dwight's parents and friends had held a series of lengthy and emotional farewell parties and he couldn't bear to go through all that again. For that matter, to explain to all why he was still hanging around was too much of a burden. Some other branch of military service was the only choice and the sooner the better. His cousin agreed since he, too, was about to be drafted. At least the two of them would be going into the army together.
Talk about naive! When they went to enlist, the noncom-recruiting officer asked the two of them what part of the army they would like to choose to build their future careers once their term of enlistment was over. As it turned out, they ended up in the infantry. They signed the contract and left for home. A few days later they were on their way to basic training in the army. Subsequently, Dwight's friends told him that had he waited two months, he could have enlisted in the Air Force.
The first stop for Dwight and his cousin was the Federal Building in St. Paul, Minnesota. There were several hundred recruits who were directed to the Hotel Vendom and other less-than-one-star hotels in the area for an overnight stay. The next morning they all trooped back to the Federal Building and the process into the army began.
The first order of business was an army serial number issued for each recruit; then a cursory physical just to see if they were breathing and warm, followed by finger-printing. Other important issues such as criminal record
were then reviewed and discussed. Then it was off for supper at a nearby restaurant where the rumor was it was seasoned with saltpeter. This was followed by another night in the Hotel Vendom. The next day paperwork was finished and it was off with the others from the Midwest to the train depot for the trip to Fort Riley, Kansas in a Pullman car.
Early the next morning when the recruits arrived at Fort Riley, they were met by a fleet of army busses and taken to a barracks where they found an iron-framed bed complete with sagging springs and mattresses that were no doubt remnants of the World War II days. Then it was off to the quartermaster for bedding. It was a surprise to see how many guys didn't know how to make a bed. One of his blankets was really flimsy. When he carefully looked at it, it had lettering relating to the horse cavalry. That blanket probably was a leftover from World War I.
After lunch all of them went back to the quartermaster where they stripped to their skivvies, formed a line (always a line, lines were a way of life in the army), and picked up their army-issued gear--small, medium, large or extra large--two sets of fatigues and two dress uniforms, including underwear, socks, two pairs of boots, a pair of dress shoes called low quarters, field pack and other essentials. Once in hand they dressed in the new fatigues, put on a pair of boots, stuffed the rest into a duffle bag, and attempted to march back to the barracks. They found that they had a lot to learn to marching.
The next step was to travel by bus to an auditorium where an officer told them how wonderful, great and true the army was and how they were going to become the cream of the corps and save the entire universe starting with Korea--assuming some of them would be assigned to the Korean Theater--as if combat was like a dramatic event. In reality it was, come to think of it.
This was followed by a trip to the medics where a string of naked guys stood covered with goose bumps upon goose bumps and scrotums shrunk so far into the body one would think they were eunuchs. After a series of embarrassing pulls on the penis, a bend over for a finger wave, heads turned with the accompanying coughs, blood drawn and other specimens taken, it was time for the needles. This was a memorable moment. There were two medics, one for each arm. Shots were given for at least ten to a dozen different diseases, or so it seemed. Many of the recruits were suspicious that several of those diseases had yet to be discovered. An arm is only so big and some of those needles were spectacular. Shots were administered by the best comics in the
military who had leanings toward sadism. It took two days before the recruits could lift their arms without a near tooth-crunching grimace.
They returned to their barracks, turned in their bedding and were off to the next duty station. They were assigned to the second platoon of Dog Company of the 87th Infantry Regiment of the 10th Mountain Infantry Division located in Camp Funston. The barracks were constructed during World War II and had been rehabilitated. Their first stop was the quartermaster for bedding. Dwight and his cousin were part of the third squad of a four-squad platoon. Within a few days his cousin was transferred to be squad leader for the fourth squad. From then on they had no direct contact with each other.
After fourteen weeks of endless marching, weapons training, KP, First Aid and field trips, basic training ended on April 28th. Dwight and his cousin went separate ways. His cousin stayed in Fort Riley. Dwight had a furlough and then was sent to Fort Lewis, Washington.
After a 14-day leave, he went by rail to Fort Lewis, Washington to a replacement depot to await being shipped to Japan. Fort Lewis was a wreck of a place. If one can call them barracks, they appeared to have been constructed in the early part of World War I and had had no maintenance done on them since. They were one story, rotting, wooden shacks just capable of holding about 40 men each. The toilets didn't work and everyone made the journey to the trees that surrounded the place. It was a mess! Fortunately the wait was not too long before the troops left for the ship.
---
Off to Korea
Dwight left Fort Lewis in May 1951, on a ship from Seattle bound for Yokohama, Japan. He joined the ship's barbers and worked his way across the Pacific. Since he was sea sick most of the way, the barbering took his mind off the sea. He had started barbering at Fort Riley knowing that he was as good as any military barber and it brought him some needed income.
At Yokohama there was an army band playing "I Wonder Who's Kissing Her Now" to the anger of some of the apprehensive troops. Dwight had no girlfriend at the time, but had taken a liking to one girl in particular. He had corresponded with her when he was in Canada, but her older sister got a hold of the letter first. It led to unwelcome remarks and anger by the older sister. That ended that. He commented that when he returned to the States after leaving Korea, she had married a good friend.
From Yokohama they climbed aboard some army trucks and went to Camp Drake a few miles from the city. While there they were given bedding and assigned bunk beds. They turned in all personal equipment placing the stuff in a pile in the parade ground. They were issued new gear, including a carbine, entrenching tool, two sets of fatigues, steel helmet, cartridge belt with first aid packet, canteen, field jacket, poncho, a field pack, a couple of changes of underwear and miscellaneous other gear. They did keep their boots and a field cap with which to place their billfold and dog tags. They were ready for combat.
They left Camp Drake by train to the Japanese seaport Sasebo and loaded directly on board a ship to Inchon, Korea. While on board this ship he met a life long friend, Ichiro Nakamura and this friendship changed his life. Much to their surprise, when the two of them landed in Inchon they were assigned to the 3rd Engineering Boat and Shore Seahorse Regiment as part of the unit's medical corps.
He thought it must have been at the end of basic training when he was given an MOS to be a medic. Perhaps it was because he had been a ward attendant in a hospital before attending college and had studied biology. The latter would have given him experience with microscopes, taking and preparing smears, reading slides, etc. Nevertheless, for the most part for him, it was going to be on-the-job training.
Ichiro was from Hawaii and had attended the University of Illinois. He had been an orderly in a hospital while going to school. From that day on they did everything together. In the process, Ichiro taught him to love Japan and its people. They had been fortunate to meet because, between the two of them, they had a basic knowledge of fundamental medical procedures.
Pride of the Unit
The amphibious landing unit had been part of General Mac Arthur's army during World War II. The General in command of the unit had been General MacArthur's main amphibious landing strategist during the Pacific War. Incredibly, the pride of the unit was its beer cooler. It had been found somewhere in the South Pacific during the great war and had remained the symbol of the unit ever since. Unfortunately, when the Communist North Korean Army came to Inchon and invaded South Korea, the unit conducting the evacuation of UN troops from Seoul forgot the cooler on the beach. This was noted before total evacuation was complete. A bulldozer operator and an LST helmsman were informed of the problem and volunteered to rescue the cooler. The two of
them made a mad dash back to the beach under enemy small arms fire to pick up the cooler. Unfortunately the beautiful Catholic Church in the harbor had to be destroyed because the North Koreans had set a machine gun in the bell tower and was shooting at the rescuers. The navy gunners, in sympathy with the army engineers' problem, had to knock the tower down with their big guns if the rescue operation was going to succeed. Once the landing ramp was lowered, the bulldozer operator made a dash to the cooler, scooped it into the bucket and dashed back to the LST and then safely returned to the mother ship. When Inchon was recaptured and General MacArthur came ashore to honor the troops for their victory as part of that glorious moment, he awarded the bulldozer operator and the LST helmsman the Silver Star "for bravery above and beyond the call of duty in the rescue of essential military equipment while under enemy fire." When Seoul was recaptured, the American forces felt obligated to help rebuild the church.
Little Caesar
There was one soldier in the unit he could not stand called Little Caesar because the guy thought the world should revolve around him. He and his best friend agreed to cheat at cards. Little Caesar was even cheating on his best friend. He once threw a grenade out of his jeep when driving past a well where women were getting water and washing clothes. A number of them were wounded and killed.
In Dwight's outfit, everyone had a jeep. Most of them were "requisitioned" from the Marine Corps when his engineering group pulled them out of Wonson Harbor in North Korea during the big withdrawal from the Chosin Reservoir when the Chinese entered the war. The Marines were told they had to leave their equipment behind because there was no room in the ships. Later, the engineers found the means and space to transport the Marines' equipment. They kept the equipment and repainted the vehicle to army colors and insignia.
One day he and "Ichii" were walking the streets of Inchon looking for things to buy when they came upon a little store. The owner had nothing that they wanted, so he offered them his wife--for a price, of course. Little Caesar had claimed that when you are poor, people give up their morals and will do anything for money. Ichii told him it wasn't so. After they had gone a ways, they made a bet of $100 between them to see if Little Caesar's comment was true. Ichii was to select a woman and there were poor women everywhere. The women were gathering scrap metal on the island of Wolmi-do in the Inchon harbor. Ichii chose one and went to her with $200 as an offer to her for her body. She turned him down and that made Dwight the happiest man on earth. He regained his faith in humanity. She was one woman who would not sell her soul for cash as poor as she was. Dwight had great respect for Korean women because of that incident.
Chicken, Cat, & More
Since war rations in Korea were always canned or dried, the two men yearned for the taste of fresh meat. When a friend told them about a Chinese restaurant that had southern fried chicken and French fries, no time was lost in heading for the place. There were four of them that headed out to find that restaurant. When they arrived they quickly ordered chicken and French fries. While they waited, they decided who would get what piece of the chicken down to the last piece. When the chef came with the chicken, they rushed to find their piece and eat away. They called the chef back because it was strange that there were four legs and only one breast. He looked at them and said, "So solry. Today no chicken. Only cat."
One food that Dwight learned to like in Inchon was dried squid. He found it chewy and rather tasty. Of course, everyone in Korea learned to eat Kimchi, a staple of the Korean diet. Kimchi was fermented cabbage that was heavily spiced, especially with garlic. It gave off a powerful, unpleasant odor. For most Americans, it was awful.
The best thing that happened to Dwight was when an old man came walking in one day and told them he had trouble with too many pheasants in his rice field and would someone please come and shoot his pheasants. They rounded up shot guns and shells and, with the farmer as guide, they headed out to his rice field the next day. Surprisingly it took about five hours to get there. They saw Korean soldiers on the way and gave them a friendly wave. The farmer had pheasants all right. The pheasants would not fly, but just ran ahead of them and they had to shot them on the ground. They must have shot a couple hundred at least and piled them into the trailer behind the jeep for the ride home. Before leaving the farmer's land, they took out a map to find their way back to their base. They discovered they had gone many miles beyond the front lines into North Korean controlled country and all those the soldiers they saw were the enemy. Those soldiers must have thought they were Russian advisors or something. Anyway they had a great feast when they retuned to their base.
Another way to get fresh meat was to use grenades to "catch" fish and they were very effective. The grenades could be timed so they would reach the required depth for an effective concussion. Dwight said they would rush to pick up as many fish as possible. Some of the fish would recover and swim away before they could pick them up. There was always some local resident who loved to have them come along and go fishing. Of course, they were reminded not to forget to bring the grenades. They used grenades in Inchon Bay, the Han River, and local streams. River fishing was a little more dangerous and tricky because the water was shallow and the explosion would send rocks into the air along with the fish.
Dwight knew of one cook who bought a farmer's steer. They took a truck and brought back the slaughtered animal to the cook tent. It was not the most tender meat they had ever tasted, but it was fresh meat and not too bad.
---
Memories of 3rd EBS
Another feature of their stay in Inchon was Bed Check Charlie. A North Korean pilot and his copilot came flying in low every night in their old, propeller-driven biplane to drop mortar shells on them. They did some damage, but most of all the soldiers couldn't sleep until he was gone. One night they heard some shots coming from the officers' quarters. They rushed to find one of the officers drunk, sitting on his bed, his .45 smoking. He was shooting rats.
The 3rd Engineer Boat and Shore Regiment was reestablished as the 557th Battalion Group to administer the city and port. Their work was primarily in sanitation, DDT spraying for insect control, rodent control and, of course, a medical clinic.
One incident occurred when they were spraying DDT. A Buddhist monk was standing in front of their jeep. He was against killing any form of life, including flies, because in the next life he thought he may be reincarnated as a fly. The monk proved his resolve to Dwight when a fly landed on his eyeball and began to walk across the eye. He refused to blink because it might hurt the fly. Dwight thought it would certainly take a deep faith and resolve to do that.
Myriad of Diseases
Since Dwight had some lab experience, he ran the laboratory and conducted short arm inspections. Men will always find women, and women will always find men. Since a number of men in some of the outfits had venereal disease more than once, their statistics showed a rate over 100 percent. Some guys caught it several times. It was necessary to check on the men early in the morning when they were most likely to show signs of the disease. Periodically, he would go into the men's quarters with the commanding officer, enter the barracks, blow a thunder whistle, and tell the soldiers, "Stand up and drop your cock." They had to take out their penis and strip it down. If there was some sign of disease in the resultant fluid, Dwight would take a swab for a slide, and return to the lab to see if an undesirable organism was present. If the slide was positive, the soldier was given an antibiotic.
There were so many kinds of diseases he had never heard of or seen before. The doctor and Dwight used medical books to try to identify the types and treatments. There were several types of chancroid sores, a number of viruses including some that attacked the glands, some bacterial infections, some kinds of venereal warts, gonorrhea, and a few cases of syphilis. Fortunately, most of them could be cured quite easily with an antibiotic.
Dwight mentioned that they ran into one disease unusual to the States, but common in Korea. It was hemorrhagic fever. It was carried by lice on mice and rats and was one of the most serious illnesses for the troops. It caused bleeding from the skin and around the eyeballs. It was difficult to diagnose and often was not recognized until it was too late. It was deadly. This was a problem as the men were in primitive, fixed positions common to trench warfare and the rodents had time to colonize among the troops. GIs discarded garbage everywhere, and the rats had easy access to food. They were very adaptable to any and all conditions. They were residents in the bunkers living in the spaces between sandbags and under wooden floors, if there were any. They were prolific breeders and almost impossible to eradicate. The army didn't issue rat traps.
---
Forward Aid Station
After several months of examining penises every day, Dwight had had it. The front lines had to be better than that. It must have been in July or August (1952) that Ichiro and Dwight volunteered for combat duty and went to the front lines. They had researched which units were on line and decided to go to the 17th Regiment of the 7th Infantry Division that had an excellent war record. At the time, the regiment was actively engaged in an intense fire fight with the Chinese at Triangle Hill. They were assigned to be part of the forward aid station with the regiment.
There was malaria in Korea and Dwight came down with a good case some two weeks after he came off the preventative medicine. His fever shot up to almost 105 in just about a half hour. Because he was at the aid station, he got immediate help and medical attention, but it still took a week for recovery and another week of taking it easy.
Triangle Hill
The following information about the Battle of Triangle Hill was found on Wikipedia on the Internet and in Schiele's writings, "US Battle of Triangle Hill".
"A brief description of the geography of Korea is needed to understand how the war was fought. Korea is a peninsula that extends south from Manchuria, China. There is a mountain range located along the east side of the peninsula that extends all the way from Manchuria south to the China Sea. The mountain elevations are 10,000 feet above sea level at the northern boarder and slowly decrease in elevation to a few hundred feet to the south. Unfortunately, a series of ridges and valleys extend west and east from the mountain range. This means that the war was fought from ridge to ridge, seemingly always up steep mountainous terrain, then down to and across streams and rivers at the base. These conditions were ideal for defensive fighting.

Triangle Hill was composed of five major combat zones--Hill 598, Sandy Ridge, Sniper Ridge, Pike's Peak, and Jane Russell Hill. On October 12,1952, following two days of preliminary air strikes and an extensive artillery barrage, the UN forces began an assault to capture the hill mass that was heavily defended by the Chinese. The Chinese had built deep bunkers, covered at times with as much as fifteen feet or more of logs, rocks and earth. In addition they had built a network of trenches connecting bunkers on the reverse side of the hill. This was all backed up by machine guns placed where they had crossing, interdicting fire on all approaches to the trench system. Behind the lines were support forces of heavy artillery and mortar batteries.

Their system of heavy bunkers, interconnecting trenches and escape routes offered such security that bitter hand-to-hand fighting often was necessary to seize the ground by the attacking force. During UN air strikes and artillery barrages, the enemy could withdraw into the tunnels by means of these trenches and reenter when the artillery/mortar barrages or air strikes lifted. During the attack up the very steep and high hill faces, the attacking force was hit by enemy artillery and mortar barrages. When the attacking force neared the enemy emplacements, they were met with a shower of grenades and a wall of small arms fire through which it was necessary to charge to overrun the enemy trenches and destroy them.

The corpsman's job was to rescue wounded soldiers under the hail of steel by carrying or dragging them down the attacking slope, then up the hill to a UN trench and then evacuating the wounded down the hill to the Battalion Aid Station where a triage system existed based upon the severity of the wounds for the best chance of survival and to determine the order of departure to a MASH unit. It took extreme courage and very strong legs to carry out this mission.

The carnage lasted until November 28, when the UN decided that the high number of casualties was too much and ended the battle, leaving the hill mass in Chinese hands. It was the biggest and bloodiest contest of 1952. It was estimated that the Chinese suffered 11,500 casualties. The 7th Division had 393 killed and 1,174 wounded in action, with the average death rate at 33 per day for the first few days.

As a result of the high casualties, it was decided by 8th Army HQ and the President, that the army was to suspend major offensive operations. All other operations were restricted to not more than one battalion and each operation had to be thoroughly justified. It was obvious the Chinese had defensive positions in great depth and they had the manpower to defend their position. Even though the war went on for another year, there were no more major offensive operations by the UN forces for the rest of the war."
Overrun
Unfortunately, one night soon after Dwight and Ichii arrived, their unit was overrun by the Chinese. The Chinese soldiers carried little packets of opium for pain. Sometimes the U.S. troops took those packets for a little high, especially when in direct combat, and Dwight assumed the enemy did as well. When a man went into battle with a boost from the opium, his adrenalin kicked in and the high became a real high.
For instance, one of the men next to Dwight, stimulated by the drug, had taken a burst of bullets in the chest from a Chinese burp gun but didn't know it. Dwight told the guy, "Hey, you're bleeding!" The guy said, "Really?" He opened up the man's jacket and found five slugs from the burp gun had partially penetrated the skin.
Dwight had brought with him a non-regulation .32 pistol which he found to be worthless. The .32 didn't have the punch to knock a man down. The same could be said of a .30 carbine, and he soon got rid of both of them. The .45 caliber, standard issue, automatic pistol and the .30 caliber, M-1 rifle did the job.
The Chinese had a big problem because frequently much of their ammunition was faulty. For instance, Dwight and the other occupants found three Chinese grenades in their bunker the morning after the Chinese had overrun their bunker, but none of them went off. The burp gun was the Chinese's best weapon, and it would frequently jam after five or six shots. In the morning after the night assault by the Chinese, they discovered that the Chinese troops had passed them by and were behind them in the valley near the village of Chunchon. The Air Force was called in to clear the Chinese out of the valley. When the weather cleared, the Air Force had a field day.
A medic he called Red because the guy had red hair was badly wounded during the Chinese assault. Dwight was present when Red was brought to the aid station and there was nothing he could do for him. His last words to Dwight before he died were, "Don't forget your promise." He assured Red that he would commit his life to that promise, although he had no idea or thought as to what he would do. The promise came about during the off and on discussions that took place in their shared bunker over the preceding months. One subject that came up many times was the senseless killing that Dwight had witnessed of two Chinese soldiers. They had resolved that the best answer to the question of why people are important is because of the biblical teaching that God loves everyone. They made a kind of pact by mixing their blood. The pact was that, when they got out of the army, they would tell everyone they knew that God loves them.
Life-Changing Experience
The subject of the death of the two Chinese prisoners that changed Dwight's life took place during the battle of Triangle Hill. There was one small, but cocky guy in their outfit. It seems they had captured two hungry and frightened young Chinese soldiers that couldn't have been more than fifteen years old. The company commander saw to it that they got fed and then asked for volunteers to take them back to the stockade. The cocky guy volunteered to take them back and left the next morning going to the rear down the hill behind the line with the prisoners. He was back in a couple of hours. It seemed to Dwight it should have taken much longer.
Dwight normally was re-supplied with medical supplies every second or third day, but he was running low and needed a refill. He headed down the mountain the next day. Around a turn in the trail, there lay the two young Chinese soldiers. They had been killed by the butt of a rifle and boots. He could not believe someone would do such a thing even in war. When he got back up the hill, he decided to confront the cocky guy with what he had done. Dwight said, "I know what you did and I want to know why." The guy answered, "Oh, forget it, Johnson, they were just a couple of gooks." Dwight said, "I don't care. You don't do those kinds of things even in war." The guy said, "Don't get excited. I just saved Uncle Sam five bucks a day in food costs." At that point Dwight was furious with him and yelled, "Don't you believe in God or anything?" He responded, "Don't get religious on me!" Dwight decided there must be some vital reason that a man's life was worth something. Since the guy had been a Lutheran, he blamed his church for failure to teach this man anything worthwhile. This was to stick in Dwight's mind and trouble him for many months before he could resolve the problem. Dwight tried to get the company commander to press charges against the guy, but the commander refused. The interesting thing about this was he had met the same guy at a Boy Scout camp back home in the States during his youth.
---
On the Front Line
The medics had the privilege of constructing their own bunker that acted as the forward aid station. None if them had formal training in bunker building. It was a new experience. They had spent time in existing bunkers and assumed that was the way they should look when the work was done. They dug a hole about 20 feet x 12 feet and 12 feet high into the hillside. The walls were stacked with sandbags. The engineers furnished huge timbers for the roof which they covered with a deep layer of sandbags and earth. Generally, the bunkers varied in size to accommodate perhaps a dozen or more soldiers.
The upside of a bunker was it provided a place for them to be out of the weather and a place to sleep. The bunker provided protection from artillery/mortar fire. The downside was if they were unlucky and had a direct hit and the bunker was not sufficiently strong, it would collapse. If they were overrun by the enemy, a grenade or satchel charge could be tossed inside. The bunkers and connecting trench system were the basic forms of protection from enemy fire.
Second Front Line Duty
Dwight's second front line duty was at Triangle Hill when they changed position. They moved into a bunker that had been constructed by others. The bunker was dug out of a hillside and he had a small fuel oil heater inside. His primary job was seeing that everyone aired out their feet daily and occasionally took a three point bath. This was commonly called a whore's bath or PTA.
Frostbite was common since the fellows were reluctant to be caught off guard without their boots on. One time a soldier came in with a very bad case of frostbite on both feet. The initial decision of the surgeon was to cut them both off. At the time, the surgeon was too busy and he never got back to amputate the feet. While the soldier waited, both his feet came back to life. (The soldier came home and ended up as a coach for the St. Thomas College football team in Minneapolis, Minnesota.)
Medics were responsible for sanitation. The latrines were located on the backside of the hill behind the lines. Dwight recalled they had one with the seat made from ammunition boxes with six holes lined up in a row. The holes were lined with a 50 gallon steel oil drum with the tops and bottoms cut out under each hole. The latrines were covered by a tent to keep the facility free from inclement weather. It was their duty every morning to get gasoline from the motor pool or the cooks. They would dump a small amount through the holes in the toilet seat and light the gasoline to burn the paper to increase storage. Periodically a prisoner of war or a choggie boy would come and clean the solids from the pits. During cold weather and especially in winter, the troops would line up in front to the latrine and wait for the morning burn. The seats and tent would be warm.
The Chinese were sometimes, but not always, considerate. When a number of American troops were killed in battle, the next day white body bags containing the dead were laid out in rows in no man's land. The Chinese had stripped the bodies of clothing and possessions. In these rare instances there was no danger for a medic or litter bearers to go out in daylight and pick them up.
There was one day when Dwight became terribly worried because his friend Ichiro had not come back with the rest of the men from the night's patrol. He set out to find him and met the small, five-foot tall medic halfway up the mountain, hauling a six-foot four-inch man who had been killed in battle.
Patrols went out two for three times per week. A member of the medics usually was included in the patrols. They went armed and frequently carried a stretcher as well as an aid bag that contained aspirin, many different types of bandages, Vaseline gauze, syrettes of morphine and tourniquets. If a wounded soldier shouted, "Medic," the medic would go to the soldier under enemy fire. The initial treatment was to stop the bleeding, stabilize wounds and apply a splint if needed. If a wound was severe, the medic would give the soldier a shot of morphine to stabilize him and prevent the soldier from going into shock--a real, life threatening
problem.
Evacuation of the wounded was not an easy task. The hills were 600 to over 1500 feet high. They were very steep and evacuation was subject to enemy small arms, mortar and artillery fire. The dead, along with the wounded, were removed from the battle site and taken to the forward aid station located close to the ridge line on the reverse side of the hill being defended. Then the medic would get the injured soldiers and the dead off to the battalion aid station. At that point a triage system was established to determine the order in which the wounded would be treated and returned to the line or sent to a MASH unit by a litter jeep or to a hospital or hospital ship off shore by helicopter. The dead would be sent off to the grave registration unit, wherever that was.
The medics treated all kinds of injuries: gunshot wounds to all parts of the body, limbs lost or partially lost, head wounds of the most serious nature. Splints for broken limbs were used, some of an ingenious nature, if standard splints were not available. During intense fire fights, the number of wounded overpowered the station. The medics were all too frequently required to determine who needed help the most and those got the attention while the less serious waited. Too many never made it, but died waiting.
Dwight was surprised to learn that frequently soldiers with major injuries did not cry or yell as is commonly seen in the movies. He had men with their arms or legs blown off who would talk or joke along with him as he was attempting to stabilize their wound. At the same time, men with minor injuries became filled with emotion. One fellow with a good sense of humor had a large portion of his head blown off and the medics joked with him until he died. This was probably due to the shock from the wound and the pain killers that were administrated. The corpsmen's laughter was mixed with tears when he died.
Of course, there was what was called a "million dollar" wound. This was, as everyone claimed, an accidental shot in the foot. It would shatter the bones and the young man was sent home. There was no way to prove it was not accidental, so he received the Purple Heart and military hospital care for the rest of their life.
They had one soldier who spent only three days on the front line. He was hit every day he was there. The last time he was being very careful, but as he went through the trench to his bunker on the hill he was hit in the shoulder by a stray bullet.
Wounded
Dwight did get hit by the fallout from a 155 mm white phosphorous short round. He heard it coming, hit the dirt and covered his neck with his hands. (This is a round that, for some reason, doesn't have the energy to reach the intended target and falls short. Generally, this is the result of a faulty powder charge being not fully burned.) The phosphorus burned much of his clothes. Fortunately, only one part of his body was exposed: his left wrist between his cuff and glove. He had a small bottle of copper sulfate with him that neutralized the effects of the exposure. The doctor asked if he wanted a Purple Heart medal, but that seemed kind of ridiculous to him. Dwight said it took about four years for that scar to disappear and he always wore his watch
over the scar.
"White phosphorous contained within a artillery shell spreads when detonated as an air burst; 116 burning white phosphorous wedges are released over a radius extending up to 375 feet from the blasting point. It ignites and burns on contact with oxygen and continues burning at a temperature of up to 1500 degrees F. until the wedge completely burns or the source of oxygen is gone. When white phosphorous comes into contact with the skin, it creates intense and persistent burns and can literally burn a hole through whatever combustible material it lands on." --Wikipedia
A couple of days later, Dwight had a chance to visit the artillery battery that fired the short round and found a former St. Peter High School classmate. Unfortunately, he learned that the faulty 155 mm shell had been made in the Twin City Arsenal in Minneapolis. It made him very angry that anyone could be that careless.
Dangerous Listening Posts
The most dangerous duty was to serve on a listening post called an LP. An LP is the
place that takes an initial brunt of an enemy attack and is usually the first to get hit by the
enemy.
"The purpose of an LP is to be the first warning of an impending enemy attack. Usually the post is usually located several hundred yards in front of the support force that is dug into defensive positions. It is located along a potential route of the advancing enemy and often is not an excavated fox hole but is somewhat protected by the natural elements, such as rocks, in the immediate area. When something is heard the man or men in the LP call back to the defensive position with a sound powered telephone and then leaves in a hurry and retreats to the nearest defensive position." --Wikipedia

"The problem is the units have been in this somewhat fixed position for many months and the enemy generally knows where the LP's are located. The Chinese by 1952 had become superb night fighters and almost silent when moving and all too often the guy in the LP never heard the attacker approach." - Wikipedia

"The problem is the units have been in this somewhat fixed position for many months and the enemy generally knows where the LP's are located. The Chinese by 1952 had become superb night fighters and almost silent when moving and all too often the guy in the LP never heard the attacker approach."
One weekend Dwight was on duty during a quiet time. He was at a listening post on a Sunday morning when he discovered everybody there had one of those little New Testaments with printed hymns in it. They decided to have a little Sunday service right there and began to sing hymns. They got a frantic call from the Company Commander who asked. "What in hell is going on out there?" Dwight responded. "It's Sunday, Sir, and we're just singing some hymns." Dwight said they felt 100 percent better after that little service.
"It should be explained that the character of the war had changed. A the beginning in 1950 the purpose was to acquire land. Then it changed in 1952 to a static war of attrition, in other words, to trench warfare. The enemy was well prepared for this type of warfare because they had the manpower to dig, to fortify their side of the line and conduct intense battles in selected areas. The UN forces were structured to be a very mobile force which required significantly less manpower. The war being fought at this time was focused at strategic locations and became a war of attrition, which meant: kill as many of the enemy as you can. The Chinese had the men to waste. In 1953, the UN command restricted committing the numbers of troops to an engagement. If the engagement needed more than a battalion, the officer proposing the action had to get approval from the upper echelons of command.

The peace talks were underway at the time and the UN did not want to be too belligerent. The Chinese on the other hand took advantage of this and struck these strategic locations--Triangle Hill, Old Baldy, Heartbreak Ridge, Punch Bowl and Pork Chop Hill, the last being the last major battle of the war. Other locations along the line could be relatively quiet.

During these intense battles with immense artillery and infantry duels, thousands of men were hurt or killed. The crowning horror was that usually units on either side of the fire fight, or beyond the regimental limits, the soldiers would be completely unaware there was a battle going on."

--Fehrenbach, This Kind of War
Dwight said that sometimes life on line could be very boring. Conversations wandered over a host of subjects, many of which very personal. Weeks would go by with nothing to do. From time to time a medic would be assigned to an occasional patrol. When action erupted, there were hours and hours of no sleep and much danger.
"Action" on the Front Line
Out of the blue, they had a strange thing happen at the battalion aid station. Men in companies on line started showing up at the station with V.D. infections. It turned out some enterprising Korean woman had set up shop in one of the bunkers on the front line. A Captain in the corps claimed that the enlisted men were crazy to pay fifty bucks a crack to get V.D.
Later the Captain went on a Rest and Recreation trip to Japan. While there he paid an American girl $200 for a night. When he came back, he came down with a good case of gonorrhea, and everyone had a good laugh.
"Rest and Recreation or R & R, was a five-day rest period in Japan. In the beginning (1950) the troops that boarded planes in Seoul were gaunt, unshaven, and filthy with a thousand yard stare. These men were too tired and exhausted and frequently were all too prone to get into trouble. When they returned they had changed. They were rested, bathed, refreshed. The break gave them something to look forward to. Later in the war in the 1952s when the war had become trench warfare, the great adventure was referred to as Intercourse and Intoxication (I & I) for some but not all.-- Fehrenbach, This Kind of War
One night when Dwight was on duty, an intense fire fight took place and a number of shrapnel cases came in. Since it had been quiet on the front for some time, the doctor had gotten drunk. When the fire fight suddenly exploded, he was drunk. Dwight didn't think he could remove the shrapnel. The doctor gave Dwight the scalpel and a tweezers and said he should do it and the doctor would tell him what to do. So Dwight spent the night performing surgery on those casualties, removing shrapnel and sewing them up. He was scared stiff, but he thought they all recovered nicely. That was his first time acting as a "surgeon."
R&R in Japan
During their tour of duty, Dwight and Ichiro were eligible to spend two weeks in Japan on R & R. They boarded a twin engine plane in Seoul bound for Tokyo. When they arrived and were leaving the airbase, Dwight was shocked by the number of Japanese women who propositioned them. He lost count after one hundred in the first two blocks.
They decided to go to Kumamoto Japan. Ichiro wanted to go there because he had an older sister whom he had never seen. An Indian from South Dakota came with them. They took a train and off they went. When they arrived at Kumamoto, Dwight was surprised by the number of shoe shine boys around the station; there must have been over fifty. They switched military script or army dollars for yen at the rate of 800 yen per dollar from the black market.
With local money in their hands, their first goal was to get a good steak and there was a steak house near the station. They ordered the biggest steak on the menu and waited with upraised forks and knives ready to dig in. Dwight was just about ready to cut into his steak that was on a sizzling iron platter when the waitress leaned over and cracked a raw egg on the steak. This shook him up. The waitress blurted out, "But, Sir, a raw egg is a wonderful aphrodisiac!"
Ichiro's older sister stayed in Japan when his parents moved to Hawaii. She lived a short distance south from the city of Kumamto. Ichiro had wanted his sister to meet them at the station. In those days a decent woman did not talk to men in public. He couldn't walk beside his sister because women had to walk behind the men. They met with the family and enjoyed the reunion.
They wanted to take a bath because they were still dirty from Korea. (Bathing in Korea was dependent upon when a shower unit was in the neighborhood. There could often be months between showers. Body odors were significant, but their noses adapted.) Dwight asked Ichiro to get his sister to let them bathe. She brought them men's kimonos (yukatas) and a towel and said, "Dozo." (That's "please" in English.) There was no place to change and she insisted that they should change right where they were. They did not know about the custom of putting the kimono over the shoulders and removing their clothes while facing the wall. He asked Ichiro about undressing in front of his relatives. (This is a one-room house, so to speak.) Ichiro said, "I think in Japan it is okay for men to undress in front of others." So the three of them undressed in front of all his relatives and headed for the bath with their towels and yukatas over their arms. He said they left a lot of surprised relatives behind.
While walking down the streets of the city, the president of a large department store saw them in his store. He was impressed and invited them to have a tempura dinner at his expense in his lovely store. For being so kind to them, they did buy gifts for Ichiro's sister. They went to Beppu to a hot spring spa and it was wonderful. Even spending liberally and taking the side trip to Beppu they could not spend the entire $200 they had turned into 160,000 yen.
---
Battalion Aid Station
When they returned to Korea, Ichiro and Dwight were assigned to the Battalion Aid Station, which was a kind of clinic where the wounded were gathered and the severe cases sent out by helicopter to MASH hospitals and sometimes to hospital ships off the coast.
The station had between two and three doctors on duty. Most of the time the doctors were sober, but they did have trouble with one doctor in particular. He was trying to improve security at the base and ordered his troops to shoot anyone who tried to enter the compound without first recognition. A big, tall, farm kid from South Dakota was on guard duty one night. The problem doctor came back from a drinking party half drunk and raced right past the guard in a jeep. The guard, following orders, fired at the jeep with a tracer bullet and hit the gas tank under the front seat. The doctor went flying with the explosion. He ended up chasing the poor guard with his .45, screaming, "I'm gonna kill that son-of-a-bitch!" They had to catch the doctor and take his gun away.
Their battalion had the highest number of colds in the whole U.S. Army. The reason for this was the medicinal alcohol used for making cough syrup was going elsewhere. Meanwhile, the cooks saved the fruit juices for a month. At the end of the month their outfit had a drinking party mixing medicinal alcohol with fruit juice. There was no alcohol left for cough syrup.
Ichiro and Dwight had a chance to go to Taiwan. If they accepted the offer, they would get a commission and would train Nationalist Chinese soldiers. They thought about it and thought they would have to reenlist. The idea of extending their service didn't appeal to them. They decided to stay Sergeant First Class and head for home when the time came.
One other side note: One of the fellas in their outfit was from Los Angeles. His father was a doctor and a UCLA (University of California - Los Angeles) alumnus who supported athletics. His father offered Dwight a football scholarship to UCLA if he wanted to got to the University. It was a tempting offer, but he really wasn't interested.
They got a new Division Commander for the 7th Division. As he was flying over the area in a helicopter, he spotted the supply sergeant outside the supply tent not wearing a helmet. He made the helicopter land and busted the sergeant on the spot. The tragedy was the sergeant had been in the army ten years and now he was a private again.
Dwight heard that the General planned to take a hill that the enemy used to lob mortar shells into the division lines from time to time. He published a final copy of his battle plan, sent invitations to press correspondents so they could cover the battle, and gave out copies of the plan freely. Dwight thought that this was very a stupid and senseless thing to do. Everyone knew that there were enemy spies everywhere who were willing to buy or sell information and, no doubt, a copy of the plan ended up in enemy hands. He recalled that some 500 men assaulting the hill were either killed or wounded in that stupid blunder. They didn't take the hill. Ichiro and Dwight were ready to stay a couple of extra tours, but they were disappointed with the new General and decided to go home.
"The Americans had a point system rotation schedule. If a soldier was in a combat zone
he got four rotation points, from the firing batteries back through regimental headquarters he got
three points, everyone else in Korea got two points. This meant that rear echelon and service
troops rotated in eighteen months, tankers went out in ten months, and the average infantry
man within a year. A total of 36 points were required and the soldier would be sent to the
States. There is no record how this system applied to women such as nurses in hospitals or
MASH units." - Fehrenbach, This Kind of War
---
Homecoming
Going back to the States was different. Dwight took a ship from Pusan to Sasebo, Japan. At Sasebo he heard that there were people going by plane to the States, but there was a hitch. It was necessary to sign up for three months duty in Sasebo. He felt that was no problem and took a job.
While waiting for the three months to pass, he took a trip to Tokyo by train and on the way learned two Japanese songs--Shina no yoru (China Nights) and Kan Kan Musume (Can Can Girl). Also he learned a popular American song, Come Onna My House, Come On. There was also a Japanese song about an "egg-selling girl from Minnesota." He didn't learn that one.
He stayed two weeks in a barracks in Tokyo waiting before being booked on a United Airlines flight back to the States. It was a propeller plane that took 38 hours to get to San Francisco, with stops at Midway Island and Honolulu. Then it was on to Minneapolis, Minnesota and finally to his home in St. Peter.
When he arrived he couldn't reach his folks by phone. His cousin's husband happened to come by and gave him a ride home in his truck. It was good to be home and he got two things right. First, it was the opening day of the 1952 duck season. He went hunting with his uncle and hit it right on the nose. They had the slough all by themselves and there were ducks everywhere. Twice he had to run to the local store and buy shells. He commented that they may have had a few over the limit and that, probably, was a significant understatement.
The next experience was when he got a call from an old school friend asking if he would be interested in going to a dance as a double date with him and his wife. He said sure and then tried to think if any of the girls he had dated when he attended the Gustavus Adolphus College before going into the army would be available. The girl he called was tied up for the evening with her current boyfriend. Dwight asked if she knew of a girl for a date. She did and that's how he met his future wife.
---
Stateside Duty
When his leave ended he reported to Camp McCoy, Wisconsin, to see where he was being assigned. The new posting was Fort Belvoir, Virginia right across from Washington D.C. Upon arriving at his assigned unit he was made the sergeant in charge of the enlisted men in the medical clinic. This was a position he had passed up previously, thinking that if he stayed as Sergeant First Class he would not get Master Sergeant duties. That was a mistake because they would not let him go out for football.
Thinking about the promise he had made to his dying friend, Red, he spent considerable time looking for a church. He finally found a good one, Grace Lutheran Church at 16th Street and Varnum Avenue. He was heartily welcomed by the congregation and they made him feel a part of the church family. When he returned to his quarters, his partner, Dr. Bill Nelson from North Mankato, Minnesota, wanted to know where he went every weekend. Dwight asked him to come along the next weekend. That Sunday they went to the church with another friend and the three of them ended up going to the church every week end and became lifelong friends.
No Worms for a Year
He said a couple of things happened that should be recorded. The first incident occurred at Christmas time. Bill and Dwight became hungry for lutefisk. They recruited a couple of secretaries from the church to lend them their apartment for preparing and serving a lutefisk dinner. Dwight went to a Swedish store to pick up the lutefisk, as well as some lefsa. (Both of these dishes are commonly served at Christmas time.) Bill and Dwight cooked and worked hard preparing a fine meal. There was one problem, however. After dinner they all came down with terrible stomach pains. They rushed to the hospital and ended up having their stomachs pumped. They learned that they had not washed the lye out of the codfish before preparing the fish for dinner. When Dwight asked the doctor who pumped their stomachs if they would have after affects, the doctor said, "I tell you what. You won't have any trouble with worms this year." Dwight said they never saw the girls again.
The second concerns a New Year's party with the group from the church. Most Lutherans have no problem with an alcoholic drink now and then. They had one young man who was dead set against alcohol. However, he was the only one to get drunk at the party and ended up passing out in the bathtub with the water running and the door locked. The only way to get in to rescue him was to go down three flights and try to climb the outside of the building to the third floor and crawl through the bathroom window. They managed to do that and were happy to find there was no plug in the bathtub.
The third event was the inauguration of President Eisenhower. My cousin Dwight was responsible for providing medical aid stations along the inauguration parade route and staffing them with personnel and equipment from their clinic. This was the big event of the year for all of them.
---
Berlin, Germany
While working with the Pentagon on the aid stations, he learned it was possible to transfer to Europe through the Pentagon Enlisted Mens' Office. His commanding officer did not want him to leave and had rejected frequent requests for a transfer. He was getting tired of the clinic. He applied for the transfer and got assigned to Germany.
His tour in Fort Belvoir had done one thing for him. He had time to think about his future and he wanted it to include the blind date--the lovely Sylvia whom he had met when home on leave. In February he had a chance to go home. He found he could hitch a ride on a military plane flying out of Andrews Air Base and latched onto a Navy plane going to Scott Field in Wisconsin. Once airborne, the crew of three wanted a guy to make a foursome at cards. He was willing so the pilot put the plane on autopilot and, except for an occasional peek out the window to see if they were over Lake Michigan, they played cards all the way to Scott Field. From there he hitchhiked the rest of the way home to St. Peter, Minnesota. He had one objective: to find the diamond ring his mother had lost. He had found it in an ash heap behind the house way back when he was in high school. He had it remounted into a new setting and proposed to beautiful Sylvia. She accepted.
Going to Europe and especially Berlin at that time was a very unique experience for everyone. Berlin was divided into the American, French, British and Russian sectors. Since there was no wall between the east and west sectors, it was possible to go from one sector to another very easily, but that could be a problem. The Russians were known to detain American soldiers, so it was advisable to stay out of their sector. Germans riding on the commuter train or buses would warn him if he was headed for the Russian boarder so he could get off in time.
One of the important events during the occupation of Berlin was the weekly show of force. A parade was scheduled every Saturday. Thus there were daily marching drills by a significant number of the troops stationed in Berlin, including the medical corps along with the one at Templehof Airdrome.
Another duty he had as the top sergeant of the medical group was to inspect the mess halls for cleanliness. This was always a joy. Every cook seemed to have some goodies out for the inspector. There was one special cook who was an alcoholic who had been the head baker at the Waldorf Astoria in New York City. If one avoided the two weeks of a month when he was drunk, he made the most delicious and beautiful cakes in the world. When the time came, he offered to make Dwight and Sylvia's wedding cake.
Hollywood came to the city to make a spy movie called Night People starring Gregory Peck, Broderick Crawford, and Rita Gamm. They came over to the base non-commissioned officers club (NCO Club) one night and the staff had a chance to meet them.
Berlin was a Mecca for cold war spies. The city was a place where spies could easily enter another sector and go throughout Europe and Russia. Dwight got to know several of the CIA people that were housed next to his unit. One of these young men was in Eastern Europe three or four months before returning to Berlin.
Dwight's unit was housed in an old Schutzstaffel (SS) barracks and had access to one of the best facilities in Germany. This included a beautiful swimming pool where the windows on one side opened automatically in warm weather. There was an old SS photo lab where he found some films of SS troops on parade and of Adolph Hitler.
The most unwelcome duty was the courtesy patrol. This meant visiting establishments known to be meeting places for homosexuals, spies, and underworld characters. It was well-known that the cold war spies used gambling and sexual behavior to induce GIs to betray their country. There were quite a few GIs who were open to this kind of behavior. The duty of the courtesy patrol was to try to prevent these activities from taking place. Visiting these bars and clubs was very depressing and he was glad the duty rarely came.
He had accumulated 30-days for a furlough that he wanted to use before getting out of the army. Dwight decided that the best way would be to marry Sylvia, take the furlough and go on a honeymoon trip in Europe. He wrote to his bride-to-be. She thought it was a good idea. Coincidentally, she had planned to join a group from Gustavus Adolphus College in St. Peter, Minnesota, that was going to Europe for the summer. The group was scheduled to go to Berlin at the same time Sylvia and Dwight planned to get married. The group was to arrive in June and the wedding was to take place on July 20.
There were a few problems, such as, would the baker be sober to make the wedding cake? The other problem was the Lutheran pastor also had a drinking problem and couldn't be counted on to be sober. Dwight found a Baptist minister who consented to perform the ceremony. The reception was to be at the NCO Club on the base.
Sylvia's Plight
Then there was a problem with the Russians. Just when Sylvia was coming to Europe they closed the borders to Berlin. Dwight was on a training program in Grafenvor in West Germany and could not get a message to Sylvia. She had arrived in Bremerhaven to find there was no way to get into Berlin, no way to contact Dwight, and she didn't know anyone. While waiting in a train station and wondering what to do, several unsavory characters approached her. In desperation, she looked around the station for help and was pleasantly surprised to see a Gustavus Adolphus College exchange student from Germany that she had met on campus, and was on her way back home to Nuremberg. Hearing of Sylvia's plight, the student asked Sylvia to stay at her parents' home until she could contact Dwight.
Eventually they were able to make contact and Dwight found Sylvia lodging in Grafenvor. Things were fine until Dwight's field training concluded and he went back to Berlin. It was a struggle for Sylvia to get into Berlin because of the Russians. She had to travel to Frankfort, Germany, and then fly into Berlin where Dwight had rented her a room off base in the British Sector. She stayed there several weeks waiting to be married. She recalls returning to the home one evening after dark when she was accosted by man who came out of the shadows and shouted at her in German. She was frightened and tried to think how she could reach the door to her lodging, get inside, and lock the door before the intruder got too close. The guy suddenly broke into English. At that point he identified himself as a British intelligence agent. They were suspicious of her presence in their sector of Berlin and wanted to check her out.
Dwight was not successful in finding housing for her on base due to the unscrupulous methods of the soldier who was in charge of getting on-base housing for applicants. The soldier was later caught and court-marshaled. Fortunately, they found housing in the American Sector. The wedding went reasonably well and they honeymooned in Norway, Sweden and Finland.
Getting back to his work routine was now a bit more difficult since he had to get up at 4:30 a.m. to get to base to make reveille. One thing of interest happened at Dwight's Templhof Airbase medical station while he was there. A man came in and claimed he was the Russian Army Commandant of East Berlin and wanted to defect to the U.S. It was such a far-fetched sounding story it seemed unreal. Dwight was called in and he called Military Intelligence Section. The guy really was what he said. He was going to be transferred back to Russia and decided he wanted to stay in the West. He proved to be most helpful in telling the West what kind of military personnel the communists were interested in when getting information from the Allies and the communist disposition of forces. Dwight enjoyed his short talk with the defector while waiting for the CIA staff to take him away into protective custody.
The Berlin Bears
In the fall he had a chance to play football as a lineman in the Berlin Bears military football team. It was an unusual mixture of people, some of whom were pro-football caliber, while some had never played the game before in their life. It was a mystery what was going to happen during every play. For instance, on one occasion he ran into Bob Tonoff, the All American football player from Notre Dame and later a pro super star. Tonoff hit him with a pro-style running block and Dwight went head over heels. Another time because he was badly beating a fellow across the line. The guy got desperate and reached over and slugged him in the face before play even started. Several members of that team were reunited at Gustavus Adolphus College when their enlistment in the army came to an end.
When he had just about finished his enlistment, Dwight and Sylvia were ready to go back home. Sylvia wanted to go by boat. They left Bremerhaven, Germany, and sailed their way to Boston. The North Atlantic is very rough in the winter. Dwight was sick most of the way back, beginning the first day. It was so rough that the stewards wetted down the tablecloths so the dishes wouldn't slide off the tables. No one could go on the deck because the waves were washing over them. The Statue of Liberty was the most welcome and beautiful sight they had ever seen--for more than one reason!
---
Ft. Sheridan
Going from New York to Minneapolis was another story. They flew on a half empty Stratocruiser, a four-engine, propeller plane that was the top plane of the day. Since there were few people on the plane, the stewardess invited them to join the first class passengers. They had their choice of steak or lobster for supper and the free use of the lower sky lounge. The first class seats had large leather covers and they had every luxury possible.
Getting out of the army was no fun. Although he didn't have much time left in his enlistment and he was a Sergeant First Class, they made conditions for him as miserable as possible. His last days in the military were spent scrubbing the kitchens and peeling potatoes. They kept saying that he could end all this harassment by reenlisting. (That was the nice reward for spending time saving lives and suffering the hard times in 1952 at Triangle Hill.)
When it was all said and done, Dwight came out with a Sergeant First Class, an E-7 rating, the prestigious Combat Medic Badge, United Nations Service Medal, Japanese Occupation Medal, Korean Service Ribbon with three bronze stars, and the National Defense Service Medal.
---
True to His Promise
After the battle for Triangle Hill, when his corpsman friend, Red, was lying terminally wounded on a stretcher on his way to graves registration, Red said to Dwight, "Don't forget your promise." The promise was to do something good for mankind after leaving the army. Dwight assured Red he would commit his life to that purpose and he most certainly did. The following is a collection of his accomplishments to achieve that goal.
He studied and was ordained a minister at the centennial ordination in 1960 at the Augustana Lutheran Theological Seminary.
He was commissioned a missionary in Japan in 1960, and served in that capacity until 1970, with a year furlough back to the States in 1965.
He served as Pastor to:
• Benson Trinity Church
• Benson Bethany Lutheran Church
• Starbuck and Danvers Redeemer Lutheran Church 1971-1974
• Winthrop First Lutheran Church 1974-1984
• Glendale Lutheran Church 1984-1987
• Vice-president Lutheran Bible Institute of California 1988-1991
• Development Associate Global Mission Institute Luther Seminary St. Paul 1991-1994
• Professor of Stewardship Bronum Lutheran Theological Seminary of Christ in Nigeria 1995-1996
• Principal and Regent of Mitajiri Girls High School, Hofu Coty, Yamaguchi Prefecture, Japan 1996-1999
Dwight Johnson suffered a stroke on March 22, 2001 and was hospitalized until his death, April 2, 2001.
---
Epilogue
"From the silty Yellow Sea on the west, to the cold gray waters of the Sea of Japan, on the east, the armies facing each other along the line of contact each withdrew two kilometers to establish the agreed demilitarized zone.

As the U.N. withdrew, its storied hills--scabrous Old Baldy, torn Pork Chop, Bloody Ridge, Heartbreak Ridge, Sniper Ridge, Arrowhead, White Horse, Kelly, Nori, The Hook, Gibraltar and hundreds more--drenched in blood, hallowed by human courage, were abandoned. They lay in no man's land, blasted and reeking symbols of man's interminable collision with man. No monument would mark them, and no pilgrims would visit their rubbled graveyards. With another spring, or perhaps two, the pine and forsythia and wild plumb might grow on them once more, thrusting upward green and fresh from the rusting rubble of wire, shards of shells and smoldering bones. Except by the men who fought on them, they would soon be forgotten.

To the north of these hills the truce, hardly signed, had already been violated. New men, new arms, new modern aircraft poured across the Yalu River to new fortified bases deep in the mountains. No man knew when they might be used. To the south, many men--only a few Americans now, and many Koreans--stood uneasy watch, on a forgotten vigil whose end could not be foreseen. The Korean War, never declared, never ended.

More than two million human beings had died, forty thousand of them American soldiers and airmen, in a skirmish, nothing more. Nothing had been won, nothing gained--except that far frontier had been held." -- Fehrenbach, This Kind of War
---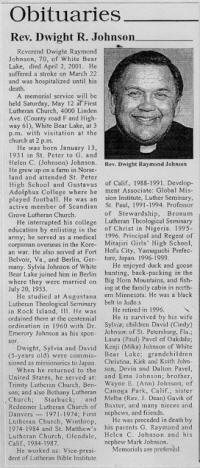 Reverend Dwight R. Johnson Obituary
(Click picture for a larger view)
Obituary