[The following memoir is the result of an online interview between David Evans and Lynnita Brown that took place in June of 2000.]]
Memoir Contents:
---
Pre-Military
My name is David R. Evans of Cincinnati, Ohio. I was born August 19, 1929, at Zanesville, Ohio, a son of George R. and Gail M. Slenker Evans. Father was a civil engineer and a surveyor, and my mother was a telegraph operator for the railroad before she was married. After my parents were married, Mother did not work outside the home. I have two older sisters, Nancy Anders (born November 1920) and Ruth Rose (born May 1925), and a younger brother, John T. Evans, born May 1934.
I went to grade schools at Zanesville, Westview and Lincoln through grade 4, and Athens Rufus Putman grades 5 and 6. I graduated from Athens High School in 1947. I worked at several jobs during high school, including loading trucks for Pepsi Cola, as a laborer for Athens Lumber Company, the City of Athens and Fenton Road Construction, and as an usher in Schines Theater. I was also a Boy Scout three or four years, reaching the Star Rank. We camped out year round and had a school gym to play basketball in sometimes.
I grew up during World War II. My cousin was killed in action at St. Lo during World War II. There had been other veterans in our family as well. Father was a World War I veteran; an uncle had been wounded in action in World War I, and my Grandfather Slenker had been wounded in action in the Civil War. As a youth during World War II, I collected scrap metal, bought War Stamps and War Bonds, and was in the Civil Air Patrol during my high school years.
As a senior at Athens High School in Athens, Ohio, I was a pretty good athlete. Athens was the home of Ohio University, and even though I knew all the coaches of all the three sports I participated in--football, basketball, and baseball--my only offer approaching a scholarship was a part-time job as a bus boy in one of the college dormitories. While school was going on, I could pick up a few dollars every month for spending money. In contrast, I was offered a full scholarship to play football and/or basketball at Marshall College in Huntington, West Virginia that included room, board, a part-time job, and a small amount of money that would be given every month. Needless to say, the urge to get out of town was very strong and the price was right. This was in the spring of 1947.
Just prior to graduation, I had a job as a night watchman at our local Athens Lumber Company. At this time they were on strike. I had worked there in the prior summer and knew all the employees. The owner's son was one of my best friends. The owner decided that since the regular night watchman had been ran off, the strikers wouldn't harm a local boy who had worked with them and was still in high school. It worked and after a couple of weeks the strike ended and I had another summer job until I left for college.
My mother left me no choice regarding college. I was going to attend one whether I wanted to or not. Being a pretty good high school athlete and a good student not only satisfied my mother's demand that I attend college, but also allowed me a chance to get out of the home nest. Since athletics had been so good to me, being a coach seemed to be a good profession. By coincidence, just about every player on the football team was a Physical Education major. Marshall College was primarily a teachers college at that time.
In August my dad dropped me off at the athletic department office and I reported for football practice. The next day I discovered that about 100 other guys had also reported for practice. Each one of us had the same promise, but only 25 would receive a scholarship. That was my discovery of the real world of college athletics in 1947. Somehow I made the cut, as probably the 25th guy. That year Marshall had a great year and as a first year "flunkie", I got to play a few minutes in the Tangerine football bowl. In the 1949 season, I played against my old home town school Ohio University, and we beat them. Revenge was mine.
My roommate Dan Wickline, and my best friend Charley Barton, were ex servicemen and on the football team. As part of their scholarship agreement they worked as bar tenders at a popular local bar. One of my fringe benefits was to spend hanging out time at this establishment and enjoying cut rate prices for adult beverages on most of my free time most evenings. The USMC recruiting office was just across the street and the Marine recruiters spent a lot of their free time in this establishment, so we became friends.
---
Joining Up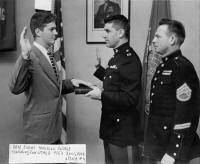 Dave Evans Swearing In
April, 1949
(Click picture for a larger view)
In 1949, these recruiters told me of a new program that was being offered to college men. It was called Platoon Leaders Class. This involved a college reserve recruit to spend two six week sessions during the summer at Quantico, Virginia, learning the basics of being a USMC officer. Upon graduation from college, one would be qualified to become a 2nd Lieutenant candidate. All duty was performed at the two summer sessions at Quantico, and it involved all aspects of Marine life such as fire arms use and firing, tactics, physical fitness, history of USMC, leadership, etc. Every course was taught by World War II veterans and every aspect was a hands-on affair. The students lived the training as it was taught in the field and the classroom. The Marine recruiters talked me into joining up into this program after a long evening at our favorite pub. The next morning they arrived on the college campus to take me down to the swearing in ceremony. My appearance did not pass their idea of how I should appear, so they drove me across town to my room and had me put on my suit and tie (my first taste of Marine discipline). Then we went back to the recruiting office and a captain in the USMC swore me in. A picture of it appeared in the local paper.
After joining the Marine Corps Reserves, I attended two summers at Quantico, Virginia for training to be a Reserve Lieutenant upon graduation from college. In June of 1950 I was on active duty at Quantico attending my senior PLC session when the Korean War started. I had just finished my junior year in college and I thought for sure we would be immediately activated and on our way to Korea. Our PLC leader had us all together on the day of our last session and advised us all to return to college and graduate. I asked him if we could volunteer for active duty and he said the only way would be to resign from the PLC program and request duty as an enlisted man. After thinking it over all summer, I decided to resign and requested duty as an enlisted man. My request was accepted in a short time, but partly because I was back in college, I was not activated until December 5, 1950. I was busted to Corporal, and sent to Parris Island for boot camp.
The Marines were always my choice of all the services from my very young years. I am sure that I was influenced by World War II movies of John Wayne and others. My roommate at college, an Army veteran of World War II, also later joined, but was thrown out for being color blind.
My parents thought I was nuts to join the Marines. I joined the USMCR in April 1949, and was called to report for active duty on 5 December 1950 as a Corporal. I was to report to Parris Island, South Carolina. When the Korean War started, I was on active duty at Quantico, Virginia, and like everyone else, I said, "Where is Korea?" I sure wanted to get there. I really felt sorry that I missed World War II, and wanted to see for myself what war was like.
I hitchhiked from Athens, Ohio to Huntington, West Virginia, and from there I took a train to Parris Island. Since my rank was corporal, I was in charge of the other guys that were also making that same trip. I did not know any of them, and I still don't.
---
Boot Camp
Boot camp is truly the place that is the birthplace of a Marine. From the first minute, your life is like being on another planet. The discipline starts immediately, and all the other training that builds one physically and mentally is bound together by this iron discipline to succeed at accomplishing a mission in combat. All Marines don't get into combat, but all Marines are trained as if it might happen tomorrow. All training is based on working as a team (fire team, squad, platoon, company, etc.), and the repetition and practice of doing things the right way is ingrained in us. The closeness of the living, working, and performing together makes these small groups achievers and closer than family. This spirit carries over into combat and sticking together in life and death situations, and not letting your team down is the end result. This all starts at boot camp.
Our train arrived at the Parris Island stop at about 0600 and some big Marine NCO ran into our coach screaming and cussing us. The main claim he made was that he hated his mother because she was a civilian and not a Marine. Guess where that put us. We were put on trucks and taken over to Parris Island. That first day we had a hair cut (skin tops), took a shower, received shots, got our issued uniforms, filled out papers, and started working on close order drill. We lived in wooden buildings on the main base, and in tents out at the rifle range. We had no insects to distract us because it was winter time.
Our drill instructors were both World War II veterans. They were S/Sgt J.F. Gilroy and Sgt G.C. Harris. Our platoon was composed of reserves that were all corporals and sergeants that had enlisted in the Marine reserves after World War II and who had not been through boot camp. With the exception of two of us, myself and another guy, all the other men were World War II veterans from other services. We were probably treated no differently from other platoons of "boots", but we were older and there was a certain amount of hazing because we had more rank than most of the DIs who were in charge of training us. We had no black recruits in our platoon, but I do know that we had a few in boot camp as "boots."
Boot camp was eight weeks long. We marched or double timed everywhere, and physical exercise could happen anywhere or any time. Book classes were held and slides were show in wooden buildings. This was on subjects such as map reading, Marine history, our General Orders (to be memorized), and the Marine mission. All the films we saw were strictly for training purposes on military subjects. We also had classes on various weapons, especially the M1 rifle. The non-classroom work was mainly physical exercise and learning how to maintain and use the rifle.
I think we got up at 0530. The lights were turned on and in one minute if we were not out of bed, we were dumped on the floor. We had about 30 minutes to make our bed, shave, shower, get dressed, clean up the area, and fall out for breakfast. We either ran or marched to eat, and then ran or marched back after eating. About 15 minutes was given for final clean up and we were off for PE and the day's classes. There was a noon break of about an hour and then back to the schedule until about 1630. If it was a good day, we were free until about 1730 and then we marched to supper. After supper we marched or ran back to the barracks and could read, write a letter, study, talk, or possibly have a smoke (if the smoking lamp was lit), or clean our rifle completely. If our barracks had failed inspection that day, we might have to scrub floors instead of any other activity, and possibly we might have to scrub them with our tooth brush. All participated. If a Marine failed rifle inspection or dropped his rifle, he had to sleep with that rifle. At 2145 we could get in bed, but not before, and at 2200, lights went out and Taps played. I do not remember our DIs getting us up during the night.
Our DI used physical exercise with or without a rifle as opposed to hands-on corporal punishment. When they spoke we answered and when they ordered we performed as they requested to the best of our ability. If a guy smoked without permission, a bucket (we all had our own fire buckets) was put over his head and we all marched past him and hit the bucket that was on his head with our rifles. I personally was fortunate in that I did not get into trouble with the DIs.
When our platoon marched poorly due to one guy or all of us, we all suffered. Exercise with rifles over our heads or long double time marches were a common punishment. Discipline of a collective type showed us that if we didn't all work together, we all suffered as a group. As a result, there were no troublemakers in our platoon. Most of the ones that fell out couldn't stand the discipline and or the physical requirements.
We ate well at boot camp. Meat and potatoes, eggs, bacon, chicken, liver, fresh vegetables and fruit, chipped beef, gravy, milk, coffee, juice, and cold cuts were common on our menu.
At the rifle range we had to qualify or not graduate. If one didn't graduate, he had to repeat the training all over again. I qualified as a "sharp shooter." Our platoon was an honor platoon due to high performances, especially at drill.
I don't remember any religious services, but we probably had them. I do not remember any real "fun" activities in boot camp. It was all business (no PX privileges after the first day, which was for buying basic supplies). As to whether or not I was sorry I had joined the Marine Corps while I was going through boot camp, I think that at some time every guy that ever went to boot camp was sorry he ever made that decision to be there. Due to extreme discipline and a 100% adhering to authority--no matter how tough--it could really stress you out.
At the end of boot camp, a ceremony with parade and speaker was our reward upon completion of our training. We were Marines and we knew it. It was a sense that was instilled in us. For most new Marines, the new sense of discipline and excellent physical condition was the benefit of this training. Upon graduation I went home for ten days in uniform. I wore it every day, and all my friends knew I was a Marine.
---
New Duty Station
After my leave was up, I took a Trailways bus from Athens, Ohio, to Camp Lejeune, North Carolina, for my new duty station. Nothing eventful happened on this trip. My new assignment at Lejeune was to the Heavy Weapons Company as a gunner on a water-cooled heavy .30 caliber machinegun. After approximately three to four weeks, I got transferred to a Rifle Platoon as a fire team leader.
This was "F" Company, 2nd Battalion, 2nd Marines, 2nd Marine Division. I remained there from February 1951 to November 1951. Infantry, tactics, and weapons, as well as amphibious landings, were the aim of our training. The NCO's and officers were our main instructors and most were highly qualified from World War II experience. Our infantry training was mostly in the field and with experienced leaders. We constantly had practice maneuvers that had to satisfy our superiors as well as still having to qualify at various ranges with our weapons. My biggest challenge in infantry training was leading other Marines and measuring up to be a leader.
We did have liberty at Lejeune most weekends, and either stayed on base or went to nearby towns. There was also an occasion 72-hour pass that allowed us to go to Washington D.C. and enjoy our libation in a different atmosphere. About nine months in Lejeune passed before I had the opportunity to extend my active duty for another year and volunteer for Korea. By this time we had trained at Little Creek, Virginia, as well as a Caribbean trip to Vieques, St. Thomas, and San Juan, Puerto Rico.
I volunteered for Korea because of a sense of adventure. Who ever heard of a new Marine who didn't want to see combat? At that time I was still a potential career Marine, and was afraid the Marine Corps would send me home as a reservist before I even had a chance to go to Korea. At this time I was assigned to Camp Pendleton, California, for a draft to Korea. I did have a girl I dated a few times when I was home on leave before reporting to Pendleton. Unfortunately, she gave me the brush-off for showing up for a date when I had been drinking. This was the day before I was to leave for the West Coast. I had not told her that I was going to Korea. We never saw each other again for over three years, but we did finally make up and she has been my wife for 45 years.
I arrived at Pendleton, and after a few days was issued cold weather clothing and was sent up to "Pickle Meadows" for cold weather training for a few days. We got there just as a giant blizzard hit, and after two days off the road, we returned to camp. The big blizzard made a big joke out of our cold weather outing. It was so bad we literally camped out just a few hundred yards from the busses in two-man pup tents for two days, and then got back on the bus and returned to Camp Pendleton. I have a paper clipping about this exercise from January 1952.
After that, we were loaded on a transport named the William Weigle, and left for Korea. We literally marched into this ship right off the dock at dockside level, leaving the USA from San Diego, California on the first of February 1952. There were 900 Marines in this replacement draft that landed in Korea on February 20, 1952. I have a clipping of this event, too. My mother saved it for me, as well as all my letters home.
---
Trip to Korea
The William Weigel transported not only Marines, but I believe Army replacements as well. We slept stacked either four or five high, with about two feet between bodies, head to toe alternating on a canvass bed. Each man had a pack with his belongings in it that hung by his head. Our sea bags ere stored somewhere else in the ship.
I had been on a Navy AKA transport before, but it was not as large as this ship. Some of the guys were always sick and truly miserable, but I was fortunate to have good "sea legs." These poor guys spent most of their time, when we weren't in line to eat, throwing up in the John. If we had any rough weather, I don't remember it. We spent practically all of our time below deck except for about 30 minutes of PT exercise each day. There was no entertainment on that ship, at least for us. There was some duty onboard ship, however. I believe a few guys helped on KP and a few guys chipped paint on deck, but it was a very small number and I have no idea how they were selected. Old Dave Evans didn't have any extra duty except about twice a day we had to move our packs from one end of our bunk to the other and make sure our area was clean. My job was to see that the 15 to 20 guys in my area did these little chores. You might say it was a "make busy" thing that mostly took our mind off of where we were going.
I had two buddies onboard the ship. We had been at Lejeune, North Carolina, together, and drove to Pendleton together. My good friend, S/Sgt Charles Otto, a career Marine, stayed in for over 20 some years. We still see each other about once a year. The other buddy was a Corporal Kraft who I believe was WIA in Korea. At Kobe, Japan, we were split up and I never saw Kraft again. I didn't see Otto for many years, even though he and I kept in touch by Christmas cards. He is now retired at Oceanside, California. Since my son lives in California up by Palm Springs, I always see Otto on my trips to see my son because he is not that far away.
The trip en route to Japan took 16 days. As near as I can remember, this trip was totally uneventful. I'm not sure about this, but I think the Army guys got off in Japan at Kobe. The Marines had a one-night liberty in Kobe, and the next morning we left for Korea. Our two sea bags were left on the dock. The William Weigel left Japan with the Marines still onboard, and the next day the ship stopped just off the coast of North Korea. Approximately 200 of us climbed down landing nets into a Navy LCT, I believe it was, and there was hardly room to sit down. We then went approximately a mile or so, and landed in the surf. The front of the boat went down and we literally waded ashore and walked into North Korea. Our great adventure had begun.
There had probably been a small village at that place, but it was not evident as I remember it. Trucks were there waiting for us to take us up into the mountains. These were open trucks and the weather was around zero. It was during the morning hours, but daylight, and it was really cold with snow flurries. We immediately fell in and our names were read off and we were assigned to trucks. There were probably 15 or 16 Marines to a truck. We left immediately and drove up through the mountains, which were very steep and snow covered. We rode these trucks all day, and from time to time a truck turned off the road with their load of replacements.
The truck I was on was probably the last to stop, and it was just at dark. In all the hours we were on the trucks, I never saw anyone--not a civilian or any military person--as I looked out the back of the truck. North Korea from my first impression was a country of mountain wilderness and no people. When finally I got off the truck, another Marine and I were met by a NCO and we walked about a mile to join our unit. This was George Company, 3rd Battalion, 1st Marine Regiment, 1st Marine Division, and it was now after dark. The Company Commander met us and said it was too late to join our platoon that night, and told us to get comfortable right where we were standing and to sleep there for the night on the ground. I was told the weather was below zero, or at least I was told that at the time, even though I never saw anyone with a thermometer.
The next morning I was attached to a machinegun section which was attached to the 1st rifle platoon. My job was to be the section leader. I was responsible for two light .30 caliber machine guns and 16 Marines in that section. Fortunately for me things were very quiet on our sector of the line and our Battalion was just preparing to go off line and into reserve. When I joined "G" Company, I was a new body. That is, I knew no one, was a Marine reserve S/Sgt and totally inexperienced at war, and not that totally experienced with the light .30 machinegun. I was fortunate the men tolerated me and taught me how to use this weapon. The very short period in reserve allowed me to get acquainted and learn the trade.
Our unit was in North Korea well above the 38th parallel and on the east side of the country. Some place in front of our lines there was a place called "Luke the Gook's Castle," which was an enemy strong point. This was the only reference I ever heard of that described where we were located.
---
New to Combat
February and early March were bitter cold and snowy in the mountains of eastern Korea. After moving to the western section, spring arrived and was very pleasant, with warm days and cool nights. Late spring and early summer brought heavy rains and made for pretty miserable patrols and living conditions in our homemade bunkers. In August the heat arrived, but it probably wasn't much different from southern Ohio.
In the extreme cold we kept our weapons as dry as possible. We had to lightly lubricate them to keep them from rusting, but then we wiped them dry. This was a daily function of making sure our weapons were extremely clean at all times. In the summer they still had to be cleaned daily, but we did lubricate more to prevent rusting due to wet conditions.
My first experience of actually seeing the enemy came sometime in mid to late March after we had moved from the east coast area of North Korea to the western part of Korea north of Seoul. I was on a listening post in front of an outpost. I believe we were at Hill 190.5 and approximately 10 or 12 Gooks moved across the skyline on a small hill about 50 yards to our right front. We called in mortar fire, and by the time two or three rounds got off, the gooks were long gone. The first dead enemy was seen a few days after seeing the live gook patrol. While on a small patrol, we came upon an abandoned bunker that an enemy had crawled into and had then died of his injuries. It might have been mortar or artillery fire that caused his death.
I saw the first dead Marine the first few days after arriving in Korea. My machinegun section had one of its guns on a road block behind our position, and a few rounds of mortar fire hit a few hundred yards from us. Shortly after this happened, two or three Marines and four or five Korean workers came up the road carrying a stretcher made make-shift from a poncho. It contained the body of a dead Marine. While bringing supplies up to us, one of those mortar rounds had zapped him. One of the guys said he was a brand new replacement, but not in our company. I did not recognize him, but it showed me how quick things can go bad. I always remembered that. I also recall that there was one Marine who later got shot accidentally while returning from patrol. He was mistaken for a Chinese infiltrator.
On my first few days on line, all we did was get ready to go off line into Camp Tripoli behind our main defense line. This was a tent camp and I slept with the other staff NCO's on wooden cots. We trained daily at our trade of being serious about war. We did pull guard duty of some nature, but for all practical purposes I saw no action, no enemy, and nothing but mountains and snow.
I never really cared much for my job as a section leader of machineguns. At that time I was very "Gung Ho" and wanted to be in a rifle platoon. I thought (absolutely stupidly) that there would be more excitement in being a glorified rifleman. In the middle of April through my crying and pleading, I was made Platoon Sergeant of a make-shift rifle platoon on a large outpost at Hill 190. Lt. John Parchen was the platoon leader, and an excellent one.
Emotionally it took some time--probably a month or so--before the idea sunk in to me that Korea could really be a life or death matter, 24 hours a day. I really don't have any memory of being fearful in that first month or so because we were not in a real active position. Being in reserve after the first few days and living in tents allowed me to get acquainted, and it also gave me the practice I needed in learning how our units of infantry and machineguns operated together, and what was expected of me.
My personal arms normally called for me to carry an M2 .30 caliber carbine rifle, but my platoon leader said I could carry my M1 rifle instead of the carbine. My choice was the M1 because of its stopping power due to its much larger round. On patrols and on outposts I always carried two or three hand grenades and a bandoleer of extra rifle clips. A bayonet for the rifle was also a part of our dress. This also served as a large knife.
Our officers in "G" Company when I arrived in Korea were: Richard A. Krajnyak, 1st Lt. Company Commander (a real shouting, serious guy I had very little exposure to after my first night and next day); John O'Donnell, either a 1st or 2nd Lieutenant who was the Company Executive Officer; and 2nd Lt. John W. Parchen who was Platoon Commander, Machinegun Platoon, from February to March 1952. Lt. Parchen was also Commander of a Provisional Rifle Platoon from March to April 1952 and Commander of 1st Platoon from April to August of 1952. I served under Parchen in the machinegun platoon as a section leader, in the Provisional Rifle Platoon as Platoon Sergeant, in the 1st Platoon as a squad leader and Platoon Sergeant, and then back to squad leader. Lieutenant Parchen was an excellent leader and never asked of anyone a thing he wouldn't do himself. I have kept in touch to the present day. He retired from the Marines a full colonel. After being in infantry, he switched to flying jets. I also served under a 2nd Lt. Harris for approximately a week as his platoon sergeant. He was brand new and I never really had a chance to know him.
Being a replacement was not that difficult for me. The Marine Corps had given me a good training at what was expected of my job at my rank. I realized and I learned from the veterans, all of whom had also been replacements in our outfit, that we had to live or die as a team together. The Marines of Korea were either trained with, or taught by World War II veterans, and they were truly survivors at our profession.
All of my pre-war training was aimed at being ready for real war. The big difference is in real war people get killed, and every little detail of discipline, goofing off, and lack of attention can prove to be fatal. In training, making noise on a patrol won't get one killed in an ambush, but it sure will in combat. The same goes for lighting a cigarette at night. It can be seen for a mile and might just get you rained on my mortar fire (not pleasant). Practically all of our action was at night due to our outpost positions. That made us and the gooks vulnerable during daylight hours.
The first week or so that I was in Korea was extremely cold, and the sitting out on a listening post for two hours with no movement was tough. My uniform consisted of the following: thermal boots (looked like our kids' old rubber boots worn over shoes) that we wore on our feet with a pair of cotton socks. They were good if we were moving, but they had a mold mark on the inside heel that tended to peel one's socks off, as well as the skin on our heel. If we didn't move for an hour or two, they served as ice boxes. We wore long thermal underwear (bottoms and tops), and also wore standard underwear shorts, usually under long underwear, and a T-shirt over the thermal underwear top. Our dress green wool pants were worn over the underwear, and then a pair of water repellant pants over the wool trousers. A heavy wool dress shirt was worn over the thermal top and T-shirt. A wool vest was worn over this top. If we still had a utility jacket, it was worn over the vest, and a heavy Parka was worn over everything. It had a hood on it that was worn over our helmet, and a wool cap was under the helmet on our head. Some of these caps had ear covers and were pretty heavy. On our hands we had wool gloves, and mittens were worn over the glovers. The mittens had a slit for our trigger finger. On line or outpost detail, we lived in this 24 hours a day. This winter gear did keep us warm when moving, but if we had to sit around for a few hours on watch or listening post, we froze our hind end off. It was uncomfortable, but we lived through it.
About the end of March, we started shedding clothes as the weather warmed up and we moved out of the mountains of North Korea and over towards the west coast north of Seoul. It was much warmer in the 20s, 30s, and 40s. In the warm, summer weather, we wore our standard "boondockers" (heavy work shoes), and if we could come up with the tops from old army boots, we could sew these on the top of boondockers and we didn't have to wear the canvas leggings, which was the standard dress. Some wore long underwear (thermal type), but our green "skivvies" came available as well as either green or brown "T" shirt. We wore the utility pants and jacket (Marine green). A standard utility cap was worn on our head, usually with our helmet over the top of it. Later on in the summer, although I don't remember them, we had a camouflage pants and jacket available. One of my old platoon buddies from those days has a picture of me wearing such an outfit. The flack jacket also was the last part of our dress up, along with the helmet.
There were some hills, not mountains, and these were our new homes. The largest of these hills was turned into outposts, and were manned by primarily reinforced platoons or squads, which means as many as a hundred Marines or as few as 25 or 30. All the large hills we manned had trenches, and eventually bunkers if we were there for a short time, and all had foxholes. Some of the trenches had elaborate caves that served as living quarters, and various armies had probably worked on making them for a long, long time. War was not a new thing to Korea as evidenced by some of these trench systems. There was a small amount of vegetation in this area, but not forests or giant trees. This was primarily a rice producing area, and the paddies were between all the hills. By summer the tops of all the hills were minus any vegetation and really bare.
My "baptism of fire" came in mid March on a hill called 190.5. Our second night on this hill I had just circled the trench line near the top of the hill and returned to my hole off the forward part of the trench line. This hole had probably six or eight feet of earth between me and the outside of the hill. A Chinese 76mm shell was shot right into this hill near my hole in the trench line. I was so scared I couldn't speak for a couple of minutes. I also couldn't hear for a few minutes, but both senses soon returned. By now we also received a few mortar rounds. That also got my attention. This was my welcome to the real world of Korea. Fortunately, I don't think any of our approximately 100 Marines were hit.
From March until September our company was basically in stationary positions on the outpost line of resistance. Each platoon had daily assignments of patrols, recon, and ambushes. Every night was a go night; that was our movement time to come off our outposts and patrol in the neighboring areas. We did make a few minor movements during this time, but they were really not much in the number of miles we moved.
Korea was a real stinking place in the spring and summer. A lot of dead guys, Korean and Chinese, were buried above ground, and these small burial mounds were everywhere. There was not enough dirt on a lot of them to hide the smell. The rice paddies, even though not being actively worked, had been fertilized by human "poop" for centuries, and we walked, lived, and fought in and around these "smell fields." Those smells (we probably didn't smell so good ourselves) stuck with me for years (I lost my sense of smell years ago). Most of our days were spent actually working, the digging of holes and trench lines, carrying and putting up barb wire, endless hours cleaning weapons, and routine training and practice of small unit tactics. Nights were for listening post duty, patrols, and endless watches, and all these activities were done seven days a week. I am sure a lot of these boring every-day details lead into other stories.
---
Daily Living
Most of the time we were near a place that had natural water, such as a well, a small creek, or an old rice paddy. This water was not to be drank (our drinking water was brought in cans), but it was suitable for washing bodies and clothes. About every month we had an opportunity to take a shower in a rear area and possibly to change clothes for clean ones. This was mostly in the summer months; in the cold winter we lived in our clothes and only changed or got a shower when we went off line. Shaving was a ritual that was done just about every day if possible. A lot of guys were young enough they could miss a lot of days shaving.
On line the food was "C" rations. We either heated them with a small container of sterno, or each eight or ten guys had a small portable camping cooker that burned white gasoline and was about the size of a quart milk bottle. About every two or three weeks a hot dinner was served in a close rear area if we wanted to walk back for it. Also every two or three weeks, we received a ration of things like bread, fresh fruit, or raw vegetables. In the rear area, we got real cooked, hot meals. These were probably similar to the same stuff we ate in the states, only we ate out of our mess kit. I never ate Korean food until I had a Korean daughter-in-law in 1984. I don't like it. While in Korea, I never had any meal that was outstanding enough to be remembered. I loved ham and chicken, but never remember getting them in Korea.
While in Korea, I never really had a special buddy. The Lieutenant and I probably had the most in common, but there was, and is, little opportunity for fraternizing between enlisted and officers. I had a friend named "Ski" Beltowski who stands out in my memory. He was a laid-back Polish city kid from Detroit who was probably a self-styled swinger of the Fifties (Zut suit and all). Old "Ski" got shot multiple times with a burp gun, and a large concussion grenade made him deaf for some time, but he survived. I saw him in the hospital in Yokosuka, Japan (both of us were in that hospital) and he thought we would be in the states for Thanksgiving. He got returned to duty and drove a jeep for another three months in Korea. We kept in touch, and after Korea we got together a few times in Detroit. Just after Christmas in about 1965 or so, his wife called me and said that he had a heart attack and she found him dead. I still think of him.
There were two Marines I ran into that I was acquainted with prior to Korea. One was T/Sgt Russell Hopkins who was our Battalion mess sergeant, and the other was M/Sgt Ellis who I ran into on Bunker Hill. He was my old 1st Sergeant from Camp Lejeune when I was in the 2nd Marines. My meeting with M/Sgt Ellis was very short and only a matter of a few minutes. I saw Hopkins several times, and he even came out to our OP2 outpost when some extra supplies were brought out to us. He just happened to have about 25 pounds of real coffee that was left in my possession. I shared it with others in our company. I had a cousin, Edward Evans, who was drafted into the Marines and served in Korea. However, he arrived after I left.
The last two or three months of the war I was involved in, the men in my company had few light moments. We had a pet dog named Tracer that gave us a little fun, but the dog got killed in a mine field. I do not remember any Marine that always kept us laughing. In leisure time, I wrote letters or just shot the breeze with the other guys about our big plans when we got out of Korea or back to the States.
If prostitutes ever got into Marine areas, they would have had to be camouflaged as Chinamen. Our areas in Korea just weren't compatible with any civilians or animals--especially not prostitutes. During my tour I had no contact with any Korean natives. Where we were, the only things of habitation were primarily burned-down huts that looked as if they were out of the Middle Ages. At OP2, I volunteered to take three other riflemen to check out a position near our OP. We were receiving a lot of mortar fire. We crossed a rice paddy and I climbed the dike on the far side and almost stepped on two Chinese. After prodding one of these gentlemen with my rife, I noticed just behind them was a small village that was full of Chinese. We proceeded to escort our two guests on a quick return trip back across the rice paddy. Evidently we had strayed into the neutral zone, so we weren't rewarded. The mortar rounds did stop for several days though.
In all of our areas, I never did see a child, and I never saw any prejudice of other races in Korea other than an intense dislike of North Koreans and Chinese. My emotions about fighting for Korea were an on and off thing. The country had my sympathy and the meanness of the North Koreans cannot be described. Since the Chinese were their mentors, they were also our enemy at that time.
I received mail regularly from my mother, and occasionally a note from my brothers and sisters. I received one package that arrived in good condition on the 5th of September from my mother. It contained canned chicken, cookies, and a small ham. I never did get to eat any of it, for we were sent out to Bunker Hill. That old chicken, ham and cookies might still be sitting on my cot. I had probably asked for this as a birthday present. My 22nd birthday was on August 19. One of my friends, a pretty close one but kind of a "goof off" when not required to be a good Marine such as on patrol, received a homemade Polish sausage from home. He shared it and it was great. I don't remember any of our squad or platoon getting a "Dear John" type letter or other bad news from home.
In the seven months I spent in Korea, I don't remember any religious service or having a chaplain around. They probably were available in the rear. However, at that point in my life, I wasn't very religious. During my tour in Korea, I did smoke daily and drank a few beers, and had an occasional drink of hard liquor. The cigarettes were in our daily "C" rations, and in an extra ration that was received every week or so. As a Staff Sergeant, I could purchase a case of beer and a bottle of liquor every time we were off line and in reserve. These little extra goodies were shared with my squad and platoon members. At this time we would have a happy hour of boxing, foot races, and just loafing around. Most of our platoon and company members participated, including the officers. I drank and smoked prior to Korea.
A USO show was in a reserve area in March. I think it was the Bob Hope Show. Our platoon had guard duty while most of the other outfits went to the show. Someone had to do it (or at least that is what some mean old colonel said). In September, while on the hospital ship "Repose", Frances Langford pinned the Purple Heart on me. I never went on R&R, and I don't remember any of our platoon members going during my time in Korea. During my tour in Korea, I never saw any Red Cross or Salvation Army personnel; however, I did see the Red Cross in Japan while in the hospital in Yokosuka. They arranged a phone call to my parents.
Most of the bunkers I lived in were strictly for sleeping, but two or three of them had an opening at the front end (they were usually built into a hillside near the top of the hill) that we could shoot out. Since just about 100% of our war was at night, this was not effective. If we wanted to shoot, we had a fighting hole outside the bunker that was our main position. Some bunkers were deep enough and had enough roof on them that they could withstand a direct artillery hit, but some could not. Otherwise, the bunkers were overall pretty safe, although we had to come outside to defend them. We used candles to light, and Marines would take a poncho or shelter half and make a cot that would get them off the dirt floor for sleeping. In July and August when the heavy rains came, we could have a foot of water in some bunker. We used our helmet to bail the water out. Another of the features were small--and sometimes not so small--rats that liked these holes in the ground. They were our occasional guest. I don't remember anyone being bitten by rats, but I do know of several instances of rats being shot. This was frowned on, but it happened.
I was exposed to other parasites such as lice, which probably came from the environment we lived in. In the hospital in Yokosuka, I was told that I had worms--probably from the drinking water that we occasionally drank in Korea that was not treated. A giant pill relieved me of the worms.
In a bunker, we primarily slept. If the weather was bad we might eat in a larger one. A foxhole/fighting hole was about waist deep. Some guys made a seat to sit down on while we stood watch or fought. Some of these holes were off of trench lines that were several feet deep, but most were on prominent hill-like positions where we could observe 360 degrees. these foxholes were active, 100% alert, holes that offered some protection, but gave a stationary fighting position to defend and maneuver out of quickly.
---
On the Front Line
After landing in Korea in February 1952, the 1st Marine Division moved from the east coast in North Korea to the western part of Korea north of Seoul. Our company was spread so thin, a provisional platoon was made up to man a forward outpost on Hill 190.5. This hill was manned by ROK's which we replaced, and as they were leaving and we were putting people in place, these friendly guys stole everything that wasn't nailed down. Later this hill turned out to be named Outpost Chicago and later Outpost Elmer. Other illustrious hills I served on for more than a few hours at a time were: OP2 that looked down on Panmunjom, Hill 190.5 (or Hill 190), Yoke, and Bunker Hill.
On Hill 190.5, we were about two miles in front of the MLR as a defensive position with about 100 Marines. Our duty was to defend this hill, actively patrol around in front of it every night, and later we manned smaller outposts during the day with small squad-type units. These outposts were several hundred yards away from the large 190.5 outpost. OP2 was a large company-size outpost overlooking the peace talks at Panmunjom. We had approximately 200 to 250 Marines on this hill. We patrolled every night at this outpost, and we were approximately four to five miles in front of the MLR. There were several thousand Chinese to our area to the immediate front, right, and sometimes to our left and rear. You might say that we were kind of surrounded except for the access road to Panmunjom. Two of my squad members were killed in action on this outpost. They were Sgt. Frank Harris and Pfc Merlin McKeever. Both were killed when their bunker was attacked and overran on the night of August 30, 1952. This position was the extreme flank of our company outpost, and we recovered the position within 30 minutes.
The next night, the Chinese returned, and S/Sgt Harney of 2nd Platoon was killed. He was a good friend of mine. Two days later I replaced S/Sgt Harney as Platoon Sergeant of 2nd Platoon. Several other members of my squad and platoon were wounded in action in the spring and summer of 1952. PFC Beltowski was wounded in action on OP2, and PFC McVicar was wounded in action in helping out when the 7th Marines raided Yoke. PFC Norman Ficken was also wounded at that action.
I knew two corpsmen very well who were assigned to 1st Platoon. They were HN C.F. Johnson and HN Workman. Both were excellent at their trade on pills and patches. One of them even put a couple of stitches in my leg as well as removing a few slivers of shrapnel. They were truly good Marines who just happened to be in the Navy at some past time.
On Yoke early in July, the 7th Marines had a battalion raid which did not go well. I volunteered to take a few guys out to help bring casualties back to our lines. Several of these volunteers became casualties while helping on this good deed. I remember that, on one of our recovery patrols that month, we went out to this small hill which the Marines held by day and the Chinese held by night. After going out to this location a couple of times, we got careless. There was an old abandoned bunker on the very end of this hill that was the farthest point from our approach to completely control the area. After securing the closest end of the hill, it had a small trench line that ended at that bunker. I was casually walking down this trench line when for some reason I decided to get out of the trench. Just as I jumped out of it (it was very shallow), a shot went off about 15 feet in front of me. I was already in the air and just kept rolling. This was a sniper that was left there to get one careless person, but the kind gods saved me. By the time I quit rolling and got my wits at least half back, this guy was gone. We never got him, but he never got any of us, either. It scared me to death at the time.
The Canadians were near our outfit, but we were not directly tied into them, so I cannot judge how they looked or fought. I was as close as one could get with the enemy on a few occasions. I never saw an "old" Chinese soldier. They appeared to be our age. Some were good at the trade, but in large groups they seemed eager to die. In defense, they were very tough. The Chinese differed mainly from us in tactics, in that they were always trenching toward our positions. When they had a large attack, they used bugles, whistles, and assorted star flares to get things moving or to recall from a bad night.
The enemy used hand grenades, small and large mortars (60 and 80mm types mostly), burp guns (most were similar to our .30 caliber carbine), large artillery guns, and large concussion grenades to stun, but not kill us. This was their means of getting POWs. They also had a 76mm rifle that was very tough. All of these weapons, plus a big mortar (120mm I think) were very effective if we were on the receiving end of them.
During my time in Korea, no one in our unit was ever taken POW. I don't ever think the possibility of being a POW ever crossed my mind, and I don't believe that any of my squad or platoon ever considered this as an option. I am sure we all considered the possibility of being wounded or maybe killed, but those were our only options. Most of the time we thought it could only happen to someone else.
Other than replacing ROKs on our initial move to the west, we did not have any contact with South Korean military. South Korean non-military men provided transport of about all of our supplies in front of the MLR. These mostly older men carried supplies of ammo, food, barb wire, wood for building bunkers, sand bags, etc. to our forward positions. On their return they also carried casualties and miscellaneous junk to the rear. These guys were called "Gook Trains", but they were valuable, even though they were not appreciated at the time. They also had the reputation of taking anything not tied down. Some units reported a few of the Korean laborers that brought our supplies out also served as spies and spotters on our positions. If this did happen, I was unaware of it.
Our company had excellent support from heavy mortars, rockets, and 105 and 155 artillery. The air support was sparse, but when it happened (10 or 12 times), it was spectacular. This was using bombs, machineguns, and napalm in close support of our positions. Also, on two or three occasions, tanks pulled up behind our positions, fired a few rounds, and left. On the 7th Marine raid on Yoke (this was the second time they raided this Chinese outpost), I vaguely remember seeing a tank or two on our way out to this hill. I do not know if they did any firing. While in George Company, we never had air drops that I was aware of during my time of duty. In earlier days at Chosin, our unit did receive air drops.
In late July, I believe, our platoon was given training to possibly make an assault by helicopter. We did this for approximately a week, and then were transferred out to a small island off the western coast of Korea above the 38th parallel. We were supposed to be part of a combination air and sea landing assault, but the whole thing was called off at the last minute.
At night when dug in a position, we always had listening posts around us. Patrols were sent out to actively seek infiltrators, and all personnel were on a 25 to 50 percent watch. Mortars and artillery were spotted in on landmarks around us, and machineguns were given a pre-plan for firing for areas each gun would cover. If an attack was pretty sure, it was a 100% watch.
---
Last Great Adventure
By September of 1952, I was pretty discouraged with the United Nations. Most Marines thought we were just being sacrificed when we should have used all forces, including "A" bombs, etc., to bring that war to an end. We could have won the war easily if we had made the all out effort. That was my opinion. Bunker Hill was my last great adventure in Korea. There was a little push, shove, and shoot. Information on what happened there can be found in assorted journals, books, papers, etc., and I mention some of it below, after which the rest of the story is my own.
---
From the History Books
Bunker Hill (Hill 122) is described as the first major ground action in western Korea that was fought by the 1st Marine Regiment in 1952. The official dates, as published in the June/July 2000 VFW Magazine, were August 12-16 and September 5-15. There were 48 killed in action, 313 seriously wounded in action, and several hundred WIA that were treated and returned to duty. During these dates shelling was continuous, and every night there was fighting at extreme close range. Bunker Hill is about one mile southeast of Panmunjom and north of Seoul several miles. In front of Bunker, a much taller hill with Chinese control was Taedok-san, and directly behind Bunker was a high hill line, "Jamestown Line" that was Marine controlled. Bunker was high enough that one could see some of the other Chinese outposts, but its control would give the Chinese a direct line into the main line of Marine defenses. All of the action involved each side trying at least to hold their side of this small, kind of horseshoe-shaped hill. The crest of this hill was about 350 yards long. The overall length was about 700 yards. Over these approximately 16 days, most all of the line companies of the 1st Marines, plus a couple of line companies of 7th Marines and 1st Marine recon fought on this hill. There was air support daily, artillery as much as 10,632 rounds in one day on August 13, and over 28,000 rounds were fired during an eight-day period. This is all recorded in "U.S. Marine Operations in Korea," Volume V, page 135. At the period of August 11-16, the Chinese expended approximately 17,000 mortar and artillery rounds (page 140 of same book).
The 3rd Battalion, 1st Marines was the principal participant in the ground action, with support from everywhere. There were approximately 3,600 Marines in the 1st Marine Regiment, of which approximately 1,200 to 1,500 fought on Bunker (page 108, Volume V, U.S. Marine Operations in Korea). Most of the close action from distances of less than 100 yards involved rifles, machineguns, and grenades as the weapons of choice by both sides. At the very same time, all of the artillery, mortars, and tanks (firing from the main line) and occasional air support was adding to the noise. The night belonged to the infantry people to slug it out, and most of the actual fighting was after dark. Actually, most of night was lit up by flares and all the explosions. There might have been several thousand Chinese involved at this same little hill. There was no vegetation at all, and the whole place looked like a garbage dump. The temperature was in the 90s during the day, and even though participants were in a bunker or enclosed hole, it was not comfortable. Getting enough drinking water was a real problem. I had heard these bunkers were prefabs of cut trees put in a hole on the reverse side of a hill. They were eight feet square with four feet of logs on top with dirt in sand bags of an additional four feet. They were about six foot or seven foot deep. This fancy place could sleep four or five men.
---
From My Perspective
On the night of September 4, G-3-1 was relieved on OP2, and we thought we were heading for the rear area to rest up. Just behind the main line, we stopped at a tent area to clean up, get mail, etc. I had just been appointed Platoon Sergeant of 2nd Platoon that day. After meeting the Platoon Leader (he was a brand new Platoon Commander) and meeting my new platoon members, I was asked to join a meeting with the Lieutenant and our Company CO. The jist of this meeting was that our company needed to provide a stand-by platoon for "Easy" Company, 1st Marines, on Bunker Hill that night. This was no big deal as there had been little action at that place the last few days. There was no hurry. We would just camp out behind the main defense line that night and then motor by trucks back to our rest area the next day.
About three or four hours later, the 2nd Platoon of G-3-1 loaded on trucks--34 of us--and headed up the road. It was just before dark. At about the same time the trucks started, we could hear a lot of noise, such as artillery starting to drop. We were now asked to come up to the top of the hill and talk it over. It was now dark--probably around 9 or 10 at night--and very noisy. We could hear rifles, burp guns, machineguns, and an assortment of artillery and mortar fire. We were met by 1st Sergeant Ellis. He was my old 1st Sergeant at Camp Lejeune eight months before. He advised us that Bunker was under heavy attack and we should proceed out and join the party, but first we should open the boxes of grenades that we were going to carry out with us and make sure that all the cotter pins were straightened out to make sure they pulled easy. Later on I was glad we made these grenades easy to pull.
A runner now joined us to lead the way down a steep hill that had a winding path. After about 100 to 200 yards, the terrain flattened out, and after another 100 yards or so, we climbed a small hill. On the way out, we noticed probably 40 or 50 guys going the other way. These guys were about 100 yards to our right. We later found out that they were attacking the hill we had just left. The CO of Easy Company met us about halfway up the hill and advised us to leave our grenades. Every other Marine carried a box of grenades. He told us to return to the hill we had just left. He gave no explanation, but by then we realized that there was small arms firing behind us. The same runner led us back the same way we came out on the double. All this time the mortars and artillery were all around us, but we didn't suffer a casualty.
After getting back to our previous start--all 34 of us-- we were told to spread out and stay loose. Those words stayed with me for 48 years. In less than an hour we were told to head back to Bunker and we repeated the trip. This time we saw no one off to our right or left. The firing on Bunker was still hot, and this same CO met us and had two or three noncoms that were with him to lead our platoon members to various hot spots. A mortar round hit near us that exploded a flamethrower that was sitting on the ground. While our men were moving into fighting holes, the Lieutenant and two or three other Marines and myself were throwing dirt on burning napalm. I would sure have liked a picture of that. By the time we put this fire out, it was getting light. The Easy Company CO invited us to sleep in his CP bunker.
---
Wounded on Bunker
During the day, the mortar and artillery fire was pretty steady, and it was decided to not run our guys down and relocate them during the daylight hours, which would have been the time to get our people back together. At dark, I was asked to check the right flank, locate all of our "G" Company guys, and relocate them on the left flank. This was where most of them were sent, for our "G" Company was coming out that night to replace "E" Company. At this time it was getting dark, and here I went off to the right looking for people, most of whom I had only met two days before. Unfortunately, the direction I was told to check had none of my men, but there were many Chinese dead from the previous night's fighting. The Chinese held the top of the hill, and the "E" Company guys were 20 to 25 yards from the enemy on the reverse slope of the hill.
About every 12 to 15 yards, I found that there were usually two Marines in a fighting hole that were scared to death. Anyone walking or crawling was potentially fair game, including me. There I was dropping by asking about a bunch of Marines they did not know. Each fighting hole had to direct me to the next hole and so on. After getting to the last Marine (I was advised he was alone), I checked in with him and since he was located almost off the hill, I decided to go a little farther to see what was down at the bottom. After going a short distance, I could see a narrow valley and while looking it over, a flare went off. I think it was green. Other flares, ours, also went off, and less than 200 yards away were a large number of Chinese. This sent me back to the hole I had just left. At this time I could hear a bugle, but could not see what was going on because the crest of the hill blocked my view. Just before I jumped into the fighting hole, I had crawled over a Chinese guy about 15 feet from the hole. I thought he was dead, but evidently not.
A few minutes after getting in the hole, all hell broke loose. Several Chinese came out of an old bombed-out bunker about 15 to 20 yards in front of us. At the same time, four or five came up and over the hill on my right. If these guys had run at us, we would have been gone, but they were in no hurry. Mortar fire and artillery fire was hitting all around. We started throwing grenades and they were gone. By now there were grenades being thrown at us from the top of the hill, and at least one or two of them were thrown back. It was after one of these exchanges that I saw the guy I thought was dead very close to our hole pull the string and hit a "Potato Masher" on the ground and roll it almost to the edge of our position. From this point on, my memory gets hazy.
I vaguely remember firing my rifle, but I can't figure how I could ever have reloaded it. I did somehow throw more grenades. Maybe they were ones that we loosened the cotter pin on before going out on Bunker Hill. Even though I was overran on that occasion, I did not lose my rifle and somehow I survived. In close combat, described as hand to and, it happens so quickly and ends so suddenly that I can't even describe it after 48 years. If there is Hell, I experienced it that night. After long seconds or minutes (not hours), it ended and all I knew was that I was alive and some of the enemy wasn't. They were gone except for a few still laying around. There were a few more bodies on the ground near our position, including the Gook that rolled the Potato Masher on me. It was at this time that I realized my right hand wouldn't function, and my Marine partner was hit and I couldn't help him. It seemed quiet, so I hollered for a corpsman and one responded.
At some point I do remember the "potato masher" in front of the about-waist-high hole I was in. I remember picking it up with a return-to-sender throw. I think this might have been the start of the end of my Marine career, but after 48 years of thinking about it, I am now not positive. At some point, shrapnel did put a hole through my hand and wrist, my flack jacket was ragged looking, and I had an assortment of small cuts and a dirty face. I have no idea how long start to finish that my adventure lasted, or how long after getting hit before I realized it. Nor do I know how long it was before I could call out for a corpsman. Being the last guy on the flank of a real bad hill isn't the most popular spot to gather a crowd of helpers, but that old Navy corpsman came out and told me to follow him if I could. I did. My legs were fine. I had survived, but I was told that the fellow Marine that I had shared the experience with had not been so lucky. He was hit in the head, probably with shrapnel. Later I was told my friend was dead, and I never even knew his name.
The enemy firepower was not as potent as ours. Our BAR's and light machineguns gave us the means to overcome their superior numbers. The Chinese were very brave, but the larger the force they had to use, the less efficient their result. Most of the officers I served under were brave and really "Gung Ho." There was only one exception, and he was relieved and sent back from our line company. The Medics were brave and truly were great Marines in their own way. Hand to hand combat happens, but the guy with a gun will win every time. Our company, our battalion, and our regiment held Bunker Hill, and at least at that time we were successful in our mission.
For years after these adventures, I also thought what if I had done something different. I relived that Bunker Hill adventure for years in my dreams, and out of the blue I would smell gun powder (cordite in the shells). It is so hard to believe anyone could survive, and I will never understand how I could be so fortunate. As the years go by and after 48 years, some of the memories of those days make me wonder what really happened, or if some of the incidents were only a bad dream. In looking back, every Marine on that hill was a hero, and brave beyond description. Our platoon had one man that refused to go out to Bunker Hill with us. He just cracked up. His act was the only act that was less than brave that I witnessed in my approximately seven months in Korea.
---
Aftermath & Recovery
Just at dawn as the rest of our G-3-1 was coming on the hill to replace "E" Company, I walked off the hill with the "Gook Train" that had brought supplies out with G-3-1. There were several wounded that were carried off by these old Korean workers, as well as a few dead. For me, the aftermath of the fighting that I was in on Bunker Hill the previous night involved assorted surgery and six months in assorted hospitals.
At the immediate time I was wounded, I don't remember any pain or being unconscious. When a person is literally fighting for his life, pain is not noticeable at the moment that wound is received. It was only after the Chinese were gone that I realized my hand wasn't working. With all the noise going on, whether many minutes or an hour or more, there was no way I could call for help or receive any. It was only after it had quieted down that I could call for a corpsman and one appeared. He put a couple of bandages on my hand and lower arm, but I don't think I had a shot of morphine until I later walked up to the Company CP. It was at the CP that another corpsman wiped me off. I had a few other small cuts on my arm and face. He told me I had a hole through my hand and wrist.
Now I started to hurt, especially when he put a tag on me and said I was being evacuated to the rear. My flack jacket was really torn up, and a little Marine Corps emblem that I wore on my utility jacket for good luck was all bent out of shape, as was my belt buckle. (I still have both of these items.) I walked off Bunker Hill with my arm in a sling just before daybreak as my old platoon and the rest of G-3-1 were coming out to relieve E-2-1. The "Gook Train" that brought supplies out to Bunker Hill carried a few guys on stretchers back to the main line. I was in the middle, carrying a rifle, I think, but would have had a hard time using it.
When we got to the MLR, I was put on a stretcher and taken to a MASH hospital where they looked at me, put a new tag on me, and said I would be helicoptered out to the Repose hospital ship. I made the trip in a basket that was on the side of the helicopter. When the copter landed on the deck of the Repose and they unstrapped me, I said I could walk and did so into a shower. At this time they undressed me. I told them I wanted everything in my pockets in a bag and kept with me, and they did it. After this I was unconscious for several hours, and didn't wake up until the next day. I was advised later what they had found was mainly a hole through my palm and out the top of my hand. All of my fingers, a thumb, and my wrist were broken, and pieces of shrapnel were removed from my hand and wrist. My face was covered with dirt that was probably blown into my skin. I had a basket cast on my arm, and my fingers were all in little rubber slings. I was told I would be transferred to Yokosuka, Japan, for more work on my hand. We left the Repose and went by train only a few miles. I think we went to the Air Force base at Kimpo and flew to Japan. I was only there a couple of weeks, and am not sure if they worked on me there or on the hospital ship Haven, which brought me back to the States.
The Haven delivered me to Oakland Naval Hospital, and from there I went to Bethesda Naval Hospital. I was at Bethesda from approximately the last of October until the last of February. Most of this time was spent in rehab to gain use of my hand again. Due to nerve damage, I lost the sensation of feeling in my hand and fingers, and it is still somewhat impaired. The surgeons who worked on my hand did a great job, and early on it was touch and go about keeping the hand, but it came out okay. I have no idea who any of these doctors were, but I sure thank them.
To be honest, after walking off Bunker Hill, it was some time before I ever really gave much thought to my old buddies that were still in Korea. Even though it was several years before the bad dreams started to fade out and every now and then weird smells that brought back memories of Korea would occasionally hit me, I sometimes really missed my old buddies and those nighttime walks through the hills and rice paddies.
My family evidently received the Western Union telegram that informed my parents I was wounded in action. I never did see this piece of paper, but the Acting Commandant of the Marine Corps did sent my parents a letter to the effect that I was probably all right and would shortly be returned to duty. There was also a letter from our representative in Washington expressing sympathy (I still have both of these letters.) I also have a couple of the press clippings that appeared in the newspapers. I also got to call my parents from Japan while in the hospital a week or two after being wounded.
In all the hospitals and hospital ships (Repose and Haven), the wards were all full of Wounded in Action, and in Yokosuka, I ran into several old friends. On the Haven (the one that brought me back to the states), one of our platoon members was in the same ward with me. His name was Callahan, and I think he was from Chicago. We got split up at Oakland Navy Hospital. He went to Great Lakes Naval Hospital, and we never got back in touch. Callahan and I went on liberty at Pearl Harbor (the Haven stopped there for a day or two). If we could walk--ambulatory, they called it--we signed up for a Red Cross tour. When the bus stopped at a red light downtown, we opened the door and got off. We went to the Royal Hawaiian Hotel. The house detective took us into a private bar and everything was on the house. His son was a Marine. Eventually I returned to the ship, and there was no penalty extracted.
At the Bethesda Naval Hospital in the states, we had liberty every weekend, and it was usually spent in a bar. This particular bar also had a lot of Army Wounded in Action (from the Army Walter Reed Hospital) that spent liberty there. There were even a few new wars started there. I think it was called "The Chatterbox."
The last of February 1953, I went before a "Physical Evaluation Board" and these Navy and Marine officers decided I should be "temporarily retired" for physical disability. I was sent over to the Naval Gun Factory. This was on Friday, and on Monday I was taken to the Marine headquarters to pick up my papers, and was sent home. I had a buddy who was getting out of the Navy that very day, and we had arranged for him to give me a ride home in his car.
In March of 1953, I went to a school for baseball umpires at Daytona Beach, Florida for six weeks during my recovery phase. It convinced me that I would not be a baseball player. In May I went to work at North American Aviation in Columbus, Ohio, as a heat-treat inspector. In June I went to Palmer, Alaska where I drove a truck for a half day and got fired (no talent). I ended up working in a minus-25 degrees freezer for Matanuska Farmers Co-op Association. This job was primarily stacking up ice cream in a giant freezer room. (My cold weather training in Korea finally paid off.)
In September of 1953, I returned to Ohio University in Athens, my old hometown. I finished my schooling, receiving a Bachelor of Science Education in February of 1954. That same month, I took a job teaching history, civics, PE, and coaching at Pickerington, Ohio High School. In June 1954, I took a job as laborer working road construction. I made about twice as much as I did as a teacher. In September of 1954, I returned to school at Ohio University to get a degree in engineering. I didn't get it.
In November I tried to get back in the Marine Corps. At that time I was probably a little bit wild, as you might say, and probably drank too much and whatever went with that lifestyle. I did see the error of my ways, and thought the Marines might be my solution. No go. I requested a reevaluation before the P.E. board, and I went back to Bethesda Naval Hospital for this event. I wanted to get a commission and be found fit to do so. My timing was poor. Everyone was being dropped by the Marines during down-sizing after the Korean War. The Board said I was fit, but not necessarily fit for commissioning. I took severance pay, and in December of 1954, I was officially retired from the Marine Corps. I have no problem getting compensation through the Veterans Administration after I accepted severance from the Marine Corps.
---
Life After the Corps
My life as a civilian and the adjustment to this life style was not too difficult. I was very restless and seemed to be on a three-month interest span before having to move on to another job, interest, or travel adventure. Hard physical labor was the one outlet that probably helped me the most, and I did a lot of that. I finished another semester of college in engineering, and in June of 1955, I went back to road construction as a high-paid laborer (what a life). In September I got married to the same girl who said, "Get lost" when I was a young Marine on my way to Korea less than four years before. At this time we moved to Cleveland, Ohio, and I went to Case Institute of Technology, Case-Western University now. After two months I gave it up and entered the work world with the Boston Gear Works, and settled down.
In March 1968, the Vietnam War was hot and heavy, and even though settled down with three kids, my own home, a wonderful wife and a great life, I must have gone nuts. War to some people must be addictive, and evidently I was of that variety. I stopped in Columbus, Ohio, at a USMC reserve unit that was being activated, and before I knew it, I had written a letter to the Commandant USMC requesting active duty. Fortunately for me, I received a nice letter in reply I still have the letter as well as a copy of my letter) saying due to the fact that I had accepted severance pay, the regulations said that I could not get back in the Corps. This saved my marriage, my family, and who knows--maybe my life.
I have three children and they are all successful in their own way. My oldest is David N. Evans, age 43, a graduate of West Point who now lives in New Zealand. David served in the Army several years. His first wife was a Korean he met while serving in Korea. There is one grandson from this marriage who now lives in the Seattle area. My son's second wife is Chinese. He met her while working in China. We now have a Chinese-American granddaughter. Dave is still an Army Reserve Major.
Our daughter is Jane Zollo, age 41. She is a Nurse Practitioner who lives in the Troy, New York area. Jane has a Master's Degree in nursing and works in surgery that primarily is for heart patients. Jane was and is a serious runner, and has competed in the New York and Los Angeles marathons. She still runs several miles most days.
Our youngest is Dan, age 39, who lives in Cherry Valley, California, near Palm Springs. Dan graduated from the University of Iowa with a degree in Journalism, and was a sports writer for several Gannett newspapers before ending up in California. He now works for the San Bernadino Sun as the financial writer. He was a sports writer for several years there, and at one time covered the Los Angeles Raiders for the paper. Dan has a son and a daughter, and another on the way.
I retired in 1985 before I was 56. I was still active in sports and played softball and basketball, and ran competitively until past 65 years old. After first retiring, I helped out at a grade school, teaching kids to learn to read. I did that for two years. Somehow I got involved with our local fire department as a volunteer, and served as a fireman and an EMT for seven or eight years. At first this was exciting and enjoyable, but after a few years I was putting in more hours as a volunteer than most of the regular firemen did as full-time city employees. In 1991, I was "Fireman of the Year" in our community. Those emergency and fire runs finally got to me, and weren't as much enjoyment. At the age of 65, I decided to call it quits.
Since that time, I still work out and run a few miles several times a week, as well as bowl regularly and play golf two or three times a week. My wife and I also travel a few times a year, and have been to England twice, Korea once, California many times, and pretty regularly to Myrtle Beach and Florida for a week or two to play golf and visit old friends. This year we went to Florida, New York, and a three-week drive through Texas to California and back. Last year we went to China, Myrtle Beach, New York, Virginia, and Florida.
I remain somewhat active in our American Legion Post, and serve in the firing squad. We bury 15 to 20 members a year. For 35 years I was the Sergeant at Arms for this unit, parades, ceremonies, and burials. On Veterans Day I have been a speaker at one of our area high schools (guess what, it's on Korea, but no blood and guts). Somehow I still seem to get volunteered in my spare time. In 2001, I will be the chairman of our G-3-1 Korea Reunion, which will be in the Greater Cincinnati area in September.
---
Final Reflections
After returning from Korea, I am sure that there were a few changes in me--some for the good and others I survived. If there was a change in me immediately after getting out of the service, I do not know how others could notice it as I didn't stay in one place long enough to get well acquainted. It really took a couple of years to settle down, and during that time I was extremely restless, drank too much probably, was kind of less than good tempered, and everything seemed to be done on an impulse or spur of the moment.
My life in the Marines gave me an ability to not be awed by title or status of an individual, but to judge a person by how he produced with what he was capable of doing. This really helped me in my later life as a salesman and dealing with people from the lowest end of the economic scale to the highest end of corporate management. I feel as easy with the guy pushing a wheelbarrow as I feel with a company president. Whenever things got tough in civilian life, all I had to do was remember, "At least no one was going to shoot me tonight and I won't be sleeping on the ground on purpose." If there was a job to do, I got at it until it was finished. This seemed to be instilled in most Marines.
At the time the Korean War started, I was all for intervention. I was a nut who thought at the time that we should be fighting Russia, and this was the place to see how serious the Russians were about a showdown. If we had been thrown into the sea by North Korea, I am sure those mean old Russians would have turned their eyes on Europe in a very short time and would have gone for broke. I believe that MacArthur should have gone north of the 38th parallel, if for no other reason you have to occupy ground to defeat an enemy. There is no such thing as victory if this does not occur.
The U.S. should never have divided their command as they did in requiring both the Eastern Command under General Almond and the Western under another army commander. General Almond was totally incompetent, and MacArthur was so busy politicking that he didn't pay attention to the war and what was happening. The Yalu was a dumb place to go and served no purpose. If our forces had stopped after taking the North Korean capital and consolidated the defense, the Chinese would have run into a steel wall and lost their fight north of South Korea. This is my unlearned opinion after reading of events over the last 50 years.
In 1989, our son David had a Korean wife and son. He was working in Seoul, Korea for the Brooks Shoe Company, and we went over to see them. He lived in a high rise apartment about a 10-minute walk from the center of Seoul. He took my wife and I over to Inchon, and what a sight that was. It's now like an amusement park. We went up to Panmunjom, and I could see the top of our old outpost, OP2, probably about one mile away. It was totally bald wit nothing but dirt top showing. We also drove up to a restricted area overlooking the Imjin River where the invasion started on June 25, 1950. The old trench lines are still there and are manned by Army guys with real live bullets, etc. This area was still on a war footing and were eyeball to eyeball 24 hours a day.
Both China and Russia found out that the USA was no pushover when it came to fighting a war. The arms and planes that Russia supplied were no match for US planes and arms. The Chinese found out their unlimited manpower was no winner against US firepower and discipline after the first six months of the war. This war was called a "Police Action" by our "no win politicians", but the Communists knew there was a real war and that the USA would not only fight, but could give them more punishment than they could ever withstand. It probably saved the world from a World War III confrontation.
There are approximately 35,000 US personnel in Korea today that are a token of our desire to keep Korea free from Communist attack. North Korea realizes that if our blood is spilled by a large attack, it would be the end of their country as a communist force in Asia. I am in favor of this arrangement.
The Korean War was so close to World War II, it was "small potatoes" in scope, casualties, and cost. Times were good in the United States at that time, and the great battles of World War II were still fresh in the minds of our countrymen. It was hard to be excited with no threat to our own country. At the highest level, there were even then a lot of liberal voices advising a no-win policy. I can't explain their reasoning. As soon as our troops showed that we could defeat the communists, it was time to stop the action with no clear cut victory, and forget we had ever been in Korea. This same reasoning carried over into Vietnam, and look what happened there. We won the battles and lost the war.
Years after every war, people appear that were in the service that want attention, and either make up phony stories as if they were in action, saw deeds, or heard of deeds that are real attention getters. Usually these guys have no credentials, but they have a story to tell, and if it is gory enough, there are always other non-participants that will swear it happened. The very nature of war is to kill people, the enemy, and accidents happen and civilians get caught between forces that are bent on destruction. As General Sherman of Civil War fame said, "War is Hell." Any time civilians and military mix, you can't separate the players on a split second decision. The results are deadly.
The American soldier, sailor, airmen and Marines of 1950 were every bit as tough as our fathers and older brothers that fought and won World War II. In fact, a lot of these participants fought in World War II. They showed the world that Communism could be beat on the battlefield, and, as I previously mentioned, probably saved us from World War III.
I probably have not gotten into any big discussion with my family on my personal doings in Korea. That is the kind of thing that I just took for granted the TV documentaries showed history taking place, and if my kids were interested, they probably would see it on TV. I have been active in veterans affairs and organizations for 50 years, and am sure my kids have heard the same stories of my service years over and over again. I guess if you aren't asked the leading questions, you don't get the full story, whether from me or most anyone else.
The small units I served with had no Missing in Action while I served with them. One of my friends was listed as MIA, but it was because a mortar or artillery shell hit him and there was not a lot left to identify. It is all right to look for MIAs, but most of these individuals were literally destroyed and there are no pieces left. After 50 years, I think we should move on.
There have been four or five old friends from Korea that I have kept in touch with over all of these 48 years. One of these old buddies died (Beltowski). Lt. John Parchen, Sgt. Don Litzer, PFC Bob Crawley, PFC Jerry Hosek, and Sgt/Major Charles Otto are other old friends that are still around and have kept in touch with Christmas cards, visits, and reunions over the years.
Korea was the great adventure of my life, and there are very few days that go by that I do not think of events there and the Marines I served with. Most of my present friends are veterans, and probably half or more are World War II veterans. We have traded stories of all kinds over the years, and I have no envy of their adventures or the publicity given to World War II veterans. It is surprising how similar our memories are of combat happenings.
I believe the Marine Corps made me a much more disciplined individual in all aspects of my life. Loyalty, patriotism, and comradeship were so deeply ingrained in the Marine life, they will remain with me forever. I do attend our company reunions, and it is great. A deep bond exists because of our great adventure. It binds us closer than most families ever experience.
"Once a Marine, always a Marine" is a great and true saying, but just maybe it could also be, "Once a Marine always wanting to be a Marine in your dreams." As a youth we met the challenge, we paid the price, and we will always remember those days we were a true Marine and upheld its highest traditions. You can't take it away.
This interview has been very tough. It has brought up old memories that have been buried away for a long time. Looking up old clippings, letters, pictures, going through books, and correspondence from the Marine Corps has really tested my patience and mental health. As difficult as it has been, it is very rewarding to see the end result in print. My computer skills are very limited, so it has been my wife who had to read, edit, and put it on the computer. She should get a medal. Just maybe our kids or grandchildren might find this little journal of some interest about a day long gone and the tales of an old Marine.
---
Citations Received
Citations for meritorious service in Korea from 11 August 1952 to May 15, 1953, were earned by the 1st Marine Division. These citations earned our unit the Navy Unit Commendation Ribbon, and the Korean Presidential Unit Citation. My part in these outpost struggles was at OP2, Yoke, Bunker Hill, and a few other minor hill actions.
I received the Purple Heart for wounds suffered on 6 September 1952 at Bunker Hill. I also received two Bronze Star Medals with "V". The first was for action on July 7 at Yoke. I led a detail out to help bring in casualties. Somehow I ended up with the assault unit and helped cover their withdrawal from this raid. The second Bronze Star was for action on August 30-31 at OP2. During an assault on our outpost on OP2, I had the opportunity to direct artillery, mortars, and small arms fire to help repulse this assault. I am very proud of these medals, and only received them because of heroic action of other Marines who made these actions and rewards possible. My idea of war hero is any warrior that does not run when confronted with overwhelming odds or circumstances that should make any sane person take flight. This might be strengthened by discipline, comradeship of one's mates, and an inner fire that makes someone hold his ground or go forward. All the Marines I served with were heroes.