By Richard Elder

I started basic training in January, 1951. I was in the infantry at Ft. Leonard Wood, Missouri for four weeks followed by another four weeks training in Engineering. After completing that course I was assigned as an Assistant Platoon Leader as Cadre. I trained new recruits on Engineering courses in the use of demolition. After 3 months on this assignment, I received orders to go to Korea in October, 1951.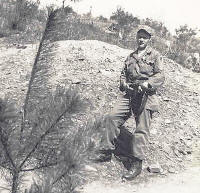 Mung Dung Hi Valley, April 1952
(Click picture for a larger view)
One of the worst times in my life came when I boarded a converted cargo ship in Seattle, Washington. Our destination was Yokahoma, Japan. From the first day out to sea, and it took 21 days to reach our destination, I was sick! Because it took that length of time, we ran into a typhoon at sea for 3 days, which was an experience in itself!
After 24 hours in the processing center, I was sent to Tokyo where I was assigned to a training school as a mess sergeant. The duty there was good, but I never could figure out why a Demolition Instructor was sent to Food Services School. I left Japan in the middle of January, 1952 and was sent to Korea. I traveled from the Japan to Korea on ans LST with 15 other soldiers and 100 tons of bagged rice. We arrived at the Island of Koje, which was the detention area of 150,000 prisoners of war. I was assigned to the 27th Regimental Combat Team, nick named the "Wolf Hounds", It was a regiment of the 25th Infantry Division based in Hawaii. The weather was 10 degrees above zero with a heavy snow fall. The first night there we were living in tents and assigned guard duty at a motor pool. It was so cold and we were not equipped with cold weather clothing or boots that we were told we could sit inside any of the equipment to keep warm. It snowed so hard, even if the enemy tried to attack I couldn't even see them coming. After 2 weeks on the island of Koje, which was about 2 miles square, the prisoners revolted. The prisoners were fenced in compounds of 25, 000 per unit and lived in Quonset buildings and cooked their own rice. They used human force to break down one of the fences trying to overcome the soldiers guarding the compound at about 1:00 AM. We were awakened by the sound of sirens & automatic gun fire which was coming from quad .50 caliber machine guns mounted on half tracks. Everyone was assigned an area at the top of a large hill overlooking the compounds which were built in a valley and that night there was a great loss of enemy lives. Two days later we received orders that the Regiment was being reassigned to a combat area in Korea. I assumed, although it was never said, that we were being punished for what happened. While we were loading men and equipment on the ship, a 101st Airborne Division battalion was unloading their equipment which included tanks.
The Regiment boarded the ship and was taken to the port of Pusan and from there we were trucked north through Seoul, the capital of Korea. We had to work our way through the city as it had been bombed by the American Air Force to drive the Chinese and North Korean Armies back to North Korea. We arrived at the combat zone, which was a line established across the mountain tops. We moved up the sides of the mountains which were snow covered and frozen since the temperatures were in the 20 degree range. We reached the top of the mountains and relieved another company which had been involved in keeping the Chinese and North Korean armies from advancing back to the South. IT was around 3 to 4 AM in the morning and much to our surprise the Chinese turned on their loud speakers and large search lights and blew trumpets which scared the hell out of us. They knew that we had replaced the other Company during the darkness as they yelled over the loud speakers "Hello Wolf Hounds" our regiment logo.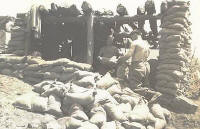 Building a bunker in the Valley, May, 1952
(Click picture for a larger view)
After a few days of getting settled into the underground bunkers, which were made out of sand bags and logs, we found out at on our right flank, we were tied in with a Turkish Brigade. They did all kinds of crazy things that endangered our position on the line. At night they would send patrols down into the valley floor, which the Chinese also did. The Turks captured Chinese soldiers and brought them back to the top of the mountain where their line was established. To locate their positions on the tops of the mountains, the men their would light bon fires, so the could find their way back. The Turkish soldiers fired machine guns at night with ever other bullet being a tracer. During the ten months I was there I was promoted to sergeant. All through the ten months, the Chinese shelled us every night with mortars. We were finally overrun by the North Koreans and over half of our company was killed, wounded or taken prisoner. We were finally mortared off the mountain until reinforcements arrived to take it back. When they arrived I was able to be sent to Japan and boarded a ship back to the States. After a month furlough, I reported to Camp Crowder, Missouri in December, 1952 and received orders to report to Fitzsimmons Army Hospital in Denver, Colorado.
At Fitzsimmons I was assigned as assistant to the Chief of Food Services Division. She was a Major in rank and was easy to work with. While there I had the privilege of being assigned to staff that was in charge of making preparations for visit from President Dwight D. Eisenhower for his medical check up. He liked to play golf at the Cherry Hills Golf Course. The second time that year when he came into the main entrance of the hospital, his Secret Service personnel were standing there waiting for him. He came over and shook my hand and said "Good to see you again Sergeant." During his visit we talked about where I was raised and if I was going to stay and make a career of the Army. I told him I didn't think so.
While I was stationed there I met and married my wife, Ester, who was a sergeant in the Women's Army Corp. (WACs) She was a medical technician training to be a nurse. In January, 1954 we were discharged and moved back to Villa Grove, where we have raised five wonderful daughters.

History of the 27th Regiment during the period Richard Elder was a part of it.
In January 1952, the Wolfhounds were called to the Island of Koje-do. Communist prisoners confined there were becoming insurgent. Shortly after their arrival the prisoners in Compound 66 ignited a prison wide riot. Well organized Reds distributed steel pickets, blackjacks, pipes, clubs, knives and rocks to be used against Wolfhound soldiers. Riot control tactics, bayonets and concussion grenades failed to control the rioters. The Wolfhounds were forced to fire. By the time the uprising was subdued, seventy-five Reds lay dead and one-hundred and thirty-eight were wounded. One American soldier was killed and seventy-nine others injured.
The regiment moved back to the mainland and into the division reserve. At the end of March the regiment again moved forward, relieving the 14th Infantry in the Satae-ri Valley. With the heaviest fighting of the Korean war now over and truce negotiations beginning at Kaesong (subsequently moved to Panmunjom), the war transitioned to a new phase. The UN, Chinese, and NKA forces reverted to almost World War I tactics. From heavily fortified positions, limited offensives were launched, backed by tremendous artillery concentrations, whenever the negotiations bogged down. The main activity were combat patrols sent into the "No Man's Land" between the lines to capture prisoners, gain information, and maintain contact with the enemy.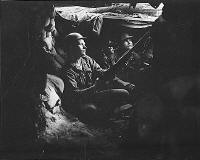 Click picture for a larger view)
One of these fortified positions was located along the eastern side of Heartbreak Ridge in the Taebaek-Sanmaek Mountain range. At the highest elevation was a massive fortification popularly called "Sandbag Castle." Built by the Turks and improved by numerous American GI's the redoubt provided minimal cover against the constant enemy sniper fire and 120 mm mortar barrages. Less than 15 yards from the enemy lines was Listening Post "Agnes". It was in this outpost Corporal Benito Martinez, Second Platoon, Able Company, made a heroic stand that blunted a large scale North Korean attack. Corporal Martinez was posthumously awarded the Medal of Honor.