[The following memoir is the result of an online interview between Robert Cox Jr. and Lynnita (Sommer) Brown that took place in September 2000.]
Memoir Contents:
---
Pre-Military
My name is Robert Bailie Cox, Jr. I was born on October 3, 1931 in Boise, Idaho, a son of Robert Bailie Sr. and Edith Martha Williams Cox. I have brothers Steven and John and sisters Lois and Elaine. Steven was five years older than me, John was 14 months younger, Lois was three years younger, and Elaine was seven years younger than me. Our father was a sign painter/commercial artist. Mother was a registered nurse and floor supervisor at the County Hospital. During the Depression she was a nurse midwife.
I attended all twelve school years in the town of Twin Falls, Idaho, graduating in 1950. From the age of 12 to 18, I had morning paper routes. In high school I had "stock-boy" jobs at Kings 5 & 10 Cent store and J.C. Penney's Department Store. In my senior year I was a Corporal in the National Guard and worked after school at the Armory doing jobs that needed to be done--cleaning up, cleaning weapons, and keeping the place looking good. I was a Boy Scout but only got to the rank of First Class Scout. I left the scouting movement after I had a misunderstanding with the scoutmaster (my fault).
I was in school during World War II. My older brother Steve was a medical corpsman in the Navy and served with the Marines at the landings at Enewetok and Kwagelein. At school we had scrap drives (iron, aluminum, copper, lead, and paper). Everyone was involved in some group activity and some of us freelanced by collecting scrap and selling it to dealers for pocket change.
Twin Falls, Idaho was a farm community. I found that doing farm labor when I had spare time was a profitable thing to do. I got top wages and there was not much competition because the others were all off to war. I did a thing called "contracting" (working by myself). I contracted to do so many acres at a set price. I worked alone and without supervision and, if I did not goof off, I made very good money for a 14-year old. By the time I was 16, men came home from the war and farm laborers were imported from Mexico who worked for cheaper wages than me, so it was back to the dime store at 50 cents an hour.
---
Rite of Passage
I joined the Marine Corps on October 26, 1950. They needed Marines and I qualified. My parents left the decision to join up to me, but my father said I had to finish high school before I left home. Enlisting in the Marines was my rite of passage. My best friend, Donald Eberhart, tried to join with me, but he was dyslexic and could not pass the tests.
I went by railroad from Salt Lake City to the Marine Corps Recruit Depot (MCRD) in San Diego, California. No one that I knew went with me. MCRD was on a sandy area west of downtown San Diego. It was a "short-sleeve" place even in the winter. When we arrived, we were collected at the San Diego railway depot, bussed to the base, and again put with another group and taken to a barracks to wait for several hours until the barracks was almost full. Then we were taken to supper. We were bedded down that night around 9 p.m.
It was a week before we started training, so we were collected into the Casual Company until then. When it was time, we were assigned in alphabetical order to a platoon. There were three platoons formed, and mine was roughly the first one third of the alphabet. The platoon to which I was assigned was Platoon No. 88-50, First Recruit Training Battalion. Sergeant Dryden is the only one of three drill instructors (DIs) that I remember. He was a veteran of the Iwo Jima landing. He was not the senior DI.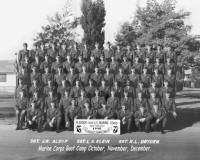 (Click picture for a larger view)
Boot camp was eight weeks long and consisted primarily of close order drill, physical fitness, how to take care of gear, awareness of sexually transmitted diseases, mess duty, learning to shoot, and taking care of our rifles. Non-classroom training was close order drill and physical training. Classroom training was everything else except mess duty. Church was offered but I only went once because the DI railed away at "sissies" who went to church.
Our days were regimented 24 hours a day. We (all 72 of us) were together 14 hours a day. Sergeant Dryden woke us up in the mornings by throwing the garbage can the length of the barracks. Other DIs blew a whistle. We marched to and from every meal. (I was fed well in boot camp. I gained 17 pounds in eight weeks. We were served very good meals that were high in protein and carbohydrates.) We had to get permission to do anything at all. Personal care was stressed and everyone showered every day. We didn't have any free time until the fifth week, when we were transferred to the rifle range. One of the most important things we learned was to never depend on anyone doing for us what we ourselves forgot to do or didn't have time to do.
Personally, I think Dryden was drunk when he woke us up in the middle of the night one time while we were at the rifle range. We were awakened at 2:00 a.m. and marched around the camp in the dark and over a very steep grade where several members of my platoon injured ankles. One guy broke his leg. After about three hours, we were taken back to the barracks for an hour's sleep. At daybreak we were back in formation as if nothing ever happened. Dryden reeked of booze.
The DIs were really tough task-maskers. Everything had to be perfect. We were the best platoon around. The DI was probably the meanest, nastiest, most terrible person one can think of, but we needed someone who would be hard on us. We were all earmarked for grunt status. I remember that one time I was sloppy in rifle drill. Dryden took my rifle and used the butt-end of the stock to hit me very hard in the chest. I had to repeat the drill movement 100 times. The second time I was disciplined, I was caught eating a candy bar and was forced to do 100 pushups. These were the only mistakes I got caught at.
We were all treated the same--just the mistakes were different for most of us. Only one person was repeatedly disciplined. He was slow mentally and was a target for the DI. Most of the discipline was on an individual basis. Only the late night march was group discipline. We were trained to work together as a team. If some one person made a mistake, the DI yelled at us all. Every day of boot camp I was sorry that I had joined the Marine Corps, but we were really good Marines--and we knew it! Dryden was tough on us, but he knew how to get the job done. No one in our platoon was killed in Korea. I am sure that he would be glad to know that.
The only "fun" we had in boot camp was probably making fun of the former service types, reserves and national guardsmen. We had one black--a guy named Evans from Texas. He was one of us. We liked all of our platoon.
Learning to shoot a rifle well was the hardest thing about boot camp for me. I was awarded a rifle marksman medal. When boot camp was over, there was a brief graduation ceremony. Since the platoon was very large, it was shortened by about ten persons and I was not required to march in the ceremony. I guarded our barracks. We were awarded the best marching platoon. When I left boot camp, I was one of the best Marines ever made and I believed it. I was more disciplined, squared away, and proud of who I was.
---
Advanced Infantry Training
While I was in boot camp, I was selected to go to Radio Operator School. We were assigned to the Signal Battalion for communications training. The same problem that happened in San Diego happened at Camp Pendleton. They were not ready for us so they put us in a Casual Company (alphabetically, of course) to wait until others arrived and to figure out what to do with us. While in Casual we did flunky jobs such as message center runner, headquarters building clean-up, mess hall attendant, supervising some boot trainees at mess duty, and prisoner escort (running prisoners back and forth between the brig and Captain's Mast). When it became evident that there were no funds going to be allocated for communication schooling, we were all given ten days leave and transferred to Camp Pendleton for advanced infantry training.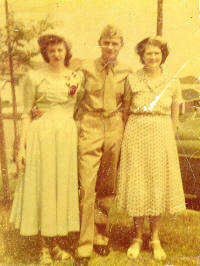 While in training at Camp Pendleton, CA, my mother (right) Edith Cox came to California for my wedding. Pat Erickson (left) and PFC Robert Cox (middle).
May, 1951.
(Click picture for a larger view)
I went home to Idaho, where I married my high school sweetheart. I wore the uniform to get married in. One acquaintance asked me a bunch of questions about the Marine Corps and I took him down to the recruiter and we signed him up. I returned to southern California by train and bus to Camp Pendleton when my leave was over. My mother cried and told me to take good care of myself.
Advanced infantry training was for 12 weeks (mid-March to mid-June 1951). Once at Pendleton, we were sent to the Casual Company for temporary billeting until we could be processed. Immediately after processing we were sent to Tent Camp Two (just a couple of miles from the town of San Clemente. It was there that we found out that we were the nucleus of the Tenth Replacement Draft. Again, we were assigned alphabetically. I was with about 20 of the same guys I had been to Boot Camp with.
My wife followed me to California by a week. For a while we lived with my friend Don's sister, but later we moved to Oceanside before I sent her home until I came back from Korea. We were close to Hollywood and the beaches, and close to Tijuana, so we went on weekend liberty passes all the time. There were not many restrictions on married men. I never had weekend guard duty.
This bunch consisted of embassy and seagoing Marines who were cleaned out of plush assignments and were being sent to fill the gaps in Korea. We were taught infantry combat tactics by hands-on and classroom training and by field exercises. We were not assigned permanent instructors--that is, we had different instructors for every subject. This infantry training was a bit more relaxed than boot camp training, but it was very extensive. All the training was on the base. There was no cold weather training for my group. We were required to go on a 15-mile hike, but it was a bust because there was a brush fire and we were pulled back from the field. The biggest challenge of advanced training for me personally was that I was not a big person (143 pounds and 5'11"), so I got tired easily. Years later I found out that I had a heart condition and was always short of breath.
---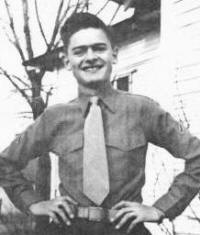 (Click picture for a larger view)
Korea-bound
My orders immediately after graduating from advanced training were for Korea. My wife did fine at the advent of my leaving the country for a combat tour of duty in Korea. She went home by bus sometime around June 5th. Home at that time was in Butte, Montana, with her grandparents. Her parents didn't do too well about our marriage, but in early May they brought my mother to California and we had a Catholic wedding ceremony. The first time the ceremony was done by a Justice of the Peace with only our witnesses. A few friends and relatives were there for the second one. The parting at the bus station in Oceanside, California is still vivid in my mind. There were not a lot of tears. She was about two months pregnant and we wanted a cheerful departure.
I boarded the troop ship General William S. Weigle for transport to Korea on June 17, 1951. There were already 4,000 Army troops on board who had got on in San Francisco. There were about 1,500 Marines that boarded in San Diego. With 5,500 troops aboard, there was no room for any kind of cargo. This was my first time on a big ship. I didn't get seasick, but several others did. The seas were calm for our entire trip. The worst was just a gentle roll. I remember that during the trip (north of Hawaii), the sea was as calm as it could be. By my count, the trip took 17 days. Entertainment was mostly playing cards. There was not much sightseeing, but there was a lot of standing in line. While standing in line we made new friends, bullshitted a lot, and watched the ocean go by. As a Corporal, I had no duties.
The Army off-loaded their troops at Yokohama, Japan, then we moved down Tokyo Bay a few miles to Yokosuka and we were given "Cinderella Liberty." That is, we had to be back on the ship by midnight. About ten of the guys that I went to boot camp with and I went to town (Yokosuka) and we went to a Japanese diner. They included Donald Cox, Donald Douglas, Dunn, and Dunne (I don't remember the first names). The other names I can't recall. Some of us decided to get laid "one last time!" and we all pooled what cash we had to do the deed. We were back on the ship before we had to be there. The ship then went down to the southern end of Japan to Sasebo and fueled for the remainder of the trip. This took another day. The next day we were in Pusan, Korea, at 5:00 a.m.
At daybreak the first of two thousand Marines started off-loading. We went off the same we came on, in alphabetical order. They called off names in batches of 60 (that was the number of persons that would fit on a flat bed truck) and we disembarked down the long ramp, seeming even longer because the tide was in, raising the ship far above the pier. We were raw, green, Marine fodder for the killing machine. The stench of Korea was truly unique--a mixture of diesel oil, diesel fumes, raw sewage, human excrement, urine, and rotting food. I have no trouble remembering the smell. Seeing Pusan was like seeing a frontier boom town in the movies. There were military trucks of all descriptions going every direction, and refugees standing on every corner. There were not many guns in view.
The 10th Replacement Draft was to be processed in some "casual" camp and sent north. God knows where we would all end up. Most of the guys around me were my friends. I knew all of them. We had started out in San Diego last October when we reported in for boot camp. After we hit the bottom of the ramp at Pusan, we sounded off with our last name and first name, and were literally grabbed by a sergeant and directed to a waiting, open-topped, plywood-sided semi-truck trailer rig--all of this with a full sea bag, all of our field gear, and an M-1 Garand rifle. In all, I would say the gear weighed about 120 pounds and I weighed 139.
That day, Pusan was dusty and there was an overcast sky. The ride through the city was a Technicolor version of a World War II newsreel of a war-torn area. There were people scurrying around and all kinds of hustle and bustle amidst the unbelievable stench. We were trucked about seven miles to a camp used for staging replacement Marines. Upon arrival we were given three days supply of C-rations (because it took that long to process us) and directions to a tent where we were to wait until called upon. The tents were huge, 18-man squad tents. Out of the 18 guys assigned to our tent, I had known at least ten of them since boot camp. Were we going to be assigned to the same unit? I thought not. After some hours of confusion, not being allowed to go to the PX or even to leave the immediate area, small batches of names were called off and each group was given a new staging area to move to.
Early the next morning we were awakened, told to gather all of our gear, grabbed a bite from our rations, and wait for someone to come after us. Within minutes we were off again, into the same type of open truck and off through Pusan again, this time to an airfield. We didn't see very many Koreans in the area because they had been evacuated. We boarded a four-engine Navy transport and were off to Yanggu [Taegu?} in an area in the north central part of Korea called the Punchbowl. We were given our assignments. I was assigned to A Company, First Battalion, 1st Marine Regiment. After a sleepless night, we re-boarded the truck and went off to an open staging area. By the time we got there, we were covered in dust and very dirty. Of course, none of us had any idea what kind of confusion was going on, but they had sent our truck to the wrong unit. The Gunny Sergeant there told us to stay the night where we were.
We spent the night sleeping on the ground at the base of the infamous Heartbreak Ridge. The night was noisy. There was no rest of any of us. It was too exciting. We saw a duel between two machine gunners, tracers arching in the night sky, each firing short bursts to get the range. After what seemed like an hour, the duel ended with the gun nearest us firing a long burst and no return fire from the furthest machine gun. The winner of this duel was an American-made .50 caliber machine gun. Before I returned home, I could tell what kind of gun was being used by the sound of its firing.
After another sleepless night, we re-boarded the truck and went off to a new area and our real assignment. We traveled at least 50 miles over very dusty roads. By dusk we were again on the ground--about 80 of us milling around in a dry rice paddy. We were so incredibly dusty that when we looked at each other we could only recognize each other by the shape of the body and the color of the eyes (they were all bloodshot). Although we arrived in time to be fed a hot meal, we were told no because we had our C-rations. Just before dark, a Master Sergeant came down and asked if anyone had ever been a ham radio operator, been to communications school, or knew anything about radios. I was no hero, but I had been to Morse code school when I was in the Idaho National Guard. I had also played around with radios when I was growing up in Idaho. I put up my hand and told the sarge what my experience was. He said, "Get your ass in gear and come with me." I was reassigned to the Communications Squad, Headquarters & Service Company (H&S Company), Regimental Headquarters of the First Marine Regiment. Later I found out that only one other of this group did not get assigned to the First Battalion, First Marines, First Marine Division. I don't think anyone ever begrudged me the chance to stay out of combat, but I carried a little guilt over it--for a while anyway.
It took a few days to get organized, at least a week to get a shower, and a lot longer to get my clothes laundered. Before I knew what was happening, we were off to a rear area for a few weeks in reserve and rest for the combat troops. July 10th or 11th was the first day in the new area. We were never told what "the plan" was until someone came and said, "Get all your gear and get into that truck. We are going back into Reserve." So the very first days were a blur. The next were confusion about what was happening. We were south of the Iron Triangle in a rear area called Hongchon during the months of July and August. There we had an opportunity to look up old friends and settle into a daily routine. The place was like some sort of fantasy dream. There were green trees, grass growing everywhere, a nearby river, and it was very warm. We stayed there well into August, then we went back up north to fight again.
It was at Hongchon that we heard the bad news about Heartbreak Ridge. Every place that we, the Marines, had a weapon, the Army's Second Infantry Division (the Indianhead) replaced it with a gun of a lesser fire power. For example, where we had our fifty caliber machine gun or a water-cooled thirty caliber (a heavy thirty), they put in a light thirty caliber. If we had a light thirty, the Army put in a Browning Automatic Rifle, and so on. The First Marines were able to hold the ridge-line because they had superior firepower. When the Indianhead Division took over, they had less than the required strength of men, thus the North Koreans were able to push the army off the ridge in less than two weeks. That was one helluva fight before it was all over.
---
H&S Co., 1st Marine Regt.
The duties of H&S in general were to command and support the regiment with supply, communications, food, transportation, and ordnance (guns and ammunition). Most importantly, it supplied the command staff for the regiment--administration, intelligence, operations supply, and the commander. The regiment was in a reserve status when I got there, which meant that we were standing down (no combat) for the whole regiment. I didn't know anyone at this area. Some of the Marines I went to boot camp with were in the plane/truck that I was transported in to get there, but that ended when I pulled out for radio operator duty.
I was assigned to the Communications Center as the commander's radio operator (MOS 2531). Later on, in the spring of 1952, I was used as a code machine operator. That is, I decoded messages on a machine made for the purpose of encoding and decoding the top secret messages. (I was poorly trained for that job, which came as I neared my rotation date later.) I rarely ever saw the content of the messages that I decoded. I never saw anything that I disagreed with or was disagreeable with. Sometimes I was used as a courier to hand-carry messages to the battalion headquarters. My original commander (communications officer) was Major Kovacs. He rotated back to the States around March or April of 1952 and a new commander was assigned in May. I don't remember his name. I think he was a full colonel named Wallace or Womack or something like that. I went with him in the commander's Jeep when he visited the lines or moved on foot. I didn't sleep with him in his bunker--I was just nearby if I was needed. At that time we were using World War II radios and they were 60-pound monsters that were not made for hiking through the mountains. The radios were "voice" radios. The commander was a friendly person and I think he became Commandant of the Marine Corps in the late 1950s. I liked the job of being assigned to be the regimental commander's radio operator, but that assignment didn't last but a couple of weeks. Other than missing my wife, I did very well being new in a combat zone and with everyone being a total stranger. I do not recall many officer names. Major Kovacs was my communications officer at Regimental Headquarters. He was a big man, tall, and always calm.
The veterans of the Chosin Reservoir were almost all gone by the time I arrived in Korea. My unit was one of the units that walked out of the Chosin Reservoir. For that I was allowed to wear a Presidential Unit Citation because I was assigned there during the very last part of that time period (late June 1951). Veterans of the spring offensive of 1951 were not very sociable and not "cozy" with the new guys. I remember a few of these guys. Some of them did help us get settled in and guided us somewhat. Some did not. There was a feeling of, "I got mine, now you go get yours." There was a lot of social ladder stuff--new guys to the back of the bus kind of thing. Later on I avoided things like that, and always befriended the newly assigned.
My very first days with H&S were pure misery. The sudden change in diet caused me to have bowel cramps and dysentery. I was very used to eating fresh meat, drinking milk, and eating fresh veggies and fruits. The change to canned foods was too much. I got the trots from the C-rations and spent my first days in the company getting acquainted with the eight-hole outhouse. After a while I got used to canned everything, but I really missed drinking fresh milk. I came down with infected gums and I blamed it on the lack of the milk. They almost had to pull all of my teeth, but the dentist had me brush my teeth about six times a day for a few weeks. That seemed to cure the problem.
A bit of military formation here. Every military unit was built on the concept of two units in front and one in the rear--company, battalion, regiment, and division. The one in the rear was always used as reserve. Additional units that were needed--heavy weapons, medical, motor transport--were always under the control of the H&S for the unit, assigned as a sub unit, and under control of the commander. We learned that the communist tactics were to put as many men on the battlefield at one time as possible so that they could overwhelm their enemy. Our tactic, in response, was to put as much lead and armor-piercing rounds into the air at one time and then sustain it as long as possible The tales that were filtering back were of blood baths, wave upon wave of assaulting troops and the screaming of the dying and wounded North Koreans hanging from our barbed wire. Sometimes they were able to break through and then there was brutal, hand to hand stuff. Both sides soon realized that this did not win or was too costly and the powers to be decided to make the battle lines static--that is, dig in for the winter. We spent the early fall establishing our lines, obtaining the high ground, and getting ready for a bad winter. I remember the heat, the dust, the rain, the cold, and the personal discomfort. What I read today in the history books is the casualty numbers, the politics, and the tactical maneuvering for advantage. Exact dates are a little hazy to me so consequently, some are not the same as the historians' accounts.
---
September-November 1951
It was probably two months or a little longer after I got to Korea before I saw the enemy. They were prisoners of war brought to Regimental Headquarters for interrogation. They were Chinese, I think. I never thought much about what kind of processing happened to the dead until a 4x6 truck came to the area behind where we had our radios and unloaded the bodies of ten Marines and several dead enemy. Because the bodies drew a crowd, the bodies were never brought there again. Most of the people at Regimental Headquarters never saw battle casualties, so they came to watch the process. The thing I remember the most was the body of a dead Marine captain (company commander) who was killed by a Chinese mortar round that hit him in the right shoulder. He was very badly mangled and had been killed instantly. The dead Marines were put into black rubber body bags, unwashed and battle dirty, and sent to Seoul for processing. The dead enemy were quickly packaged and sent to Seoul for burial.
We must have stayed in Hongchon at least six weeks. In early September the regiment went back on the front lines again. After the warm summer vacation, we returned to the north for renewing the lust for the high country. The unit that controlled the high ground controlled all that one could see. This was a time when the fighting was very vicious and bloody for precious few scraps of square feet.
I lost one acquaintance, Eddie Taasevegan from Butte, Montana, who I met in another regiment. We shared a liking for Butte. He was killed during a battle for a ridge line on September 5, 1951. The battle situation was very fluid and ground was changing hands very frequently. At nightfall, Easy Company, Second Battalion, First Marines (E/2/1) decided to hold their ground and wait until morning before resuming the attack. Eddie was manning a foxhole in the bottom of a saddle on a ridge line. The North Koreans continued to press their attack and they were rolling hand grenades down the ridge. Some obviously rolled into his hole. He did not survive the night. It must have been a terrifying experience to hear the grenades hit and roll, but not be able to see where they were at so that they could be tossed back or at least thrown out of the hole. When I got back to the States, I went to see his cousin (I think he was his cousin) and he was indifferent to the loss--"what will be, will be". The cousin wanted to know how I had all the details. It was because I cared.
I had no moments of fear until we were assigned directly behind the front lines and actually came under fire that September. We were given very little instruction on how to operate the radios. We were assigned to man and operate radio relay stations on the mountain tops and that was rather boring. We were only used when Morse code radio transmission failed--then we used voice radio relayed from mountain top to mountain top. Voice radio was like talking on the telephone except we had to tell the other person that we were done by saying "over." It was kind of hard to get used to. Our hand-held radios were walky-talkies from World War II. The Marine Corps was not funded for modern equipment and a cold warfare situation so while I was in Korea we had World War II equipment. (Just before I rotated home we got state of the art equipment and stopped using Morse code. Until then, everything we had was voice radio and telephones.)
Our radio squad was picked to run the radio relay station in September. Our position had been manned by Chinese, North Koreans, South Koreans, and the U.S. Army at various times. Each property holder had strengthened the position until it was quite strong and very secure. Our mission was to assist the regimental commander by observing the battle situation by providing a radio relay service. I had crawled to the top of this mountain carrying a huge radio, with a hand-cranked generator (ANG/R-9) and with all of my gear for maintaining myself for a couple of weeks. That was the first time I considered quitting smoking. There were no roads--only barely usable trails, no switchbacks, just straight up the hill. This area was very mountainous and heavily wooded--what I would call a remote area. Today this is part of the Sorak-san National Park and an old resort area.
We were about fifteen miles from the Japan (east) side of the Korean peninsula, about 30 miles north of the 38th parallel. My memory is of very lush, green conifer forest covering the hillsides. The air smelled good. We could not see the battleship, USS Missouri, but when they fired the sixteen-inch guns, we could hear the projectile tearing through the air and the impact before the initial sound of the firing.
During this time we had an infantry platoon headed by a lieutenant who had been a star football player at Annapolis. He was so gung ho about everything that he was a pain in the ass to his men. He never let them rest. They were constantly digging in, building bunkers, hauling water and generally keeping the area clean. He did not like us smoking and had an absolute fit if we had any lights on outside at night. We were out of range of even the long-range North Korean artillery. I heard, later on, that he died in combat from gunshot wounds to his back, not that he was running from the enemy, but most probably out in front of his troops. We ran this outpost for about three weeks and then the commander had us move closer to the battle lines.
At this new location we spent a lot of time making our position more secure because the area had not been in a battle before. This outpost was just behind the lines, maybe 500 yards, and in front of and above the Battalion Headquarters. This position was on a long nose off the ridge line, pointing back to the rear area. The area was thinly wooded with long, dry grasses and weeds. We were pretty much out in the open. Visibility was about one hundred fifty feet. Here, we laid out mines, trip flares, and noisemakers. Most of these devices were fairly harmless, but were designed to bring attention to the intruder. We spent a lot of time listening for radio transmissions that rarely came to us. It really was a waste of manpower.
The only time I was ever shot at was here. Someone had gotten inside of our lines and tried to come close enough to cause trouble. One day, Donn LaDein and I were working the post (a bunker) alone. I was sitting on top of our bunker, writing a letter to my wife. The day was warm, there was no breeze, and it was kind of sultry. I was enjoying the warm fall sun, stopped writing, lit a cigarette, and suddenly B-A-N-G! A sniper's bullet hit the tree above my head. I dove for the entrance to the bunker just as Don was coming out to man the .30 caliber machine gun we had to protect ourselves. How two of us going opposite directions got through the same eighteen-inch hole at the same time, I'll never know. Don fired a burst, spraying the hillside in the general direction the shot came from. I came to my senses, grabbed my carbine, and came back out looking in the direction of the shot. We did not see anybody at all, but we both sprayed the hillside ahead of our position. Wow! The whole place came alive. The scene reminded me of a bunch of frustrated John Waynes.
About this time the Battalion Commander came up, pistol at the ready, ready to take on the whole Chinese Army. He wanted to know the whole situation. I thought it was kind of funny at the time. He was so gung ho and excited. We never heard whether or not we killed the sniper, but the important thing was that we were prepared and nobody on our side was injured. Later on, I saw a photo someone had taken of me during our briefing with the commander. I looked scared shitless. The battalion commander told us that I was narrowly missed (by about 12 inches or so) and was very lucky I wasn't killed. After that we had more people guarding the radio relay station. I never realized how dangerous it was until they assigned an infantry platoon to watch over us and keep our area secure. The next day we were returned to H&S Company. The powers to be had decided it was not worth the trouble to keep people up there. That was the first of probably two times overall when I felt that I was in the most personal danger in Korea.
I could never understand why there was a lot of posturing over battle lines. But the whole thing was causing a lot of deaths on both sides. Actually, the posturing was trying to bluff the other side into giving up a few square feet, yards or miles. Once we had a special visitor to the command post. General Mathew Ridgeway came to visit our CP after he took command of the UN forces from General MacArthur. I have a couple of photos of the visit. He went on to visit the front lines with the regimental commander. I did not meet him. We were not allowed to hang out near the commander's tent.
One time, one of the other operators, James Moran, and I built a small bunker to sleep in. (This was also in September.) During our first Chinese artillery barrage, we had company that was mostly guys that had laughed at us when we built it. Our home was secure enough to keep us safe from everything but a direct hit. Eleven guys packed into an area six feet wide, eight feet long, and four feet high. Nobody laughed when they asked if they could come in!
During the fall and winter we did mostly radio relay until new equipment (all automatic) arrived at Christmas time. About January or February I started carrying a .38 caliber police (snub-nose) revolver in a shoulder holster. The .38 was not mine, but was kept for the use of persons doing messenger duty. When I first got to Korea, I was armed with an M1-A1 Garand rifle. When assigned to radio duty, I carried a .45 caliber pistol in a hip holster. I started carrying the .38 because it was a lot handier and lighter than an 11-pound rifle. There were not enough pistols to issue to everyone who needed one. This is the place where I need to explain that the Marine Corps was not budgeted for a multi-climate war and winter clothes were distributed in the summer and summer clothes when it was zero degrees. As mentioned earlier, almost everything was World War II vintage and was being scrounged off of Pacific Islands. Those that had been cold hung onto warm clothing and vice-versa. A mobile combat unit did not carry a supply dump with it, therefore there were no cots to sleep on.
Working the radios was a demanding job, requiring us to carry heavy radio gear, extra batteries, and our own gear. We almost always worked in very small teams and never had the chance to relate with the infantry. We were always on the very tops of mountains. I probably was in my very best physical condition when I was 19 years old. The weather was mostly warm and sunny during my first months in Korea. H&S Company was usually within three miles of the front line in very rugged mountain country. During the winter of 1951-52, the front line was a couple of mountain ridges away. The ridge in between was used for the radio relay some of the time. The third battalion was a full five miles away from H&S and the front line another 3/4 mile in some cases. During that winter we were on the east coast of Korea, just above the 38th parallel. The area today is called Sorak San and it is a national park with a ski resort. We were 15 miles from the east coast. Chongchon was in a verdant valley next to a river. Not long after I got there, the rainy seasons started for about two months. I was sleeping on the ground (some straw) and everything got wet when the rice paddy we were in got filled with water. The commander ordered cots for everyone there because he did not want folks sleeping in mud while in a rear area.
It seemed to me that we were commanded to move frequently, and we never stayed in one place very long. There was not much time to lay back and enjoy the scenery. I guess I saw a lot of the Korean countryside, though. H&S was moved about four or five times during my tour. During the winter of 1951-52 (December-March) we were at Sorak San and H&S was in a ravine above a river that fed into the Hwachon Reservoir. The H&S Company was on the reverse side of the ravine from the front lines. The highest traffic areas were in the bottom of the ravine, operations and management next, and the highest up were the living areas. Everything was in 12-man canvas squad tents made stronger by extensive use of 2x4 boards called "strong-backing" for the framework for the tent. The Regimental Communications Center was a huge bunker big enough to stand up in and room for about 12 people to work in. Our working area was a triple thickness of sandbags 24 feet by 24 feet and eight feet tall with a steel roof and a couple of sandbags thick for extra protection. We had a switchboard for land lines (field telephones), a radio center with two or three operators on duty, and a message center. There were about eight men working at any given time. There was an Army artillery unit at the foot of the ravine and a company of infantry assigned perimeter guard duty. There were anti-aircraft guns in the artillery unit. We were not called upon to do any guard duty because we all worked shifts.
I didn't feel safe from the war even though H&S was in back of the front lines. We were attacked from the air once by mistake by a Marine-piloted, carrier-based Douglas Skyraider. It was very scary and although there was not extensive damage, we kind of resented someone coming into our home and trashing it. The best description I have of it was that it was a lot like someone driving a car into one's living room. The anti-aircraft gunner at the bottom of the ravine shot down one of the planes--the one that dropped bombs and shot at us, and the pilot was killed, I think. There were only a couple of people hurt on the ground and no one killed. There were no repercussions and we never heard anything more about it. Rear areas were not marked with colored (red, yellow, and orange) banners, so it would have been easy for the pilots to have been disoriented. I am sure that they were aware of their mistake right after the Army shot the one plane down. They were constantly picking up Chinese soldiers near our positions, too, and there were a lot of Korean labor forces in our area all the time. We did not speak their language and rarely had a time when we needed to communicate with them. Most of them didn't like being with us. All that they ever got from the Marines was a lot of cargo carrying and uncomfortable weather.
During the dead of winter, I had to stand a watch in a radio Jeep outside in minus 20 degrees. I was really cold and because we used Morse code, had to work without gloves. I think it's safe to say that I was wishing for warmer weather. We wore several layers of clothing, including wool long johns and insulated boots. Usually the watches were pretty busy because of the fact that everything was sent out in Morse code. We could not send decent Morse code with gloves, so we wore wool gloves and in between messages we put on heavy gloves or mittens. Minus 20 below zero was very cold and we were relieved when we got too cold.
---
Daily Life
I returned to the Regimental Headquarters a couple of days before Thanksgiving. This rejoining coincided with a return to a reserve status at Camp Tripoli, about fifteen miles behind the lines. This is the present day town of Inje. I never had a chance to see how dirty I was until I got some photos back. I had been 42 days without a shower. There was just no way to keep clean. My clothes were sooty black, my palms were pink but the backs and wrists were greasy black and ground into the skin. We did not have much water to clean up with while we were on the lines. If we were in a rear area, we could shower a couple of times a day, but if we were on the front, there was water rationing--we were limited to a canteen a day or roughly a quart--and that was for drinking and brushing our teeth. (We did get some water with our meals.) We were infested with body lice during this time. I'm not really sure where we picked them up, but when one spent a long time without bathing and living in such tight quarters, getting the lice infestation was a sure thing. Everyone in the unit had them to some degree. The only way to get rid of them was to shower, use DDT, and a few days later shave off the affected hair--then stay clean. For Thanksgiving we were finally able to get cleaned up and get dusted with DDT.
The food we had in rear areas was mostly canned foods. We rarely got fresh foods. Thanksgiving was a real treat--fresh fruit, veggies and meat!!! Christmas was somewhat the same. In forward areas and on the lines, we had only C-rations, all canned foods. Even the chocolate tasted like hand soap. To this day I cannot stand the taste of Vienna sausage (canned meat). Once we got a hold of a kind of millet that the Koreans cooked. I must have boiled it for at least six hours and it seemed to be like buckshot--very hard and tasteless. We never tried that again. I did get to like kimchee (hot pepper seasoned cabbage, seasoned or cured in crocks buried underground). I also drank some of their rice beer, and it was not very tasty. While I was traveling across country, I stayed overnight at the Army camp at the University of Seoul. The food included fresh chicken fried steaks and fresh veggies. It was really good food. I never trusted Korean food and did not trust the quality, so I never did more than taste the food. I missed junk food mostly. In Korea there were no French fries, hamburgers, or pizza.
I had been given an Idaho state flag and either flew it or carried it around with me during the entire tour. As soon as we settled in, I went out to cut a flag pole about twelve feet long. I found a tree that had smooth, gray bark and all kinds of long, slender poles growing from the base. I skinned the bark off and planted the pole at the end of the squad tent. Then it was chow time. I hurriedly tried to wash the sap off my hands, took a leak, and went off to dinner. The following morning I was a sight to behold. My hands and face were all swollen and puffy, I could barely see out between the slits, and there was a powerful itching sensation. My penis had swollen to the size of a beer can. I immediately went on sick call. I knew what poison ivy or poison oak looked like, and I had not seen any of that around. I was shipped back to a Navy MASH-type hospital and put into the contagious ward. The guys in this ward had venereal diseases such as tuberculosis, amoebic dysentery, and other jolly things. Shortly after I arrived, eight more checked in. These guys were all from the same squad. A day later, someone from my tent showed up. He had cut down my pole and used it as a threshold to wipe muddy feet on. After a week of interrogation, the doctors figured out that we were victims of a kind of Far Eastern hemlock tree that is only poisonous when the sap rap down in the fall.
At the hospital we heard a Korean boy singing a parody of "Old Smokey". It went, "On top of old smokey... all covered with shit." It really cracked us up. The isolation ward was the most depressing place there. During our entire stay, we were not allowed to leave the tent at all. Some of these guys were terminally ill, and they knew it. Most of these guys should have been sent back to the States because it would have helped them more than it would have endangered others. I think I spent a week in the hospital isolation ward, including Thanksgiving Day, then it was back to Camp Tripoli again.
Friends that I had in the Signal Battalion in San Diego and advanced infantry training at Camp Pendleton survived the year in Korea. I should have, but I did not keep track of the friends I had in Korea. I have found one person that I served with in Korea and we now send Christmas cards to each other. He is Donn LaDien. He was always friendly and we frequently worked together. He was afraid of the shots that we had to take to keep from some diseases. Every time he had to take a booster shot, he fainted. I played poker with him a lot and ended up owing him a lot of money. I tried to look for others. Most of them were from the Midwest and I have not found them. I have a pile of photos I took in Korea. All have names on the back, but no hometowns.
At the time I was in Korea, only about one percent of the Marines in the Corps were African American. Since we were all in the same predicament, I never paid much attention to them, partly because I never saw them. There were a lot of Hispanics, Native Americans, and Chinese in our unit. I never had much opportunity to be prejudiced. I served with a couple of Marine Reserves who had been at Iwo Jima, but I don't remember their names. I also served with a Master Sergeant who had been a POW who was captured on Wake Island. He and I were involved in the caper that could have cost us our lives--when we were among people who we did not know and turned out to be Chinese or North Korean soldiers.
Seeing battle casualties was always very serious, but with friends we sometimes got kind of silly and really did some stupid, silly things. I remember poker games that I always lost, trying to get baby her new shoes, and some of my friends importing prostitutes hidden in very large boxes in the back of a supply truck (discussed later). Anything to break the tedium. The funniest thing that happened was when a guy was showing off demonstrating his "fast draw" capability and the loaded pistol went off and missed hitting a guy in the head by inches. This incident caused a few guys to take other person's lives more seriously. Nobody was hurt, so it was funny. There was one guy, "Pepe" (the guy with the gun) and another guy "Hoy" who were constantly getting into mischief. They were both from Hoboken, New Jersey. Pepe was Irish and Hoy was Greek. I am sure that during the years between World War II and the Korean War they were small-time hoodlums. They really blossomed in the Marine Corps. They were always stealing stuff from the Army and painting it Marine Green. When our officers decided to inventory some of our equipment, they buried some of the stolen Jeeps and trucks. I know on one occasion they drove the Jeep into a garbage pit and used a bulldozer to cover it with dirt. Another time they used a bulldozer to buried a truck in a river bed. They also held up a Korean army payroll officer for what equaled about $18,000, but could not spend the money so it got buried also.
I was luckier than most. I got mail almost every mail call. It was mostly from my mother and my wife. I also had a brother in the Army in Korea and we wrote to each other also. Packages were called "care" packages and I received several of them. One was from a boyhood friend's sister who sent me a special Christmas package. There were cookies, cupcakes, and loads of candy. She is still alive and I talked to her last year and got to thank her again. Some things that my wife tried to send did not fare well. The apples did not survive. Another favorite was winter socks. I wanted my wife to send underwear and stockings but she never sent very much in the clothing line. We all asked for food, and cookies were favorites. Some guys asked their parents to send them pistols. We were allowed to keep individual personal firearms and ammunition. One of my friends asked for a .38 caliber snub-nosed Smith and Wesson revolver. I liked that pistol and was allowed by him to use it occasionally. Someone got a canned ham once, and once in a while someone got whiskey. Most of the packages were passed through rigid post office regulations and arrived in pretty good condition. Sending firearms and booze through the mail was illegal so most of the time they were deceptively packaged, like packing them in popped popcorn. Whiskey could be bought on the black market. Once in a while someone's girlfriend got tired of waiting for him to come home and she looked for a new boyfriend. If she found one, he would get a "Dear John" letter. This situation also included wives. I did not have to go through that.
I did not go to church much in Korea. It did not seem important to me. I sometimes went to Mass when it was convenient. All the American holidays were celebrated, usually with good food. On Christmas, it snowed more than two feet so we had a big snowball fight. I don't remember my birthday at all. It would have been at a time when we were on the front lines. I can remember two USO shows. The first show featured Betty Hutton and I got to see her. I even took a photo of her for my sister-in-law, who really was an admirer of her singing style. Miss Hutton sang and wore flashy clothes and danced around the stage. The second show came at a time when I had a migraine headache. I remember the headache more than the show. A couple of days of R&R at Yokohama was occasionally offered, but only for combat decorated Marines. Everyone wanted to go on R&R, but I never got to go. It was a chance to get I&I (intoxicated and intercourse). Some folks who went on R&R would rather go to jail than to go back to Korea. As far as I can remember, however, everyone always came back sooner or later.
I drank, smoked, and gambled while I was in Korea. Smokes were easy to get--I must have smoked four packs a day. We got beer rations that amounted to one can a day. Sometimes we were able to buy whiskey, but it was very expensive. I gambled, mostly playing poker and "21." It was a way to beat the boredom when we got off shift.
I never had any contact with the Salvation Army but the Red Cross officer in my unit was my friend. There were Army nurses in a rear area hospital unit and while I was in Seoul City, I saw some civilian women. I never went near prostitutes because I was afraid of getting a sexually transmitted disease and taking it home to my wife. I just couldn't do it. Pepe and Hoy were into that kind of mischief, though, and contrived a couple of times to bring Korean women back to the unit for a "fund-raiser." They actually succeeded only once. This happened at Christmas time. They put the women into a very large plywood box about 4'x4'x6' and made it comfortable for the women with one side of the box open for air circulation.
We spent about three months living in bunkers and we always worked in them. They were generally sandbagged a couple of layers thick and very dirty. When possible we put a couple of layers on the roof and we also added sod and more dirt when possible. Some bunkers were not safe at all, however, and offered very little protection. The ones we worked in were very strong and safe. The furnishings were very rudimentary and usually included built-in tables and chairs, roughly made and not comfortable. Most of the bunkers were waterproof. The ones that leaked were soon abandoned for dryer digs. Tiny critters sometimes lived with us--usually lice. We were not allowed to keep dogs or cats.
Back in the States, my wife Patsy spent the year with her grandparents, who she loved very much. My wife did not get along with her mother. She was pregnant with our oldest daughter, who was five months old when I came home from Korea. I worried less about her because she was with someone who cared about her and for her. She did well in her pregnancy and was among her friends. There was not much to worry about there. She wrote to me at least once a week and some of her friends wrote to me also. My main concern was my mother, who had three sons on active duty. She was not in good health. I was never really worried about my wife until she went to live with her parents. The baby was born in our home town and there was a support group there--our parents. Her parents nagged her and threatened her and gave her a set of rules to obey that did not suit her very much. She was anxious to get away from them and for me to get her out of that house. I think that she was thankful that I could get her away from Idaho and take both her and our daughter back to California to live after I came back from Korea.
The Red Cross, bless them, sent emergency messages from home to the guys in Korea. The Red Cross man who was a friend of mine gave me the message that my daughter had been born within 24 hours of her birth. When I found out my daughter had been born, I was really happy and was able to buy a handful of cigars and pass them out to my friends. The Red Cross man was one of my heroes. I seriously looked at that job when I got out of the service because I admired the work that he did. I never went that way because I did not have a college degree.
The hardest thing for me about being in Korea was that I didn't have great health. The migraine headaches gave me a hard time, but they went away after I left Korea. I made a lifelong enemy in one of my sergeants, Frank Criccio. Frank got his stripes by misrepresenting himself. He frequently abused other people and caused a lot of people grief. He nearly killed another person by putting him in a very dangerous position. I gathered up the courage and told him what I thought about him as a person. It all ended in a fight which was broken up by another sergeant. We never spoke to each other again and that suited me a lot. Frank did other things to try to get me in trouble. Everybody knew that there was bad blood between us, so they kept us apart after that. He never bothered me again.
---
Mustang Country, Wonju
After some really brutal battles that Fall, the battle lines became stable. There were only occasional skirmishes and sniper duels. The North decided sending the hordes into the heavy firepower was only a meat grinder and we could not send a few men attacking into the hordes. The cold weather came, so all that was left to do was patrol the area in front of the lines. The brass decided now was a good time to train the new radio operators. I was selected to go back to a town called Wonju, about fifty or sixty miles to the rear.
The Morse code school was set up on the edge of an airfield that was home to a squadron of F-51 Mustang fighter planes. These World War II planes had been modified for close air support of ground troops. Around the airfield were the Air Force maintenance areas and quarters, an Army M.A.S.H. unit, our compound, a couple of villages, and a nearby church/orphanage. The Air Force pilots and the Army nurses were fodder for a lot of scuttlebutt and fantasies and could have been the source for some of the TV series M*A*S*H story lines.
Our compound was made up of about a half-dozen squad tents, reinforced with two by four frames. The tents enclosed an open area where we had a flagpole and had a place to park our truck. We had potbellied stoves fueled by diesel oil. The tents were kind of homey but poorly lit and smelly. The beauty of living here was that we were not crowded. There were only four or five men in each tent.
The city of Wonju probably had a population of at least forty thousand souls. Wonju had been a corner of a bitterly contested area. The city had been overrun by the North Koreans, the U.S. Army, occupied by the South Koreans, overran by the Chinese, and re-occupied by the U.S. Army, and was now back in the hands of the South Korean government. There were only two buildings left standing and they were useless shells. Everything else was rubble. There had been prolonged artillery barrages, tank battles, and infantry battles as the town changed hands seven times in less than a year.
There was some rebuilding of huts made from cornstalks, mud wattle, broken masonry, and corrugated sheet metal. The basic plan called for the floor to be elevated and set on mud channels. Next, a lightweight floor and wall was made from the cornstalks and mud. Finally the hut was roofed with the metal or whatever else was available. At one end of the hut, on the outside under a lean-to, was a cook stove built in such a manner to draft the fire so the smoke went under the hut, through the channels, up inside the walls, and out the top. The smoke kept the rats and other vermin from the structure and heated the floor. There seemed to be hundreds of these huts around the town.
There were no eating facilities in our compound. We had to travel across town to what we called the Mess Camp. There was a large mess hall made up from squad tents joined together. The people who ate there were rear area support personnel from all of the United Nations forces in the Wonju area--English, Australians, Turkish and French, in addition to the U.S. forces. This was an Army supply dump. Having a large eating facility gave us an advantage as far as food quality and quantity went. Those trips three times a day to eat were the foundation of my knowledge and understanding of the Korean people and the problems they faced. The trip was about six miles each way and we had ample time to observe the struggles for survival. They had a daily hunt for anything that would burn, or that could be used for building materials, and the constant search for anything edible. The Korean people had no private transportation or bus service. Walking or bicycles was the main method of getting around. My mother taught me to be compassionate of my fellow man. Some people were not that way and they did cruel things to the Korean people. I saw a truck driver run over a Korean man walking down the road. I don't know if the man was killed and I didn't know anything about the man who ran over him.
Although there was no surface evidence of starvation, I am sure that it was rampant. I recall one incident of people starving to death in Wonju that appalled me. Across the road from the Mess Camp was a dumping ground for the area. I had seen at least two hundred Koreans hanging around this dump all the time. During my stay I had to do kitchen help duty for one day. When in a combat zone, making do with available materials is a way of life. The wash tubs for the dishes and pots and pans were cut-in-half 55-gallon oil drums. Garbage cans were oil drums with the tops cut off. Rear supply dumps always had a lot of empty oil drums around. At the end of the day, all of the dishwasher, rinse water, plate scrapings, food refuse, cardboard cartons, metal strapping, tin cans, liquid bleach, and any other garbage were collected into the oil drums and transported to the garbage dump. When we entered through the wire enclosure, the driver slowed down and we slowly poured the grey-brown scrum over the tailgate. What happened next literally blew me away. At least a hundred and fifty Koreans ran up to the truck and started straining the slop through their fingers. Anything even remotely edible was immediately stuffed into their mouths. The cardboard, wire, metal scraps and wood was all caught and claimed. Fights broke out, children stole from their elders and vice-versa. Women in disarray, cripples, everyone fought to get at this refuse. The only refuse to hit the ground was the brown water. By the time we returned to the mess camp, I was throwing up. I appealed to my fellow Marines to give them some food after being at the mess hall, but that did not work. I never got used to seeing people starve. Seeing homeless children and adults in the Wonju area was common. Seeing them eat garbage never became "common" to me.
Another unsettling observation was that of the "Skivvy-boys." They were a mob of about twenty pre-teen boys who roamed the airfield perimeter and town, begging for anything people would throw into their tin cans. They were dressed in cast-off rags and men's boxer shorts (called 'skivvies' by the Marines). Most of them had no shoes. The weather by then was freezing. The kids would rove in packs of five to ten, begging and stealing anything they could get their hands on. While there I "lost" a pair of gold-colored, steel-rimmed glasses I had left on my nightstand (the style made famous by M*A*S*H's Radar). Every evening the Skivvy-boys would skirt our compound and disappear into an old bunker. After some time I discovered that there was an adult with them who was blind. I guess that he was a kind of a modern day Fagan. I never really did know whether he was the leader or whether he was being cared for by the kids, or both. It was an eerie sight to see the group move among the hillocks of weeds and brush against the cold, gray sky. When Fagan was with them, they were well-behaved, quiet, and trooped along in an orderly fashion.
The most contact I had with Korean women and children was in Wonju. Later we had a corps of laborers who did work around the area as porters. It seemed that there were always Koreans around except at the front lines. The natives lived in very miserable conditions. They lived in clay and straw houses and they had very little food. They counted on us to give them food and clean water. During part of the time that I was in Korea, I "adopted" a 12-year old Korean orphan who depended on us to feed and clothe him. When we went back to the front, I was forced to leave him behind. I never saw him again. I would like to meet him again. His name was Lee Pyung Nam, but I don't know anything else about his background. When I first met him, he was wearing men's boxer shorts and full-sized combat boots, and he was very hungry. He lived with us about three months and he learned to speak English by the immersion technique. He never spoke Korean. We called him "Poncho."
The primary mode of carrying anything for the Koreans was the wooden back-pack with braided straw shoulder straps. This we dubbed the A-frame, because it looked like a large letter "A." All kinds of cargo was carried by these papa-sans with the A-frames--sticks, firewood, fence posts, long poles, hay, and even household furnishings. A favorite sport of the American truck drivers was to drive close to the outside edge of the road and clip the A-frame cargo with the truck-bed. The result was to usually send the Papa-san spinning. Sometimes they would go through the air fifteen or twenty feet and other times, unfortunately, under the truck tires. I can't recall anyone being killed this way, but the probability was there. It was a very cruel game. Our driver admitted that he had toyed with the thought of trying this, but said he never had done it.
After weeks, we developed a rapport of sorts with these people, especially our neighboring village. I have some photos of the women carrying huge loads on their heads and of the children who always hung around our fence, begging for candy, trading with us, and just being friendly. We gave our laundry to them to do because it took too long to have the military laundry do it. It gave the Korean women a chance to make money. We built some trust with these villagers and when some Korean holiday arrived (Korean Thanksgiving, I think), we were invited to take part in it. There was rice beer, some food, and the children sang songs for us. We, in turn, gave them food, beer, and cigarettes. I did not like the rice beer because it was a dirty yellow and tasted sour. A couple of the guys got drunk that night.
A few days later, we were returned to our units. When we knew we were leaving, we had a rather lax attitude about security and let some of the Koreans into the compound. Some of the laundry girls stayed the night with some of the guys and it got kind of noisy around there, especially with those who were trying to get two into a mummy-bag sleeping bag. I did not take part in this game because I was keeping myself "pure" for my wife. (My attitude was nick-named "Straight Arrow.")
We returned to Camp Tripoli for about a week. A couple of the guys who had been in Wonju decided to go back and import some prostitutes in large cardboard boxes and set up a "house" for a few days. I found a way to stay away from these activities also. We returned to the lines a few days before Christmas and the first snowfall of the winter. This area was very close to the same general area we were at in October.
---
First Cease Fire
Christmas was a white Christmas. It started snowing late Christmas Eve and continued throughout the night. When we came outside in the morning, the snow was two feet deep in our camp. On the hill tops it was three feet deep. Down in the valley it was only ten or twelve inches deep. Christmas was only memorable to me because we had the snow. It was just another work day. All the packages from home had been eaten or otherwise disposed of. There were no Christmas trees, and very little ornaments or decorations.
We were on the side of the hill where the radio relay had been reestablished. There was a road to the top and everything was now automated, so that there was no duty to pull up there--just maintenance, refueling the generator, and making sure everything was working. Winter came down hard on us. We had the deep snowfall and most of that melted off. Then came a very hard freeze. It went down to minus twenty and stayed that way until late January. A warm spell ushered out the month, but not without some kind of incident.
The day of January 31st came on us a bright, sunny, cloudless day. We were busy doing outside maintenance on our tents. The ground was thawing and very muddy. Overhead we were being circled by three Douglas Skyraiders. The first one flew by on his side and took a hard look at us from about a thousand feet up. The second one came in much lower and followed the contour of the ravine we were in. The third plane lined up on us, coming in very low and at about three hundred yards out from me opened fire with his fifty caliber guns and dropped four 250-pound bombs. I had a new Mamya-flex camera and was taking photos of the planes. When I saw the flashes from his guns, I dove for cover, landing on top of the camera, pushing it into the mud and wishing I could get closer to the ground. The first bomb went off about two hundred feet away on the other side of the ravine. The second hit our PX tent. Numbers three and four went down into the valley on the flatland where the artillery battalion was set up. No one in our camp was injured. Bomb one went off in an open area and simply dug a big hole. There was an outhouse over there and a Korean laborer was using it when the bomb went off. His only problem was ringing ears. Number two tore up the tent and messed up a lot of PX rations and mail. Again, no one was hurt.
The machine guns wounded a combat photographer in the leg (he had been walking up the road towards our camp) and set some oil drums on fire. The other two bombs went off without doing any damage at all. Down in the artillery unit, a sergeant was cleaning up a quad-fifty mount on a half track and finishing up, ran rounds into two of the machine guns, making them combat ready as was the standard practice. Seeing the planes, he turned the gun mount on and tracked (followed with the gun sight) the first plane when it flew over. He swung back around, lined up number two, and asked a crewman to hang around in case he needed any assistance. There was a problem tracking plane number two, so he waited for number three. He was tracking number three when it opened fire and by reflex, he started returning fire and tracking the Corsair, with the crewman clearing jams and keeping the guns loaded. By this time, the planes had decided that we were "friendly fire" and broke off the attack. The machine gunner did not break off and succeeded in shooting down the plane. The pilot, another Marine, went down with the plane. We found out later that these were carrier-based planes, manned by Marines who had very little combat experience. The pilots believed that they were much further north than they actually were. This incident gave us plenty to talk about for a long time to come. I was to learn later that that kind of thing happened frequently in combat theaters.
During this time we had several cease fires, where they shut down all activity for a few days at a time. Each time it was done, there was complete radio silence and no motor vehicle traffic. All kinds of games were played by both sides to try and draw the other side into a violation. One way was to create some sort of activity that would cause the enemy to become curious about what the other was up to. This caused the enemy to send out patrols to cross over the lines to investigate. We caught them in the open areas where they did not belong, then they were fair game for a 'shoot 'em up.'
With no radio communications or Jeep traffic, we were forced to carry the messages by courier. Naturally, the radio operators were used as couriers. We were sent up the frozen river bed, told to stay away from roads as much as possible, to carry pistols, never go alone, and don't start anything. One beautiful, cloudless, chilly day, I was the courier. A newly-arrived Master Sergeant volunteered to be my partner. Loaded with a leather satchel filled with top secret messages, I carried a pistol. The Master Sergeant carried a carbine and a bad case of nerves. After we left the command post, he told me that he had been captured at Wake Island by the Japanese and any stress made him quite nervous. We struck out across a mowed wheat field and reached the frozen river. At only one point were we in a position to be seen by the enemy from their mountain top forward outposts, and that was at least a couple of miles away.
We had walked nearly three miles when we came to the part where we had to walk the last six hundred yards on the roadway into the First Battalion Headquarters. We climbed up the stone bank and onto the road. Suddenly there appeared five Koreans walking abreast, but no weapons were in sight. We thought that maybe these guys were some of the South Korean Job Corps. The uniforms didn't look right to me. I thought that their uniforms were not like the Yobosayos (cargo carriers) uniforms, and that tipped me off. I kept my hand on the pistol and my mouth shut. We decided to act nonchalant (a lot can be said for playing it cool) and just walk down the middle of the road. We stayed quiet and kept our hands inside of our coats with our hands clutching the pistols. The North Koreans/Chinese did the same. Each of us dared not to flinch or blink. I remember that it was very quiet. We could hear each other breathe. We just walked down the road, fighting the urge to break into a run. We reported them as soon as we got to battalion HQ. The chief came unglued. He said that there were no job corps people working in the area during the case fire and that the uniforms were not the right color for them. He immediately called for a security squad and sent them up the road. About fifteen minutes later we heard a lot of gunfire. When we went back about an hour later, we saw a lot of blood on the road only a hundred feet away from where we had passed through them. I believe that this group of North Koreans was on a scouting mission and they thought that we caught them. By scouting mission I mean they might have been looking for possible targets and weak places in our front line unit.
Some time early in March, the United Nations Command moved the Marines to the other side of Korea. This was a long trip, made in three stages. The first one was to pull straight back about forty miles and move parallel to the line another sixty miles or so. We passed through some beautiful countryside that day. That night we stayed in an Army area at Uijongbu that was very similar to our Camp Tripoli. While we were there, we saw an incident that was unreal. I heard a lot of commotion coming from a walled-off portion of our tent. Looking over the canvas wall, I saw about ten Marines around a woman dressed in a white Korean bride's dress, lying on the ground. She appeared to be drunk and was pleading with them to have intercourse with her, crying and very distraught. I tried to find out what was going on, but nobody knew why she was behaving this way. She smelled really bad from being smeared with some kind of prophylactic cream used to prevent venereal disease. I could only guess that she had already been had by several GIs and now some of the guys from our unit were going to go at it with her. I am sure that she suffered from some kind of mental state or mental breakdown. I was so revolted by what was going on that I decided to report it. At first I was going to go to the Military Police but felt that that may not solve the woman's problems, so I went to the Catholic Chaplain. He got an interpreter and I headed back just in time to see someone load her onto a truck and leave. I have often wondered what really happened to cause this incident and what happened to the woman.
On the second day, we passed through the ruined capitol city of Seoul. It was in a shambles in the heart of the city. The outlying areas were intact mostly, but a lot of the suburbs looked like Wonju. Because trucks made a lot of dust, they broke our convoys down to five or six trucks in each group. On the afternoon of the second day, we were alongside the biggest river in Korea, the Imjin. It must have been a mile wide, but not very deep. We had instructions to wait there for several hours. We spent a lot of time skipping bullets on the river. I found that if I held my pistol flat, firing it about seven inches above the water, I could skip the bullet all the way across the river. Rifle bullets did not work well, probably because the muzzle velocity was so high. The bullets would ricochet off the water instead of bouncing up and down off the surface.
Late in the day we reached Munsan, the staging point for putting back together large convoys. This was the week that the final cease fire was called. The lines were not to change any more. When they sent our convoy to the new regimental command post, they took a wrong turn and ended up on the North Korean side of Panmunjom for a few minutes, until we could get turned around. There was no firing from the North and the Military Police directing traffic told us to keep cool.
This was not the only time we wandered across the line. Everything was confused and nobody really knew where the lines were supposed to be. The very next day we went out to cut down power poles to use for building bunkers and we wandered about a thousand yards into the North Korean sector. (This was somewhere between Munsan and Kaesong.) There was some shooting, but not at us. When we heard it, we decided to relocate as fast as we could, but not before I picked up some small china saucers that were used as 'side dishes' by the Koreans and that I used for ashtrays. Originally I kept about ten of them. Some I traded. Others broke. I ended up bringing some home with me and I think they lasted for about ten years. I think I still have one of them.
---
Panmunjom, Spring 1952
We stayed in the Panmunjom area until I rotated back in early June. This camp was very static. We had a lot of time for improvement in the camp site. Things were a lot more relaxed. We were given a chance to explore the area and improve our lot. About five hundred yards away was Genghis Khan's fortress. It was a high outcropping of solid basaltic rock overlooking the Imjin River. There were no ruins left--just black lava rock and some leveled off places. Some of our Korean friends told us about the historic place. It was used as a fortress many times, at least once to hold off the Japanese invaders during medieval wars. The Imjin River was a well-used method of getting into the interior of Korea.
There was no requirement to use me as a Morse code radio operator any more, so I trained as a message center clerk and as a code machine operator. I really did not like either job and eventually I was used to manage the camp cleanup activities. "Police Sergeant" was the title given to the job, but it had nothing to do with law enforcement. I was in charge of putting together work crews that replaced the "piss-tubes" (convenient outside urinals made from shell casings), cleaned out the heads (outhouses), spread lime powder to keep down the fly population and various foul odors, and keep the general area picked up. At least once each week the heads had to be burned out to sanitize them and keep the volume down. This was done by pouring about three or four gallons of stove oil or diesel fuel around the walls and onto the bottom of the hole. The oil burned longer, was less volatile and much safer than gasoline.
One of my tent mates was assigned to help me one day. I decided to do him a favor because he was up all night on watch and really did not need hard physical labor. I told him to go get a five gallon jerry-can, fill it up with diesel oil, and burn out the "super-head" (four-holer) that was up on the hill. Time passed--it was at least a half-hour--when I heard a soft, muffled "ka-whump." A couple minutes later he came up, madder than hell, his face black and every hair on his head burned or singed off. Fortunately, he was not burned or otherwise injured, but his pride really suffered. He had used gasoline instead of diesel oil. He poured all five gallons into the head and tossed a match down the hole instead of wadding up a piece of toilet paper and lighting it. When nothing happened, he decided to lean over the hole and take a look just as "ka-whump", it exploded. It burned off the hair on his face, the canvas roof, and what was left of his composure. He was madder than Hell. He thought I had played a practical joke on him, but I had no joke in mind nor any intention to hurt him.
I was able to get around a bit because I was a Sergeant. I met a lot of guys I had served with the previous year, especially Richard Douglas and two guys named Dunn and Dunne who were machine gunners. One was wounded and passed through our unit on the way back to his unit. He told me where the others were so I went out of my way to see them.
My younger brother John was sent to Korea about four months before I came home. He was with the 40th Division on a ridge line overlooking the Iron Triangle. John was a medic in the Regular Army, assigned to a medical company attached to the 40th Division. Since I didn't have much critical work to do, I was allowed by my commander to spend a week with him. I hitchhiked over to his unit and it took a few days. While I was there, he was able to visit with me and avoid any hazardous assignments. This, I'm sure, pleased him. By the time I arrived to meet him, he had already had one Purple Heart. Before he went home, he received the Bronze Star twice (for his meritorious bravery in combat), a chest full of shrapnel, and another Purple Heart. In later years he was very modest about it, but he was always my hero.
The 40th Division had spent enough time at the Iron Triangle that they had built fancy concrete bunkers for the division headquarters staff, some of them big enough to drive trucks into. They were having a sniper duel there similar to the one I saw between machine guns in the Punchbowl. This time, the snipers never showed themselves during daylight. At night each sniper loaded his weapon, waited until he was sure that the other was there, and fired. Well, the 40th's gunner had more sense than to sit and wait to get shot. He set up his gun at dusk, fired a couple of tracer rounds to make sure that the bullet would go to the right place, and then placed sand bags around it to hold the rifle in place and to give himself some protection. He tied a string to the trigger and went to another gun port about 30 feet away and waited until he could make out some movement in the enemy gun port. He then pulled the string to fire. End of one North Korean sniper. The distance between the enemy's gun port and the 40th's was probably not more than fifty feet. The term "eyeball to eyeball" was in use here to describe the action.
John was later reassigned to one of our prisoner-of-war camps on Koje-do Island off the southern tip of South Korea. The duty was not without some kind of excitement. The North Koreans rioted almost daily that summer and fall, and one of our generals was captured by the prisoners during the riots and held for a few days. Now that was an "eyeball to eyeball" confrontation and the U.S. did not flinch!
Since my unit was a headquarters unit, we had very few "heroes" in it. My idea of a hero is someone who puts himself out there in a dangerous circumstance to help others and does it without regard of himself. I have seen many people do that. As I said, my hero of the Korean War was my brother John. He did a lot of rescues in minefields and in the trenches. He was wounded twice and carried shrapnel to his deathbed fifty years later. His wounds caused him to lose parts of both lungs. He never talked about his service or his medals, nor did he ask for special treatment for his wounds.
My older brother Steve had graduated from college and was negotiating with the Army for a commission. That failed, and it looked like all three of us might be in Korea at the same time. This never happened. He enlisted and went to Basic training at Fort Ord. I went to visit him there. He was very unhappy about the way the Army screwed him. He ended up going to an assignment in Germany and then to France after our mother died in 1956.
On my return trip from visiting John, I went back through Seoul, the capitol city of South Korea. I saw how devastated various parts of the city were and how some parts were not touched. The university on the edge of Kimpo Airfield was hardly touched. I spent the night there and got a ride back to my unit the next day.
---
Going Home
The closing days of Spring brought me close to going home and the possibility that, because I did not have a critical job, I might get to go home early. No such luck. The Marines did not work that way. Everything was tied into the "Tenth Rotation Draft." I tied on one of the worst drunks I ever had and waited another thirty days. When it was finally time to leave, the company headquarters notified us that we were to be ready to rotate home on the 5th of June 1952. My last hours with the Communications Section were warm. I was sobering up from getting drunk the night before at a party we had in our quarters. I was very happy to leave, and I knew that those guys were able to take care of themselves and that their day to rotate would come soon enough.
When I left, it was a reverse of the coming over process. We collected at Regimental Headquarters, then at Division Headquarters we were placed into alphabetical order and trucked to a division replacement center (casual camp) at Inchon harbor. We had probably several hours of windy, bumpy, dusty travel in the back of an open truck. I was so happy to leave that I didn't care how we got there. We were reunited with our sea bag full of "Class A" uniforms, and clean, somewhat moldy-smelling underwear. Again, we received them in alphabetical order. We had to get our "hold baggage", all of our clothing, and turn in our combat gear. We were medically tested for STDs and body lice (by this time I had managed to get rid of them). We were tested for malaria and given medicine for intestinal worms (yep!). Time was given for cleaning up our body and getting a haircut. We didn't see the new troops coming into Korea. They were gone before we got to the port city. I think it would have been poor planning to let us old "salts" talk to the "recruits," just like people who had served in other branches of service were not allowed to talk to recruits going into boot camp. It would serve no useful purpose to allow it to happen, and it would probably have caused discipline problems.
On about the third or fourth day, everybody was given about fifty dollars to buy the necessities of life. We were reunited also with our old group. None of my friends were killed, and only one was wounded. He had been digging in his machine gun emplacement when he hit a buried mine with his entrenching tool (a small shovel). This allowed him the luxury of some hospital time in Japan. We started to feel like real persons again after hot showers, haircuts by real barbers, liberal dosages of soap, delousing and anti-malaria medicines that coincidentally rid us of parasites and intestinal worms. Anybody that has gone through the process would understand that we, having pocket money, needed to gamble also. I actually made some money playing Black Jack.
By the time the end of the week arrived, our ship had arrived also. I held the rank of Sergeant E-4 and as an NCO I had no duties on the return trip. The ship was a navy transport manned by civilians. It was the General William S. Weigle, the same ship that had brought me to Korea the year before. Inchon harbor is one of the few places in the world that has very high tides. Because of this, the ship laid off the coast at least two miles. We had to board at high tide and since there were only a few hours a day that had favorable tides, it took several days to load in alphabetical order. The Army loaded several thousand there also, but we loaded first this time, on June 17, 1952--exactly one year from the day we loaded in San Diego. We had to use landing craft to approach the ship, then we went over the side to a barge tied to the ship and up the gangplank--an even longer distance than before. There were a lot of the very same people that came on this ship in the 10th Replacement Draft. I did not mix with the Army. I just stayed with the Marines. The general mood on the ship was the feeling that we couldn't get home fast enough.
We had the bottom-most and the largest compartment in the ship. While loading was in progress, we were not allowed on deck because of the crowded conditions. After everyone was aboard, we weighed anchor and steamed all night for Sasebo, Japan, where the ship took on fuel for the trip home. Again, no one was allowed deck, no smoking was allowed, and we were kind of put out that we couldn't do any shopping. Someone made a complaint about the confinement and no opportunity to buy Japanese goods. The higher ranking officers made arrangements to bring some PX goods and souvenir-type things to the dining hall for us to look at and buy. I bought a lot of stuff to take home as souvenirs. I know that there were some silk pajamas and some dolls, but I can't remember everything that I bought or who I bought it for.
The trip home took 17 days. For entertainment I played cards several hours a day. The trip home to the States was uneventful except for an accusation that I had borrowed some money to play craps with and was now refusing to return it. This was an outright lie. To this day I have never played craps in my entire life. The guy was very insistent and I could not figure out why until my friend Joe Closson remembered that this guy was part of a Mess Detail that I had been in charge of in San Diego. The Lieutenant detailed to investigate then dismissed the charges as not having any substance. The day after this finding, someone stole my wallet and all that was in it. It was the amount that I was accused of borrowing and my identification cards.
A day out of San Francisco we came upon a storm and the weather turned nasty. Just about everyone got seasick, including me. I had never been seasick before. I believe that the storm pushed giant swells at 90 degrees to the ship's course, causing the ship to roll and buck. That was the only time I have ever been seasick.
Seeing mainland USA was an emotional time for me. We could see San Francisco for many hours before we went under the Golden Gate Bridge. It was absolutely the most beautiful sight ever. It seemed like it took forever to get into the harbor and when we did, all 5,000 of us were on the same side of the ship, causing the ship to list on the port side. We disembarked at Fort Mason, an Army transportation port facility in San Francisco. There was an Army band and some folks who wanted to wish us a welcome home. We were processed off in the same groups that we were boarded. Our names were called out, we answered "Yo," and carried all of our private property off the ship into busses and over to Treasure Island near the Oakland Bay Bridge for out-processing.
The first thing I did when we finished the initial processing was eat fresh food and ice cream. After a few days of physicals, clothing reissue, getting our combat ribbons, having our new promotions sewn on, and receiving our new duty assignments, we were ready to party hearty. All of my friends--those who had been in training with me, boot camp buddies, etc., and I went to San Francisco for a very wild and expensive party. I know I really got drunk at some sleazy joint that had bar girls whose job it was to get us to spend as much as possible--and we did. Some guys paid a lot of money to try to get some girls to go to bed with them. I wouldn't pay money. I didn't have what the girls wanted so I went home chaste. The second night out I went to Oakland and learned that 'Frisco was better. When in Oakland, I saw a face I recognized from Twin Falls and I talked to him for a while until I realized that he was a homosexual who didn't want me to say that I had seen him. I left him to his private hell and went in search of my own devils. I didn't find any or enough, so I went home to Idaho horny as hell and hungry for some loving from my wife.
The trip from 'Frisco to Wells, Nevada was only overnight (about 600 miles) and Pat met me at the depot in Wells with my five month old daughter, Mandy, whom I had never seen. I was very excited by the reunion. The next month was one of meeting some old friends and having a few beers in someone's home. They would not serve me in bars in Idaho. We went to Butte, Montana, to stay with Pat's grandparents, visit more old friends, and go fishing. We took a little side trip to Hamilton to visit and had some quality time together. After a month-long bonding (30-day vacation) with my daughter Amanda, we did very well.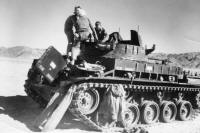 Marine Base at 29 Palms, California about Sept. 1954. 29 Palms is where Marines train for combat in Iraq in today's USMC. At the time of this photo, I was a Lieutenant in the 3rd AAA Battalion as Intelligence Officer. "You can't hardly see the mountains for all of the trees and grass."
(Click picture for a larger view)
After leave I was assigned to Headquarters Company, 3rd Motor Transport Battalion as its Communication Section NCO in charge. I thought it was a great assignment. I liked the job and its responsibility. I think that going to Korea probably matured me quite a bit. I didn't drink or smoke any more and I think I was (and am) a very responsible citizen. I searched for security, which I attained. I settled into a quiet married life. I qualified for on-base housing and as soon as I was informed that I got it, I sent the money for my wife to travel to California with our daughter. I fathered four more children with Patsy. They are Robert, Michaela, James (died at age 17), and Tamara.
I re-enlisted in the Marine Corps because I was offered a commission as Second Lieutenant. In order to accept it, I had to re-enlist for six years. After three years of duty as a Commissioned Officer, I was somewhat disenchanted with playing warrior and being away from my family for long periods of time. I was informed that my officer status would end in about six months, so I resigned my commission and asked to be released from my enlistment and discharged. I had spent minimum time in grade for every rank from private to Master Sergeant and left the Marines as a 1st Lieutenant. I spent a total of 5-1/2 years in the Corps, leaving on February 17, 1956.
---
Air Force Career
Two weeks later I enlisted in the Air Force with a promise of an education in data processing. I retired from the Air Force on June 30, 1970, after 14 years and 6 months as an E-6 Technical Sergeant. I had a three-year tour in France with my family (the Air Force is more family-oriented) and a tour in Vietnam without my family. I learned a trade in the Air Force that I pursued after I retired.
I served in Vietnam from May 1, 1968 to April 17, 1969. I was assigned to Headquarters, 7th Air Force at Tan Son Nhut Air Base near Saigon. I was in computers by this time and fluent in two computer languages. I worked in Intelligence Data Handling Systems, where we digitized out of country bomb damage assessment. Spy stuff. I was awarded the Bronze Star Medal for Meritorious Service while I was stationed there.
While still in the Air Force, I was transferred to McCord Air Force Base at Tacoma, Washington. My first marriage fell apart and I remarried. My second wife and I had twins John and Cathy. When I reached retirement eligibility, I retired and stayed in the Tacoma area. I did not continue formal education, but I did stay with the state of the art in computer technology. My job skills were such that I had no problem getting a job. After 18 months in one job, I promoted out and eventually (five months later) went to work for the Washington Department of Retirement Systems, where I stayed for another 20 years. I was a "lead" programmer/analyst for the Retirement Systems.
The second wife did not like me commuting 30 miles each way each day, so she split and eventually I married the third wife. We have been married 27 years, have lived in the same house for 27 years, and do not plan on making any changes. I now have a part-time job as a tour guide at the state capitol and I volunteer as a steward for Natural Resources, Veterans Advocate, Special Olympics, and as an Information Specialist at the Visitor Information Booth on the capitol grounds. Retirement? Never heard of it.
During the early 1980s I started being a veteran again. I became a veteran's advocate and started working on getting veterans memorials built on the capitol grounds in Olympia, Washington. So today I am "Mr. Memorial" and the expert on how to get memorials completed and financed. In this order I have had a hand in the Vietnam Veterans Memorial, the Korean War Veterans Memorial, and the World War I Memorial. I have advised on the Medal of Honor memorial and the Law Enforcement Officers Memorial. I write the legislation, lobby the legislature, and even help fund-raising.
---
Final Reflections
My strongest memory of Korea is the smell of the city of Pusan--pretty bad! It smelled of diesel oil and exhaust, rotting food, feces, urine, and maybe even dead bodies. It was a unique stench. Summer in Korea was very beautiful and green. I have thought about revisiting Korea, but for me Korea was a place in time. No regrets. It was a mountain-top experience and I will never forget it all. Going back there would not change things for me.
I believe the war helped the South Koreans a great deal. It stopped the growth of communism in Northern Asia. It also kept the Chinese out of any further overt action in contact with the USA and possibly the United Nations. I agree with the action to send U.S. troops to Korea in the first place, but I was disappointed in the way veterans were treated by the general public when they returned. The war was placed on the back burner by the American government and the public. By the actions of the Vietnam veterans getting the attention they asked for--a memorial, the Korean veterans came forward and demanded that they get some recognition, too. The war of World War II veterans was a war well fought with a clear victory, but Korean War veterans deserve recognition, too.
A recent Associate Press story said that 7th Cavalry troops killed civilians at a place called Nogun-ri. I was not in Korea at the time that Nogun-ri was supposed to have occurred, but when I was we were very much aware that the communists infiltrated the refugee columns and that nobody could be trusted. I think that firing on the column at Nogun-ri (if it ever happened) was called for. I have serious doubts about the amount of casualties that were claimed was anywhere near what some said happened. The investigation has not proved the claims that Nogun-ri ever happened. The column of refugees, the soldiers' memories of it, and US Army intelligence reports seem to me to be a product of someone else's fertile imagination. The American veteran will always take the blame for any military actions. The American government will always have problems making it up to the veterans. So the fight will continue. It makes no difference which war we are speaking of. The government will drag its feet and make excuses to keep from acknowledging responsibility.
I think MacArthur was correct in doing what he did by pursuing the North Koreans above the 38th parallel. I believe, like he did, that if you are in a fight, you are in it to win. On the other hand, I think that MacArthur also almost caused a nuclear war. Truman stopped him in time. Today North Koreans are not repentant, but I think they will be. I agree that having U.S. troops in Korea is a deterrent to the North from further aggression. Some way, some day, they will come around. With regards to our missing in action, like every war in the past, one needs to prod the government to do the right thing. Are they successful? I think that the North Koreans are holding some MIA and POW bodies hostage in order to get whatever they can get from us. We are moderately successful in getting some bodies (remains) returned.
My personal contribution to the war effort in Korea was Duty, Honor, Country. After all these years, I feel proud that I served, and I am sure that we won. The only medals I have for Korea are service medals--Korean Service and United Nations Service. In the 1980s I received the Korean Government Korean War Veterans Service Medal and last year I received the Korean War Service Medal. Both of these medals were awarded to all US veterans who asked to be awarded them. Altogether, I have 17 ribbons, medals, and service bars for my 20 years of service.
I never pushed my military career onto my children. If they were interested in listening, I told them what they asked for. I did write down my memories of the Korean War and nearly all of my children have read them and passed them on to my grandchildren. There are no secrets, although there are probably a gazillion things I have not mentioned about my time in Korea and the U.S. Marine Corps.
I have never lost my love for the Marine Corps. I have been to a couple of Company B reunions (Company B was a Marine Reserve Unit that was called to active duty for the Korean War.) They treat me as if I was one of them. I am still a Marine. The discipline and physical training I received was very valuable. Marine boot camp was the best possible thing for me. It gave me the proper mental attitude and morale. Being in the Air Force was like another life. The Air Force gave me stability, security, and training that was necessary to raise my family and give them what they needed. I am often reminded of the saying, "If the Marine Corps wanted you to have a family, they would have issued you one." The Air Force put our families very high on the priority list. Still, once a Marine, always a Marine. I wear my service in the Marine Corps very proudly every single day of my life.