[Joanne Swearingen was only five years old when her father was killed in Korea. Do five year olds remember? Yes, they do. The following tribute to Cpl. George L. Swearingen was transferred with Joanne Swearingen Chmura's permission to the Korean War Educator when the Vets of Korea website closed in February of 2008. The original tribute was considerably expanded prior to posting on the KWE.]
Page Contents:
---
Remembering Cpl. George L. Swearingen
June 1, 1927-February 22, 1951
Died in battle in Korea
Background Information
Stained with her father's blood

This photograph is a picture returned to our family after my father died. It was in his pocket when he was killed by mortar fire. The staining on the image was from his blood. My father is in the middle. The other two men are unidentified. I would like to hear from anyone who might recognize the picture. Contact me through the Korean War Educator.
Corporal George Leslie Swearingen RA37-816-456 was born June 1, 1927, son of Leslie and Sara Elliott Swearingen. He was born when his parents lived at Moline, Kansas. He spent his boyhood in Paola, Kansas, attending grade school there, as well as Sunday School at the Presbyterian Church. When George was 12 years old, his family moved to Mound City. He met Helen Jean Hampson at Paola, Kansas. She was from Hillsdale, Kansas, a small town a few miles away from Paola. They were married January 4, 1945 at Mound City, KS.
Six months later, on July 15, 1945, he went into the Army and was stationed at Fort Riley most of the time. He re-enlisted when his stint was up, and was later sent overseas.
George called his wife on February 16, 1951, from Yokohama, Japan, where he was having five days of R&R. They talked for nine minutes and, among other things, he told her that he was to leave Japan to rejoin his company at Seoul. That was the last word she received from him until she was told about his death on March 10. She had heard from him almost every week before.
He was first injured in action on September 15, 1950, as he and two South Koreans lay holed in behind a rock barricade. The quiet was disturbed by faint whisperings and rustlings. They ignored them, thinking they came from their buddies in the next foxhole. Suddenly the quiet was shattered by an explosion that sprayed them with shrapnel, and they learned too late that the voices were those of two North Koreans who had slipped up in the darkness and had thrown hand grenades against the rocks. The exploding shrapnel lodged in Swearingen's body, hands, and arms, but the climax came later when, retreating before the enemy, he stumbled and fell while running down the hill, wrenching and twisting his back. He was hospitalized at that time, but he recovered from his injuries and was sent back into combat. Corporal Swearingen would have been eligible for early point rotation, as his enlistment was up March 4, 1951.
At the time of his death, he left his widow Helen Jean; daughters Jeannie (5), Joanne (4), and Carol Lynn (1 1/2); and his parents. While he was overseas, his family lived with his parents, the Leslie Swearingens, in Southwest City, Missouri. When he was killed in action, he was temporarily buried in the Tanggok Cemetery, a United Nations cemetery in Korea. His body was later exhumed and returned to the United States, where Corporal Swearingen was laid to rest in a beautiful park cemetery in Paola, Kansas. The cemetery was located on lots where he used to play, near the house where he lived and met Helen Jean, his wife.
A veteran of both World War II and the Korean War, Corporal Swearingen was awarded the Purple Heart with Oak Leaf Cluster, the Combat Infantryman's Badge, the Korean Service Medal, the United Nations Service Medal, the National Defense Service Medal, the Korean War Service Medal, and the World War II Victory Medal.
---
Korean War Casualty
George L. Swearingen, was stationed at Ft. Riley, Kansas, then sent to Camp Carson, Colorado, before being deployed to Korea on the General Pope in August of 1950. He was a Corporal and radio operator with King Company, 5th Cavalry Regiment, 1st Cavalry Division. He was wounded on September 15, 1950, returned to duty on September 20, 1950, and was subsequently killed in action at Tokchang, Korea, on Hill 201, on February 22, 1951. He was temporarily buried at Tanggok Military Cemetery near Seoul, Korea.
The telegram from the U.S. government to his widow, Helen J. Swearingen of Junction City, Kansas, was sent on March 12, 1951. It said:
Dear Mrs. Swearingen,

It is with regret that I am writing to confirm the recent telegram informing you of the death of your husband, Corporal George L. Swearingen, who was killed in action 22 February 1951 in Korea.

I wish that I could give you more information, but casualty reports of this nature are necessarily brief and contain only essential facts. However, provisions have been made for the overseas commander or chaplain to send a letter containing any available details of the operation which led to his death to the emergency address designated by each person who dies overseas in the service of our country. Since these letters may be written under combat conditions, it is not known just when the letter can be expected, but it is hoped that it will not be long delayed.

The office of the Quartermaster General, Washington 25, D.C. is the office of record and the official source of information concerning overseas burials. It is customary for that office to notify next of kin promptly upon receipt of a report of burials.

I know the sorrow this message has brought you, and it is my hope that in time the knowledge of his sacrifice for his country may be of sustaining comfort to you. My heartfelt sympathy is with you in your sorrow.

Sincerely yours,
Edward F. Witsell
Major General. USA
The Adjutant General of the Army
It was on one of his daughter's trips to the cemetery a few years ago that Joanne Chmura started to question her aunt (her father's sister) about him. The aunt remembered that she had a letter that had been sent to Joanne's grandmother by a soldier who had served with George Swearingen in the Army in Korea. This letter had been in a shoebox in a closet with his dog tag for 50 years. Joanne remarked, "I found out later that it had survived a fire that burned almost everything else when my grandmother had them. I know that my grandmother didn't have much money or formal education, but she had a lot of love for her children. She was unbelieving and devastated when they got the news about my father's death. She apparently took it upon herself to find someone who had served with George and found out the details of his death and temporary burial site. My aunt promised to look for the letter and mail it to me, which she did." The letter, written June 30, 1951, was simply signed, "A Buddy." It reads as follows:
Dear Mrs. Swearingen:

Received your letter this morning and believe me I was quite surprised at the moment, but it all came to me, that Sergeant Copeland had gave you my address. I don't usually like writing about any of the men that has served with me but things happen here that no one can understand except the Lord above us and its just his ways and says that have taken place in the last six months I've been here. I'd like to relieve your mind on the subject of your son suffering. He didn't. It happened so fast, it really confused all of us, even our officers in charge. If I remember correctly, your son had just came in from Japan a few days prior having a rest and recuperation leave. It's a shame he couldn't of stayed longer but its faith that brings such happenings about, that is what I believe and most of the rest here are thinking the same way. If I can I will try and explain in detail the day before and up to the day of your son's death. We started out, your son was radio operator for our platoon. It rained most of the day and plus the snow and all of us was pretty miserable, your son also. We was penned down a few times in the march to our objective which I didn't know until we came up on it. We made an attack on it, overran our objective, but had to withdraw. That wasn't all. That nite we were all freezing, wet clothes, bedding wet and a strong wind. It sure was unpleasant. No sleep that nite, believe me. Had no opposition that nite though. Next morning was greeted by a hot meal. Was sure good. Dry cigarettes and all. We all said it was crazy to go back, but we did. Called an air strike on the hill we took day before because they, the Chinese had moved back into position during the nite. After the air strike we rushed the hill, took it and the next one also. We thought we had them on the run. We did but they were just one step ahead of us. We set up on a hill, all old men in the company. Can well remember 201 was the number of it. As I stated, we set up positions and mortars came in. It sure was a terrible sight, but I can say your son didn't suffer that day and he was taken off the hill immediately after. He was killed instantly by the mortar.

I wasn't too close to your son. I did know him and we all sat around and chatted about home quite seldom. He must of had some very nice parents and he was always talking of his family and showing pictures. He sure was proud, though I guess everyone is that way by nature. We are across the 38th in North Korea about seven miles. - [signed] A Buddy
---
Getting to Know My Father - A Daughter's Quest for Answers
My mother never spoke of my father to me. I only found out in the past few years that she had moved to Colorado, and was already married and pregnant when my father was returned for burial. My search for answers about my father began in 2003, thanks to the help of my Aunt Dovie McDaniel Thompson. Besides the letter from my father's buddy, she also gave me his dog tags and some obituaries that she found in the local library. After obtaining these materials, I went to the internet in an attempt to find more information about my father. I thought it interesting that I was able to get as far as I did since so many years had passed and with such little information to begin with. I guess I was lucky I started all of this during the 50th anniversary of the Korean War. The celebrations probably brought back a lot of memories--the time was just right for my research.
I was amazed to find out in my research of the Quartermaster/Graves Registration Service how careful they were in processing for identification. My father was buried at Tanggok Cemetery on the outskirts of Pusan, which I believe was for all United Nations casualties. For some reason, he didn't make it back stateside for a while. He was killed in action on February 22, 1951, and was not buried in the United States until September 8, 1951.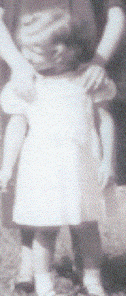 When you're five years old, you have the capacity for a certain amount of sadness, but children have a resiliency (thank God) and put things aside for awhile. I guess I knew it was bad, because I remember small details of the funeral, and I can't remember other things. I clearly remember Taps (although I'm sure I didn't know what it was at the time) being played, how loud the guns sounded, and a man giving each of us girls a shell casing.
I didn't know that my mother had already remarried and was pregnant at the time of my father's funeral. She never spoke to me about my father. I've had to rely on surviving family members. Boring to others, but important to me, was the fact that we three girls got divided. The oldest went to my grandmother, and my younger sister and I went to Mother. My sister who is three years younger than me is Carol Swearingen Dial of St. Charles, Missouri. Our sister who is one year older than me lives in Kansas, but we have always been separated since we were very young. When I found her after 40 years, she indicated she didn't want to have anything to do with us. I understand and respect her feelings. This is just one of the repercussions of losing a parent for one reason or another. That is another story and could be a mini series, but probably had a lot to do with me not having a father, mourning his loss, and wanting to know about him.
The first time I put in a request for information about my father and the 1st Cavalry, I had a reply from Dennis Robinson from Maryland. His dad had served in the same unit, and although he had been in a different company, they were both willing to help me, as they were active with Korean War veterans. Dennis' father was able to tell me some great stories, then directed me to his former Captain, who is now a retired Colonel in Eatonton, Georgia. I spoke to Colonel Joe Finley, and he even went through some of his old morning reports to see if the name Swearingen was listed anywhere. Later he sent me a beautiful hardback book with the history of the 1st Cavalry. He was there and was wounded the same day my father was killed.
They also directed to the editor of the Korean War Veterans Association (KWVA)'s magazine, The Graybeards. Vincent Krepps (whose twin brother Richard Krepps was a POW/MIA in Korea) was kind enough to print a picture, letter, and my request. From there it just took off. I had a lot of e-mails and some phone calls from men who just wanted to help. Ray Rawlings of Florida ("A" Company, 5th Cavalry Regiment, Korea November 1950-October 7, 1951) actually took the time to mail me lists of men who were in the same company and might have been with or near my father at the time. (Ray is my hero--can you imagine very many people going to all this trouble?) I followed up on every one of them and not one of these men thought I was a nut case or hung up on me. They were all gracious, even sharing some of their experiences with me. They all seemed to have good recall and vivid recollections of their time in Korea, and a few remembered how bad February of 1951 was for everyone. I must say that it was somewhat overwhelming to hear these men speak with such emotion about their time in Korea.
I was able to speak to a man in Virginia who remembered my father and told me what he remembered about the day he died. When he said, "Was he a short stocky man with reddish blonde hair?", I swear my heart skipped a beat. He told me about the days around February 22, 1951, and said it was Hell. He said it was so cold, and there was so much confusion. He wanted to reassure me that my father had not suffered--that being hit by a mortar meant that he most likely died instantly. He was very kind about it. Apparently this was a bad time for a lot of men, as they all remember the day of, before, and after.
Carroll Everist from Kansas has been very supportive and has shared his story with me. Bill Dillon of Pennsylvania (1st Cavalry Division, 5th Regiment, Mike Company, Korea 1952-53) is a very special man who has forwarded sites to me and has always encouraged me. He was kind enough to put my story on his web site, Vets of Korea, which has since closed. (Much of its content was subsequently moved to the Korean War Educator website.) Bill was 74 years old when he responded to my request for help back in 2004, and we still keep in touch. He has been constant in his support and has encouraged me to get the medals that my father should have had. Both he and Ray kept after me to get all of the records and medals that I could. Also thanks to Ray Rawlings, I was able to find Ted Hofsiss (3rd Battalion, 5th Cavalry Regiment, 1st Cavalry Division) of Texas, who had not only served with my father in Korea, but they had sailed over on the same ship and had gotten their Combat Infantryman's Badge at the same time. He did not know my father personally, but remembered seeing his name on orders and sent me a copy of them, along with a book that he had written entitled, Waiting for the Blessed Light of Dawn: A Diary of the Korean War. I was able to find the grave site of his foxhole buddy Muriel Brown, who is buried close to where I live, and to whom he dedicated the book. I was also able to locate some of Muriel family here in Hot Springs and put Ted in contact with them. They all ended up buying his book so they would know about Muriel, and Ted was able to complete some kind of closure by talking to them and seeing Muriel's final resting place. I thought it was kind of weird that we ended up helping each other in ways that we could not have possibly imagined. I only moved to Arkansas in 1978. I'm not from here.
Letter from Ted Hofsiss:

"The letter from 'A Buddy' was nice. I wish I knew who wrote it. He refers to himself as one of the old guys. I assume that means the men who arrived together in late August 1950 from Carson. About 'A Buddy,' I don't think he was the company clerk. The clerk who came with us had been a good friend of mine for 18 months at Carson. No reflection on 'A Buddy' or the clerk, but he would have written a much more formal letter. Buddy may have had access to the company or supply sergeant's typewriter. The letter was written four months after your dad was killed. Buddy may have been given a company rear job, especially if he was close to rotating out.

I read Buddy's letter first. I remember a few things differently, but as always some information verifies what I remembered. Rain, cold, taking the hill two days in a row, the murderous mortar barrage. I heard of Hill 201, but that was only a few years ago. Maps were almost nonexistent. Early in the war the only maps of Korea were from the Japanese occupation. Most of them not in English. We didn't always know the number of a hill (or mountain). In fact, during that first year we were usually gone from a hill in a few hours or overnight at most. The hill your Dad was wounded on was Hill 174. It and Hill 303 were famous at the same time for chewing up the 3rd Battalion (us) along with Hill 303 that took much of our regiment and the 7th Cavalry Regiment. We fought over those two hills for more than a week. Captain Allen (Item Co.) says we (the battalion) arrived in Korea with 900 men. He estimates that we left the Naktong with 300. Many of those men came back after varying times in hospital, just like your dad. Your dad's wound probably wasn't serious if he got back in five days. That return date may be wrong.

More info about us. Your mother or someone wrote on the letter, "killed at Takchong." The orders for my Purple Heart say I was wounded at Tokchongni. Ni means village. There may have been a village at the base of the mountain. In 1995 my son James in the USAF spent a year in Korea. He got a major who was a map expert to try to find Tokchong-ni. He could not find it on any map. The village was probably destroyed and never rebuilt.

When I looked at the picture [of the three soldiers on R&R], I immediately said to my wife Laura, 'The guy in the middle sure looks familiar, and maybe the guy on the left.' Of course, the guy in the middle was your dad. My number didn't come up for R&R. Did you notice the look on their faces? Here are three guys in clean clothes, in Japan, drinking, "having a good time." Not a smile among them. In fact, their eyes are close to the "thousand yard stare." I have a picture of me July 1951, holding my son. My eyes look like theirs.

I appreciate your sharing this intimate material with us. It hurts, but it's the kind of pain most of us have been carrying for years. Now it's not so bad because we share it with the families of comrades. - Our best to you and yours, Ted and Laura"
I will always be grateful to all of the men who took the time to talk to me and try to help me understand what it was like in Korea, and in particular grateful to the men I have mentioned. They are so special, so extraordinary, that I don't think we'll see the likes of them again. They helped me so much and were such an inspiration to me by accepting me and sharing their personal stories with me. As I said, they also encouraged me to send off for and get the medals that were awarded to my father, along with several documents that I've been able to obtain. This wasn't easy since the fire in St. Louis destroyed so many records.
I don't have any pictures of George Swearingen as an adult that are clear and not worn. I only have a couple of pictures of me and him together when I was younger. The picture shown in this story that has a blood stain on it was the last one taken, I guess. I am still hoping that someone out there will recognize one of the men. I know that everyone I talked to said that my father was kind, loved to tell jokes, and loved his children. I thought I owed it to him, myself, and my children and grandchildren to know more about him so we could keep his memory alive. Before the internet, this would have been nearly impossible. Thank you and all the others who take the time to remember and honor the men who served their country.
I am now able to tell my children and grandchildren about a man they did not know. I tell them to remember that when they see the American flag or hear the National Anthem playing, when they're saying the Pledge of Allegiance--and especially when they hear Taps, that it stands for something, and to ALWAYS REMEMBER the sacrifices that have been made.
---
Daughter to Father
Father: Cpl. George L. Swearingen
KIA Korea, Feb 22, 1951
Dear Dad,
In February of 2007, it will be 56 years since your death. I and my children and grandchildren want you to know that we will never forget you and the ultimate sacrifice that you made for your country. We have your pictures, obituary, and a letter that explained the conditions at the time of your death. I have a flag flying in your memory, have been fortunate enough to receive the Korean War Service Medal, and am about to receive a Gold Star Banner. I have your dog tag that was returned with your body. It is my most prized possession.
I have researched and been in contact with some wonderful men who also served in Korea and were willing to help me in my quest to find out more about you and the Korean War.
Even though I was not quite five when you were buried, I want you to know that I remember your funeral. I REMEMBER the guns being so loud, and the shell casings being handed to us. I REMEMBER the adults crying when Taps was played. I REMEMBER the flag being handed to my Mother.
I'm sorry--and angry, that you did not get a chance to know me or your Granddaughter and Grandson or your three beautiful, Great Granddaughters. But they all know you. I will be your voice and keep your memory alive. Rest in Peace, and know that there are many people who will never forget you and all of the others that served and gave their life in Korea.
Your Loving Daughter,
Joanne Swearingen Chmura
---
| | |
| --- | --- |
| The only existing picture of George and Joanne Swearingen together. | George - just to remember the man that was once a little boy. |

Swearingen Grave
(Click picture for a larger view)

Her Father's Medals
(Click picture for a larger view)