Posthumous Presentation - Silver Star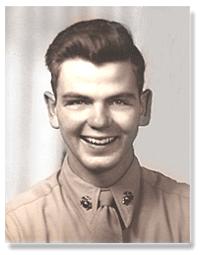 Marvin T. Treadwell, Jr. was honored on November 15, 2001, at Texas A&M University with the presentation of the Silver Star Medal to his family for actions while serving with the United States Marine Corps in Korea in May, 1951. This citation was presented on behalf of the Commandant of the United States Marine Corps and the President of the United States by the Naval ROTC.
Marvin was a classmate of the 1950 Spring Graduation Class of San Jacinto High School. Marvin was a member of the Sixth Marine Reserve Battalion in Houston, Texas, when they were activated in 1950. They were ordered to Camp Pendelton and further integrated into the 1st Marine Division. Many of them were assigned to the 1st Battalion 7th Marines. Marvin became a "Snuffy" in the third squad of the second platoon "Baker" Company.
Like many reservists, he had experienced little formal training. Tom Pentecost recalled Treadwell telling him that he had too many drill periods so he was not assigned to go to "boot" camp. Instead, he was issued his "782" gear and shipped out. He learned how to field strip his M-1 on a hill overlooking Seoul, Korea, after the landing at Inchon.
The Battalion, under the command of Lt. Col. Raymond Davis, landed at Wonsan and went through the hell of the Chosin Reservoir. They made the Pohang patrols and the subsequent move to the North against the Chinese. They made Operation Ripper, Killer, and the fighting on the Quantico and Kansas lines. Marvin became a Corporal and got a fire team just before Operation Mouse Trap. The Division moved to another front and started on the move North. The battle for the hill for which he was cited occurred shortly thereafter.
Marvin was evacuated from that hill for a small wound. After recovery, he was given an assignment at Battalion Headquarters. Among his duties was as an escort for the "cow trains." These were groups of Korean laborers who carried heavy loads of food, ammunition, and water to those Marines who were still running the hills. Pentecost said, "We continued to see Marvin every other day. He was rotated in August and wound up in Camp Lejeune. From there he was released from active duty. He served in Korea from September 1950 until August 1951."
Marvin married, and he and his wife continued to live in Houston. He also continued his education at the University of Houston, graduating in June 1957. Marvin spent the remainder of his life in the Houston area. After the 1999 Marine reunion in Palm Springs, Marvin and his wife went to Hawaii for a vacation celebrating her retirement. He died on June 4th on that Hawaiian trip. His body was laid to rest at the National Cemetery north of Houston, Texas. Colonel Hernandez, USMC, presented Marvin's widow with her husband's Silver Star on November 15, 2001, with family and friends present.