Bronze Star Received in 2001
Text of Notice:
The President of the United States takes pleasure in presenting the BRONZE STAR MEDAL to
PRIVATE FIRST CLASS MORRIS K. MUNDAHL
UNITED STATES MARINE CORPS RESERVE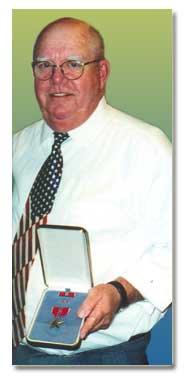 For service as set forth in the following:
For heroic achievement in connection with operations against the enemy while serving as Assistant BAR Man, Company B, 1st Battalion, 7th Marines, 1st Marine Division in Korea on 29 May 1951. While moving to cover the flank of the 2nd Platoon, which was advancing on enemy positions on a hill mass south of Yang Gu, Private First Class Mundahl noticed an enemy force moving to attack the column. The fire team quickly opened fire on the enemy killing four soldiers and driving the remainder to cover. Fearlessly moving through intense enemy fire, the team reached a position 30 feet directly in front of two enemy positions. After gaining fire superiority over the enemy positions, he and two other Marines spearheaded an assault through the breach created in the enemy defensive line and overran a trench and two bunkers. Private First Class Mundahl's courageous actions, initiative, and unswerving devotion to duty reflected great credit upon him and were in keeping with the highest traditions of the Marine Corps and the United States Naval Service.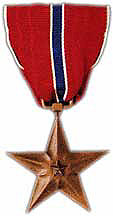 The Combat Distinguishing Device is authorized.
For the President,
(signed) J.L. JONES
Commandant of the Marine Corp