2ND ROYAL AUSTRALIAN REGIMENT - Honors Due!!
From Charles H. Owens, MSgt., USMC Ret. owensusmcret@webtv.net

I am trying to help the 2nd Royal Australian Regiment receive the battle honors they deserve for the fine job they did in Korea. On the 24th of July 1953 while serving in the 2nd platoon, H Company, 3rd Battalion, 7th Marines, the 2nd Royal Australian Regiment saved our bacon.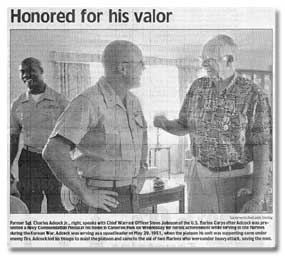 This was on Hill 111 and the 2nd platoon was tied in with an Australian machine gun section commanded by a Sgt. Brian C. Cooper. My platoon had only half the men we should have had and still was supposed to defend the same amount of ground. On the 9th of July while trying to retake OP East Berlin, we were reduced to 20 effectives out of 54 men. On the night of the 24th of July Sgt. Cooper called in artillery fire on my position and his position when the Chinese were in our trench lines. I need to know what I can do to get this fine 2nd Royal Australian Regiment the battle honors they deserve. I have the official records stating what they did that night and it goes into a lot of details and tells more deeds than I have in this letter.