Most recent update to this page: December 27, 2022
Introduction
The Canadian Pacific Airlines flew more than 700 airlifts for the United States Army during the Korean War. On one of those airlifts, a four-engine DC-4 Canadian Pacific Air Lines aircraft vanished en route from Vancouver to Tokyo on July 21, 1951. Among the lost were two stewardesses from Vancouver, two Canadian sailors from the Royal Canadian Navy, four other Canadian crew members, and 29 US Army/Air Force personnel. Since the outbreak of the Korean War, the Korean airlift had flown 87 million miles. This Canadian Pacific Airliner was the first to meet disaster during the airlift operation, but in the nine previous years some 112 persons and 16 planes had vanished in the Alaskan wilderness and Brabazon mountain range.
When the plane was 90 minutes out from its stopover in Anchorage, Alaska, it was on schedule, but it soon hit bad weather. There was heavy rain, icing conditions and visibility was only 500 feet. The plane reported its position off Cape Spencer, about 80 miles west of Juneau, at 12:17 a.m. Pacific Standard Time. The aircraft had a five-hour fuel supply. That report was the last anyone heard from the pilot or crew. For several hours after the plane disappeared, there was a weak radio signal that might or might not have come from the plane. By early Saturday evening the signal had stopped. By the next day, when the plane failed to arrived at its next destination or report in, officials knew the plane was down. There would not have been enough fuel to keep it in the air longer than six hours.
An extensive search involving both U.S. and Canadian aircraft began. Twenty-one planes from the US and Canada, as well as U.S. Coast Guard surface vessels in Alaska searched for the missing plane. Five U.S. B-17s, equipped with lifeboats that could be dropped by parachute, searched a 300-mile area from Cape Spencer west to Middleton Island. According to The Daily Province newspaper in Canada, another group of aircraft searched a 150 mile area south of Yakutat and 40 miles inland, while a third group searched the coast between Cape Spencer and Yakutat. Two Coast Guard cutters patrolled the beaches. The United States Air Force and Royal Canadian Air Force continued to carry out an extensive search for three months, but failed to find any trace of the aircraft or its occupants. The search was finally called off on October 31, 1951.
To this day, no trace of the DC-4 has yet to be found. According to the brother of plane passenger Everett Swarms, there were two theories about what might have happened to the plane. Charles Swarms told the KWE, "One theory was that if the plane was on course, as it was the last time that it was heard from, the plane would have been over the water when it disappeared and sank if it went down. Nobody could survive in that frigid water for even an hour. The other possibility is that the plane might have been flying over mountains on the other side of the bay when it disappeared. At the plane's last reading, it was flying at 9,000 feet. But there were mountains on the other side of the bay that were 14,000 feet high. The plane could have crashed into them and been buried in snow. A lot of planes have disappeared in that area."
In late June of 2015, the Korean War Educator received a request for information about this ill-fated flight from Robin Sloan, cousin of passenger Sgt. John W. Russ of Middletown, Pennsylvania. The result is this page of the KWE, opened June 29, 2015. The KWE is seeking information about all of the men and women who were lost on this flight--both American and Canadian. Photographs of these men and women are also welcome. Send your information to: Lynnita Brown, 111 E. Houghton St., Tuscola, IL 61953; e-mail lynnita@thekwe.org; phone 217-253-4620.
Update #1: Researcher Alan Hyatt found indications of a likely aircraft wreckage on GoogleEarth. He believes the wreckage could be that of this missing aircraft and reported his findings to the KWE in June 2017. He would like any family members of the plane's passengers or crew to get in touch with him.
Update #2: Robin Sloan wrote to the KWE in February 2020: "It has been a while since we have been in contact when I asked you about locating a B.H. Hyatt. Well I wanted to fill you in what has transpired so far. I did find Alan Hiatt (he used his wife's initials) thru James Fox who has a FB page called B-24 Wreck near Grado Italy. Mr. Hyatt than put me in touch with Tonja Anderson-Dell who has written a book called "Gifts from a Glacier- the Quest for an American Flag and 52 Souls" that she wrote regarding the hunt for her Grandfather's military airplane that crashed in Alaska November 22, 1952 heading for Anchorage, Alaska. She has been a great help finding information to fill in the details. We have a FB page called Missing Canadian Pacific Airlines Douglas DC-4 that contains pictures of the site that Alan Hiatt has found of the possible crash site and unclassified info on the crash. We have also found relatives of two of the passengers- Roseann Karmilowicz- 2nd cousin of PFC Ralph Walter Taylor of Ellwood City, Pa (her father was his 1st cousin) and Cheryl Hersey Starr, whose uncle was Vernon E. Hersey (Civilian) from Mitchell SD. One of our followers is a Michael Rocereta who is an aviation archeologist and has an interest in doing a fly over in the future. He has been working with Ms. Anderson-Dell looking for other sites in the same area. And all this started with a simple question to you many years ago. Thank you for your wonderful article and the updates you continue to add to the story. I will keep you updated on any more revelations that may occur."
Update #3: The KWE received a phone call from Lou Sapinenza on May 17, 2021. Affiliated with the Fallen American Veterans Foundation (website: favf.us), Lou updated us on the newest effort to locate the DC-4. He told us that over the years various airplanes have disappeared in Alaska. One was the DC-4 that is the subject of this page. Another missing plane was a twin-engine Cessna 310 that was carrying Democrat members of the US House of Representatives Thomas Hale Boggs Sr. from Louisiana and Nicholas Joseph Begich of Alaska, both en route to a fundraiser for Begich. Also onboard were Begich's aid, Russell Brown, and the pilot, Don Jonz. (Boggs was the father of political journalist Cokie Roberts.) Their plane went missing on October 16, 1972. Neither the plane nor wreckage was located, and neither were the four men in the plane.
Lou told us that in the 1970s an anomalie was accidentally detected in the waters of the Gulf of Alaska. A scan showed an object in the shape of a cross, indicating that it could be the body and wings of an airplane. The shape seemed to be too large for a twin-engine airplane. The Fallen American Veterans Foundation is currently negotiating for a scientific survey ship to study the anomaly. Lou said that the Foundation is hoping for this activity to take place in the summer or fall of 2021. He also told us that if the anomaly is, indeed, an airplane, it is at a depth in which recovery might be possible. Visit the Fallen American Veterans Foundation for more updates.
---
Page Contents:
---
Plane History
"Canadian Pacific Railway Company purchased ten bush airlines in a short time span, finishing with the purchase of Canadian Airways in 1942, to form Canadian Pacific Air Lines. Early management were largely bush flying pioneers, including president Grant McConachie, superintendent Punch Dickins, and Wop May, who would become a repair depot manager in Calgary. Canadian Pacific Air Lines operated from 1942 to 1987. It operated under the name CP Air from 1968 to 1986. Based at Vancouver International Airport in Richmond, British Columbia, it served Canadian and international routes until it was purchased and absorbed into Canadian Airlines." - [Source: Project Gutenberg Self-Publishing Press website]
"N88933, Douglas DC-4 (Douglas C-54 Skymaster), Clipper Winged Racer, notes: C/n 10327, originally delivered to the U.S. Army Air Force as a Douglas C-54A-10-DC Skymaster, Serial Number 42-72222, on 15 June 1944. On the same day it was transferred to the U. S. Navy as an R5D-1, Bureau Number 39174. It was then returned to the Douglas Aircraft Company on 28 June 1946, converted to civil DC-4 specifications, and purchased by Pan Am in 29 May 1947. Pan Am sold this DC-5 back to the Douglas Aircraft Company in 1950, who in turn sold it to Canadian Pacific Air Lines, registered CF-CPC. On 21 July 1951, this Skymaster crashed while flying the Sitka to Yakutat section, and was presumably written off." - [Source: Logbook Magazine]
---
Manifest
The missing on this DC-4 aircraft included nine Canadian crew members and 29 U.S. passengers, all but three of whom were in the U.S. military. The 29 Americans on board were either returning for duty in Japan or being sent there as replacements. Research indicates that many of the passengers were from the Pennsylvania area and other points east of Pennsylvania. The names of the lost souls on the plane are listed below.
May They Never Be Forgotten
American Servicemen:
Borge, Pfc. Daniel (Air Force) - Providence, RI
Clark, S/Sgt. Leroy S. (Air Force) - San Diego, CA
Clauson, Glen R. (Civilian) - Seattle, WA
Cobbs, Cpl. James Lynwood (Air Force) - Maidens, VA
Dann, S/Sgt. Thomas J. (Air Force) - Beowawe, NV
Davis, S/Sgt. Robert B. (Air Force) - Seattle, WA
Dressel, Cpl. Edward Weston (Air Force) - Belpre, OH
Gayle, Capt. John Stuart (Army) - Rehoboth Beach, DE
Gilinger, M/Sgt. James C. (Air Force) - McChord AFB, WA
Glasser, Capt. Martin M. (Air Force) - San Francisco, CA
Hersey, Vernon E. (Civilian) - Mitchell, SD
Hite, Lt. Col. Eugene Goliday (Army) - Rising Sun, MD
Hubbard, Pfc. Gordon M. (Air Force) - Ninevah, NY
Jackson, 1Lt. James A. (Air Force) - Kenmore, NY
Kellar, M/Sgt. Daryl Homer (Air Force) - Tacoma, WA
Kendall, Capt. Wayne E. (Air Force) - Parkland, WA
Livingston, Lt. Edward Blair (Air Force) - Dallas, TX
Ollis, Pfc, Roy J. (Air Force) - Holladay, UT
Oscar, M/Sgt. Elliott T. (Air Force) - McChord AFB, WA
Russ, Sgt. John W. (Air Force) - Middletown, PA
Sacks, Lt. Col. Jerome G. (Army) - Washington, D.C.
Somerville, S/Sgt. John T. (Air Force) - Santa Monica, CA
Stephan, Audley Hobson F. (Civilian) - Trenton, NJ
Stephens, Sgt. William E. (Air Force) - Novato, CA
Swarms, S.Sgt. Everett Wayne (Air Force) - St. James, IL
Swicarz, T/Sgt. Joseph J. (Air Force) - South Tacoma, WA
Taylor, Pfc. Ralph Walter (Air Force) - Ellwood City, PA
Thomas, Capt. Carson O. "Cot" (Air Force) - Olympia, WA
Wenrich, S/Sgt. Homer E. Jr. (Air Force) - Sunbury, PA
Canadian crew members:
Boon, Arthur Stanley - flight engineer and resident of Vancouver, BC, Canada
Fox, Capt. Victor - pilot and resident of West Vancouver, BC, Canada
Krausher, Ernest Louis - second officer and resident of Vancouver, BC, Canada
Laker, AB Frank R. - 20-year old Canadian seaman (HMCS Sioux) from Winnipeg
Lee, Eva M. - Canadian stewardess and resident of Vancouver, BC, Canada
Moore, AB Robert J. - 22-year old Canadian seaman (HMCS Sioux) whose resident was Westphal, Nova Scotia
Moran, Kathleen Mary "Kitty" - Canadian stewardess and resident of Burnaby, BC, Canada
Thomson, Bruce St. John Campbell - first officer and resident of North Vancouver, BC, Canada
Tupper, Freeman Rudolph - radio operator and resident of Vancouver, BC, Canada
---
Biographies of the Lost
Boon, Arthur Stanley
Canadian from Vancouver, BC. He was born in Edmonton, the son of Mr. and Mrs. Eric Earl Boon, on June 26, 1909. He was educated at King Edward Strathcona High School and Technical Schools in Edmonton and then joined the airline. He had been with MacKenzie Air Services and Canadian Pacific Airlines for 14 years. His sisters were Mrs. Alvin Hendel, Mrs. J. Bowen, and Mrs. D.S. Carthur.
Borge, Daniel
Pfc. Daniel Borge, 20, was a radar technician on his way to a new post in Japan with the 1705th Air Transport Wing. The son of Mr. and Mrs. Isadore Borge of East Providence, Rhode Island, he was born in Attleboro, Massachusetts, and came to Providence with his parents when he was six years old. Isadore Borge died in 1982. Daniel attended high school in Litchfield, which is where he joined the Air Force in 1949. His brother Edward Patrick Borge (1933-2011) was a PFC in the Marine Corps at the time of Daniel's plane's disappearance. Edward was a patient in the Philadelphia Naval Hospital recovering from injuries he suffered in an accident at Camp Lejeune, North Carolina. Daniel Borge left behind not only his parents and brother, but also a fiancee who resided in Litchfield, Connecticut. [KWE Note: This information was provided in newspaper accounts sent to the KWE by the Providence Public Library.]
Clark, Leroy Samuel
Leroy was born in Kansas in 1914 and was the son of Mrs. Ruby Carter. He was the husband of Jennett Clark. He had two daughters, Joyce and Kay. He had been in the Army for 16 years, having enlisted on September 22, 1945. During World War II he was stationed at Hammer Field. He was a radar instructor. Leroy attended schools in Kansas before joining the military.
Clauson, Glen Robert
Twenty-eight year old Clauson was born July 25, 1922 in King, Washington, the son of Clarence Clauson (1888-1963) and Selma Ida Lee Clauson (1889-1972). A graduate of Queen Anne and the University of Washington, he served as a naval intelligence officer during the Second World War and was on government business in Japan during the Korean War. A Navy Lieutenant, he was a Japanese interpreter during the war. While studying at the U of Washington he was chosen as a Fulbright scholar. He was a civilian employee of the Air Force. He was married to Mary Carolyn Luther (later Pruefer) in 1943. Carolyn was born in 1923 and died in 2005. They were parents of a daughter Christine. Glen's brother was Richard L. Clauson.
Cobbs, James Lynwood
James was born on August 24, 1931 in Nelson County, Virginia, a son of Hamilton T. and Dell Turpin Cobbs. He graduated from Goochland County High School in 1948. His sibling (still living in 2022) was Thomas Richard Cobbs.
Dann, Thomas J.
Thomas Dann was the oldest child of eight children born to Dewey Dann (1898-1969) and Sophia Dick Dann (1898-1971) of Crescent Valley, Nevada. He was born in Beowawe, Nevada on September 19, 1919, and raised on the family farm. As a member of the Shoshone Indian tribe, he attended the Stewart Indian School near Carson City, Nevada. During World War II he enlisted in the military. Following the war he returned to the family ranch. He didn't like ranching, so he re-enlisted in the Air Force. He was stationed in Alaska during the Korean War, and was one of the passengers on the Canadian Pacific Airliner that disappeared over Alaska in July of 1951. He was the second person in his family whose life was sacrificed for his country. His cousin, Frank Murphy, was missing in action in an airplane loss in the Pacific during World War II. Thomas had siblings: Mary Dann (1923-2005), Richard D. Dann (1925-2006), infant Dewey Dann (1930-1930), Mrs. Russell (Iris Dann) Steve, Clifford Dann (still living in 2015), Mrs. Harvey (Carrie Dann) Knight (still living in 2015), and Jimmy Dann (deceased). Thomas has numerous Dann kin in Nevada, including his first cousin, Barbara Ridley of Elko, who helped supply information for Thomas' bio on the Korean War Educator. Thomas' sisters, Carrie and Mary Dann, are well-known Shoshone activists in the Western Shoshone Defense Project.
Davis, Robert B.
Born in Washington, he was the husband of Barbara S. Davis.
Dressel, Cpl. Edward Weston
Edward was born April 15, 1931, son of Frederick Dressel and Alice Lovell Dressel (1902-1933). There is a memorial marker for Corporal Dressel in Rockland Cemetery, Belpre, Ohio.
Fox, Capt. Victor
The Canadian pilot of this ill-fated plane was a veteran pilot with 10,000 flying hours and almost 2,000,000 miles on Canadian Pacific Airlines operations to his credit. He had been with the company since it was organized in 1942. Formerly from Ottawa, he enlisted in the Royal Canadian Air Force on May 19, 1924 but was discharged later that year to accept a position with a commercial airline. An experienced mountain and Yukon pilot, he was married and had a son. Victor Fox was born in Kent, England, in 1907. His mother was Agnes Fox (1885-1971).
Gayle, Capt. John Stuart
At the time of the plane's disappearance, Captain Gayle's address was listed as Rehoboth Beach, Delaware.

John Stuart Gayle was always known to his family and friends as Jack. Born 7 November 1924 in Denver, Colorado, Jack's father, Lester T. Gayle Jr., was a Virginia Military Institute graduate and had served on active duty in World War I. Jack's parents divorced when he was young, and his mother was remarried to Navy Captain Charles Tozer. Thus, Jack was raised as a Navy "junior." At Coronado High School Jack was a mainstay of the school's athletic programs. He played end on both offense and defense on the 1940 football team, which was unbeaten and allowed only six points all season. He also played basketball, ran track and was sports editor of the school paper. Arriving at Coronado about that time was Mary Lynn Pratt, whose Navy father had wired his family from the Philippines to leave Honolulu immediately and get to CONUS. Thus Mary Lynn met Jack Gayle, a relationship that was to lead to marriage.

A friend and fellow Navy "junior," Jack Shultz, remembered that Jack Gayle had an air of sophistication and class that fit well with Cole Porter lyrics. He had a way with words and listened for well-turned phrases that he could put to good use. He began to write in high school, and Downbeat magazine published his letter declaring Artie Shaw a better clarinetist than Benny Goodman. With the war underway, Jack decided to
leave high school after his junior year and prep for the Naval Academy. Upon learning that he could not pass the eye examination for the Navy, Jack joined his friend Jack Shultz at the Sullivan School and prepared for the USMA exams. Jack entered West Point on 1 July 1943 with the Class of 1946.

Cadet life was just one of those things that Jack had to conquer before he could get on to being an Army officer. His Howitzer write-up says, in part, "This easy-going Californian fell naturally in step with the flanker tradition, but he always remained a step ahead of the Academic and Tactical Departments. His love for athletics is matched only by his fondness for sleep and sunshine." As one of his flanker classmates recalled, that statement in the Howitzer sums up Jack's cadet life—except for his devotion to Mary Lynn. Graduation saw Jack become a second lieutenant of Infantry.

Four days after graduation, Jack and Mary Lynn were married in Rehoboth Beach, Delaware on 8 June 1946. The newlyweds went to Fort Benning, Georgia where Jack attended the Infantry Officers Basic Course. Joe Finley recalled that Jack played on the officers' basketball team sponsored by the Goo Goo Restaurant. The two Jacks shared many rides to training areas, bumming cigarettes from each other and talking about Coronado. The packs of cigarettes would be so mashed that a cigarette would have to be pulled from the ends before it could be lit. Jack Gayle called those rumpled cigarettes "INFANTRY cigarettes," a term that Jack Schultz used many times in the ensuing 43 years. At Fort Benning Jack Gayle began turning serious about a career. His range of interests was broad, and he discussed current events with a global geo-political perspective. In the spring of 1947, the two Jacks split up, with Jack Shultz going to Germany and Jack Gayle to Korea. Neither knew at the time that they would not meet again.

Jack Gayle was assigned as a company commander, K Company, 17th Infantry when he arrived in Korea. Later he commanded C Company and then became assistant G-2 of the 7th Infantry Division. While in Korea, Jack played on the All-Korea All-Star football team in the Rice Bowl in Japan on 1 January 1948. In December 1948, when the 7th Division moved to Japan, Jack became a platoon leader, first in A Company and then in C Company, 32nd Infantry at Camp Haugen, Japan. In March 1949 Jack received a letter of commendation for his efforts in preparing a pictorial history of the Seventh Infantry Division. Mary Lynn was able to join Jack in Japan, but after just a few months she became ill and the Gayles had to leave for CONUS. The Gayles were en route to CONUS when Jack received a cable ordering him to Fort Leavenworth to become aide-de-camp to then-Major General M. S. Eddy, the Commandant.

The Gayles' first child, Ann Lynn, was born 7 January 1950 at Fort Leavenworth. When General Eddy was promoted to lieutenant general and left for Europe, he wrote Jack a letter of commendation. "During your service with me I have been impressed with your intelligence, loyalty, earnestness, integrity and capacity to learn. In your brief career as an officer you have already demonstrated a firm grasp of your profession and an ability to assume responsibilities well beyond your present rank.. . . " The summer of 1950, Jack and Mary Lynn moved back to Fort Benning, Georgia where Jack became aide-de-camp to Brigadier General Harlan N. Hartness, Commanding General, Fourth Infantry Division. It was while he was at Fort Benning that an article Jack had written, "Korea—Honor Without War," was published in the January 1951 issue of Military Review.

In the spring of 1951, Jack was assigned to the Office of the Chief of Psychological Warfare, Department of the Army in Washington. He received orders for a classified mission and Mary Lynn, pregnant with their second child, moved in with her parents. Jack departed Washington in July 1951 en route to Seattle to visit his sister Ann before continuing on his mission. After the visit, Ann put Jack on a train to an unknown destination in Canada where Jack was to board a Canadian Pacific Airlines plane. Speculation was that Jack was en route to Korea, but this has never been determined. On 22 July 1951, Mary Lynn received a telegram from the Department of the Army informing her that Jack was missing. The plane, a DC-4, was last heard from on distress radio somewhere west of Juneau, Alaska on 21 July 1951. On 28 December 1951, Mary Lynn received a report of death from the Army stating only that Jack was a passenger on an aircraft that crashed somewhere between Cape Spencer and Yakutat, Alaska. Jack was survived by his wife Mary Lynn, two daughters, Ann Lynn and Catherine (born 27 November 1951), his parents, sister Ann and brother Richard.

On that fateful day in July 1951, a bright, rising star fell from the sky. It is still hard to believe that he is gone. He loved his wife and sweetheart Mary Lynn and adored his baby daughter Ann. He couldn't wait to do his duty and get back to meet his daughter-on-the-way Catherine. Unfortunately, fate stepped in, and none of this was to be. Instead, those left behind can only remember what a privilege it was to have been associated with Jack Gayle. He is remembered fondly as a terrific guy, well-liked by all who knew him. He was a West Pointer through and through. He never talked about "DUTY, HONOR, COUNTRY''—he just lived the motto every day of his life. It is with pride that the Class of 1946 salutes him with, "Well Done, Jack. Be Thou At Peace!"
[KWE Note: Source - West Point Association of Graduates. Captain Gayle's daughter Ann Lynn (Mrs. Michael Rose) of Locust Grove, Virginia, died February 03, 2014 of lung cancer. His daughter Catherine married a Simard and was living in North Carolina at the time of her sister's death.]
Gilinger, James Claudius
The son of Benjamin Gilinger (1897-1924) and Ruby Haven Gillinger (later Mrs. Joseph R. Murphy), he was born August 12, 1916 in Spring Mill, Pennsylvania. He was serving in the Army and was based in Oahu at the time of the attack on Pearl Harbor. In October of 1947 he married Hawaiian-born Marie Brittain. She was an air raid warden in Conshohocken before joining the WACs. James and Marie were parents of three children, with the youngest being just one year old at the time of the plane's disappearance. The youngsters were Jamia, 7 years old, Olivia, 4 years old, and James Jr.
Glasser, Martin Marshall
Born August 19, 1919 in Altoona, Pennsylvania, a son of Mrs. Emma Glasser. During World War II he was a bomber navigator in England, where he received a Distinguished Flying Cross. His brother was Samuel Glasser.
Hersey, Vernon Eugene "Bud"
Born April 11, 1921 in Mitchell, South Dakota, Bud was a son of Harry Bartell Hersey (1886-1959) and Maude Helen Doane Hersey (1897-1970). He graduated from Mitchell High School in 1939 and then went to Washington, D.C., where he was employed by the U.S. Navy and Agricultural departments. He accepted employment with the U.S. Air Force in Nagoya, Japan in 1946. In 1947 he transferred to the U.S. Eighth Army and stayed in Japan until being transferred to Korea in July of 1950 after the outbreak of war. He was then with the Japanese tactical command. He was the husband of Ernestine Clark Hersey (1917-2006) and the father of three daughters, including Ramona and Helen. His siblings included Eileen Mona Hersey Beard (1919-1995), Mary Kathleen Hersey Lewis (1929-1978), Helen Hersey Gisselbeck, Elizabeth Hersey Wieczorek, Harry Bartell Hersey (1918-2009), and Clifford Freeman Hersey (1927-2013). His brother and sister-in-law were Maurice and Miriam Medley from the Logansport, Indiana area.
Hite, Eugene Goliday
According to a marker in the West Nottingham Cemetery, West Nottingham, Maryland, Eugene Hite was born May 28, 1907 in Virginia, and was serving in the Army at the time his plane went missing. His address at the time was Rising Sun, Maryland. Further information about Eugene Hite was found in an article written by Eric Mease in the Cecil Whig online. Mease's research indicates that Hite was born in Staunton, Virginia. He attended Tome School in Port Deposit before entering Virginia Polytechnic Institute, graduating in 1932. He then was associated with the Federal government's soil conservation program. He served with the 2nd Armored Division in Europe during World War II, returning home as a major. He entered civilian life for a time, but re-entered the military and was a reserve officer. For a time he was an instructor at Fort Knox, but he was associated with the VA Hospital at Perry Point before being ordered to Tokyo as a reserve officer. His wife, the former Lucille Pointer of South Hill, Virginia, received the news of the plane's disappearance while still on the West Coast after seeing her husband off on the ill-fated DC-4. Eugene Hite was the son of Tolerous N. Hite (1876-1930) and Myrtle V. Arehart Hite (1880-1964) of Rising Sun, and the brother of Norborne Hite, Mrs. Lelia Hite Frazer, and Miss Iva Hite.
Hubbard, Gordon Merle
Born in 1933, a son of Oscar L. Hubbard (1905-1966) and Jessie Mae Butler Hubbard (1908-1963), he was from the Broome County, New York (Center Village) area. He was raised by his grandmother, Ruby Hubbard. His brothers were David B. Hubbard (1931-1992) and Harry Hubbard. After joining the Air Force Gordon was trained at San Antonio, Texas; Kester Field in Biloxi, Mississippi; and then McCord Air Force Base in Washington. He volunteered for duty at the 1705th Air Wing Transport Wing in Japan and was en route there when the plane disappeared. There is a marker for him in Perch Pond Cemetery.
Jackson, James Albert
Born September 11, 1924 in Corry, Pennsylvania, he enlisted in the military on April 6, 1943 and was a World War II veteran.
Kellar, Daryl Homer
Born on August 18, 1913 in Kasson, Minnesota, Sergeant Kellar was a son of Homer Willis Kellar (1882-1955) and Blanche Ann Barber Kellar (1886-1959). He was survived by his wife Clare J. Kellar (1918-2005), a sergeant in the US Army during World War II. Also surviving were his three children ages four years to newborn: Karen, Dana and Mark. His siblings were Raymond Elmo Kellar (1909-1994), Kenneth M. Kellar (1912-2012), Ruth Ona Kellar Nelson (1917-2009), Mary LaRayne Kellar Andrist (1922-2015), Arland Dee Kellar (1927-2010), Armond Lee Kellar (1927-1997), and Helen Kellar Michalski. In February 1952 at a ceremony attended by his family at McChord Air Base, Washington, the Bronze Star Medal was awarded posthumously to his five year old daughter, in recognition of MSGT Kellar's outstanding effort as Line Chief of the Fourth Troop Carrier Squadron while the unit was supplying front line troops in Korea in the winter and spring of 1951. Sergeant Kellar was a participant in the Berlin Airlift.
Kendall, Wayne E.
Wayne was born on December 7, 1920 in Nebraska, the son of Mr. and Mrs. George Kendall. After studying at Centralia College, he enlisted in the Air Force. He flew 52 combat missions in the European Theater during World War II, receiving 22 citations for bravery, including the Distinguished Flying Cross. He was divorced from the former Shirley A. Larson. They had a daughter Marcia Ann, a fifth grader at the time of her father's disappearance. His sister was Mrs. Dave Copley of Centralia, Nebraska.
Krausher, Ernest Louis
Canadian - Vancouver, BC - Ernest Krausher was born in 1921, the son of Jacob Krausher (1897-1968) and Theresa Rose Bender Krausher (1902-1980) of Saskatchewan. A former fighter pilot with the Royal Canadian Air Force, he had been with the Canadian Pacific Airlines since February of 1951. He was married in England and had children Eldon (two years old) and Sherron (four years old). During World War II he served in Holland, the Middle East, and the Battle of Britain. He was employed by the government phone service in Regina before accepting the job at CPA.
Laker, AB Frank Richard
Canadian - Vancouver, BC. Laker was born May 31, 1931 in Sudbury, Ontario, Canada. He was an Able Seaman in the Royal Canadian Navy, having enlisted on November 4, 1948 at Winnipeg. His parents were Richard Shipway and Lena Perkin of Winnipeg. His wife was Eleanor Joan Billedeau Laker of Nanaimo, British Columbia. His full-siblings were Arthur Laker and Mrs. Russel Lawson. His half-siblings were Herbert Wilfred Perkin and Doris Perkin.
Lee, Eva Marie
Canadian stewardess - Vancouver, BC. Eva was born in Victoria. She was educated in Shanghai and as a result she spoke fluent English and Chinese. She started working at Canadian Pacific Airlines on May 8, 1950. Her sister was Miss Francis Lee. also a stewardess, and Lucy Lee, a nurse.
Livingston, Lt. Edward Blair
Lieutenant Livingston was born November 12, 1924 in Dallas, Texas. There is a marker in his honor in the Sparkman Hillcrest Memorial Park, Dallas. His wife's name was Bettye.
Moore, AB Robert John
Canadian - Robert John Moore was born December 27, 1929 in Yarmouth, Nova Scotia, Canada, a son of Herbert John and Mary Elizabeth Moore of Dartmouth, Nova Scotia, Canada. He was the brother of William Henry Moore, Victor Alexander Moore, and Mildred Constance Moore. He enlisted in the Canadian Navy on March 8, 1949 in Penfield Ridge, New Brunswick, Canada. His first ship was the Magnificent and then he went to Stadacona for a course in the Communications School.
Moran, Kathleen Mary "Kitty"
Canadian stewardess - Kathleen was the daughter of John and Kate Carney Moran, who were originally from Ireland but were living in Burnaby, B.C., Canada at the time of their daughter's disappearance. Kathleen's father was on the staff of Paramount Driven-in Theatre in Burnaby in 1951. Kathleen attended Seaforth Public School at Lozella, Canada, Sperling Avenue School in Burnaby, and Burnaby South High School. She attended two years of college at British Columbia University, and then took a nursing course at St. Paul's before beginning her flying career as a stewardess for Canadian Pacific Airlines. She was preceded in death by one sibling, and was survived by two brothers, John M. "Jack" Moran and Frank P. Moran. The chief stewardess on the fated flight, she was to have married Montreal doctor Gill Marion in September.
Ollis, Roy Junior "Keith"
Keith Ollis was born in August of 1929 in Salt Lake City, a son of Roy George and Belle May Reed Ollis of Holladay, Utah. His brother was Ronald Ollis of Holliday and his half-brother was Eugene Hoagland of Albany, California. His father was an outside plant engineer with Mountain States Telephone and Telegraph Company and his mother worked at the J.G. McDonald Chocolate Company. Keith received his elementary and secondary education in the Granite District schools in Holladay. He attended East High School and college at the University of Utah. He was a member of the university band. He joined the Air Force while attending the university on April 1, 1950. Keith married Peggy Sue Gantner, daughter of Mr. and Mrs. Andrew J. Gantner, while on furlough on July 09, 1951 in Salt Lake City, just days before his plane disappeared. His widow later remarried twice and had children. When his family received a government notice that Keith had been officially declared dead, a memorial service was held in the Holladay Fourth Ward Chapel, Church of Jesus Christ of Latter-day Saints. [KWE Note: This information was supplied by Salt Lake City Public Library researchers.]
Oscar, Elliott Theodore
Elliott was the husband of Jessie Allene Fore Oscar Criswell (1918-2004). He was born May 26, 1914 in Shipman, Macoupin County, Illinois, the son of Charles R. Oscar (1893-1970) and Edna Elliott Oscar (1894-1978). Edna later married Ray Sudder and lived in Covington, Kentucky. Elliott married Jessie Allene Fore in 1941 and they were parents of one son and three daughters. Allene was born in 1918 and died in 2004 with the last name Criswell. He had served four years in the Navy and 14 years in the Air Force. He served in the Pacific and European Theaters in World War II.
Russ, Sgt. John William Jr.
Sergeant Russ was from Middletown, Pennsylvania. He was born in December of 1929, the son of John W. Russ Sr. (1907-1995) and Katherine McGill Russ (1908-1983), who are buried in the Middletown Cemetery. John was the brother of Doris Russ Whitlow (now deceased) and Kathy M. Russ Corradi.
Sacks, Lt. Col. Jerome Gerald
Lt. Colonel Sacks was born July 14, 1915 in Baltimore, Maryland, a son of Chaim Isidor and Elizabeth "Lizzie" Sacks. He was the brother of Dr. Sy Sacks (1918-1999). His wife was Sylvia Sacks. In 1937 Sacks was a parole intern, District of Columbia Penal Institutions, Lorton, Virginia, and a candidate for a PhD in Social Science at Catholic University of America. He was a Lieutenant Colonel in the Army and a resident of Washington, D.C. at the time of the plane's disappearance. He was serving in the Army Medical Corps.
Somerville, John T.
John was born in Peoria, Illinois, the son of Mr. and Mrs. W.C. Somerville. While a student at Harvard Military School, he joined the Air Force at age 16. He had been in the Air Force for six years when the plane disappeared. He was preceded in death by his father and his only sister, Mrs. Muriel Des Roches.
Stephan, Audley Hobson F.
Audley Stephan was born October 14, 1899 in Trenton, New Jersey, a son of Thomas W. Stephan (1860-1922) and Anita Sarah Steventon Stephan (1862-1941) Audley was the father of John Thomas Stephan (1925-1986) and a daughter Mary Ann, and the brother of siblings Alice G., Thomas Richard, Henry Lloyd, Peter Steventon, Ellis Wreson, and Edwin Harvey Stephan. A graduate of Trenton High School, he graduated from Princeton in 1922 and received a PhD at Pennsylvania. He began his business career working for General Electric, and was later a municipal auditor in Jew Jersey and state budget director. He was called into the Army in 1942 as a military finance advisor, serving in North Africa, Sicily and Italy. He returned to civilian life in 1946 as finance professor at Rutgers University. He was later chairman of the Finance Department of University College. He was recalled to duty in the Army 1949 to help reorganize the Japanese fiscal system. Audley Stephan helped balance Japan's postwar budget and was an ace U.S. economic troubleshooter. He was survived by his wife, Margaret Moore Stephan.
Stephens, William Earl
Born April 29, 1914 in Kelso, Washington, he was a son of William Riley Stephens (1885-1976) and Grace L. Stephens (1890-1916). His siblings were Dorothy Alice Stephens Swan Frisbie Hopper (1908-2002), Ruth Stephens (1911-1916), Jane Elizabeth Stephens (1928-1969), James Robert Stephens (1912-1988), and Wilton Stephens (1914-?).
Swarms, Everett Wayne
According to a marker in the Stein Cemetery, Loogootee, Illinois, Everett Swarms was born June 6, 1930, son of Maroy and Lula Brown Swarms. His siblings were Mrs. Anthony (Rosemary Swarms) White (1935-2011), US Air Force veteran Troy Orville Swarms (1928-1992), and Navy veteran Charles Swarms. Everett grew up in the St. James, Illinois area and graduated from St. Elmo Community High School. He joined the Air Force immediately after graduation. According to Everett's brother Charles, "I believe to our mother's dying day that she thought he was alive someplace, even though we went through the military ceremony and there is a marker for him in the cemetery. She never believed that he died on that plane. Last year my wife Linda and I went on a seven-day cruise to Alaska. I guess this might sound silly, but I spent the whole time there looking for my brother."
Swicarz, Joseph John
A World War II veteran of the army, he reenlisted in 1946. Joseph was born on April 7, 1918 in Franklin, New Jersey, the son of Paul Swicarz. He married Mary Ann Matala (Army Nurse Corps in World War II and Korea), and they were parents of two children. Lt. Col. Mary Ann Swicarz was born in 1919 and died in 1987. His sister was Mrs. Thomas Doland.
Taylor, Pfc. Ralph Walter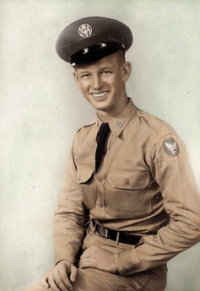 Pfc. Ralph Walter Taylor
Born inon February 26, 1932 in Luzerne County, Pennsylvania, Pfc. Taylor was a son of Pearl Walter Taylor (1899-1974) and Anna Ruth Zurinski Taylor (1908-1997). His parents are buried in Locust Grove Cemetery, Ellwood City, Pennsylvania. He attended Lincoln High School in Ellwood City prior to enlisting in the Air Corps on his 18th birthday February 26, 1950. Pfc. Taylor had a brother, David Paul Taylor (1938-1944) and sister, Doris Ann Taylor Schall (1934-1977). Pfc. Taylor was a member of the 14th Troop Carrier Squadron at the time of his plane's disappearance.
Thomas, Capt. Carson O. "Cot"
Captain Thomas was born on April 30, 1922 in Tacoma, Washington, a son of Oscar N. Thomas (1895-1986) and Burie S. Thomas (1900-1980). His siblings were Preston O. Thomas (older brother), Norman O. Thomas and Thad O. Thomas. Carson graduated from Olympia High School and attended Washington State College. In World War II, he served as a bomber pilot in the China-India Theater. During that service, he was awarded the Distinguished Flying Cross and the Air Medal, both with additional clusters. Following the war, he was employed by the state highway department as a radio technician. He was married to Ardath Henrietta Christensen (1924-2005) on June 29, 1947 in Thurston County, Washington.

At the time of loss, Thomas was serving in the Air Force having been called up from the Reserves on July 20, 1950. Assignments following his return to service included piloting aircraft participating in the Korean airlift flying between McChord Air Force Base and Japan, and flying wounded from Korea to Japan. He was flying as a passenger on July 21, 1951 when the plane disappeared over the Alaskan panhandle. He was survived by his wife and two young daughters. [KWE Note: This information was supplied by the Timberland Regional Public Library in Olympia, Washington.]
Thomson, Bruce St. John Campbell
Canadian - Vancouver, BC. A war veteran of the Royal New Zealand Air Force, his parents lived in Auckland. Bruce came to Canada two years before the plane disappearance. The son of James Edward Thomson (1874-1976) and Eileen Maitland Branigan Thomson (1891-1982), Bruce was unmarried.
Tupper, Freeman Rudolph
Canadian - Vancouver, BC - He was the radio operator on the lost aircraft. He was married with children Freeman Charles (age 12), Carolyn, Patrick and Cathy Tupper.
Wenrich, S/Sgt. Homer E. Jr. "Buddy"
Sergeant Wenrich was born November 23, 1925 in Pine Grove, Pennsylvania, a son of Homer E. Wenrich Sr. and Emily Sotzin Wenrich of Sunbury, Pennsylvania. His siblings were Kenneth R., David, Robert, Philip C. (1938-2022), Randolph Sotzin (Randy) Wenrich, and Barbara Wenrich. Sergeant Wenrich was serving in the Air Force at the time his plane went missing. He enlisted in the Air Force on January 17, 1944.
---
Newspaper Articles
Billings, Montana Gazette Articles
KOREAN AIRLIFT PLANE WITH 38 ABOARD IS LOST
BAD WEATHER SAID POSSIBLE CAUSE OF DISAPPEARANCE

Vancouver, B. C., July 21. -- (AP) -- A four-engined DC-4 winging 38 persons to Tokyo on the Korean airlift was swallowed Saturday during "foul" weather along the wild Alaska panhandle coast on an outbound flight from Vancouver, B. C.

Most of the 31 passengers were American military men. The crew of seven included two stewardesses. The big Canadian Pacific airlines' plane was the first to meet disaster in the airlift's 87 million miles of flying since the outbreak of the Korean War.

Rescue planes were poised for another of the northwest's great air searches when the weather lifts. Ground fog and clouds blanketed the area between Juneau and Anchorage, Alaska, from the ground level to a height of 12,000 feet.

The seventeenth U. S. Coast Guard district at Juneau, which is directing the hunt, said the cutters, Citrus and Cahoone were scouring the icy mouth of the Gulf of Alaska northward from Cape Spencer. The missing plane made its last position report at 12:17 a.m. off Cape Spencer, about 80 miles due west of Juneau.

McChord air force base near Tacoma, Wash., stateside terminus for American "great circle" airlift operations, said the DC-4 carried 23 U. S. air force, three U. S. army and two royal Canadian navy men, three American civilians and the crew.

Names of the passengers have not been released. All crew members were Canadians from Vancouver. An early report that the three civilians were united nations officials was scotched later by U. N. headquarters in New York.

The air liner has been listed as "definitely down" on its 1,348 mile flight from Vancouver to Anchorage. It had only enough fuel to last until just before 6 o'clock Saturday morning. There was only silence after its Cape Spencer report in which the pilot, Captain VICTOR FOX, gave no indication of any trouble. The DC-4 was to have checked in by radio again at Yakutat, about 150 miles up the Alaska panhandle coast. Weather may have caused it to crash.

If the plane remained on course, it would have been about 25 to 30 miles off shore. But directly inland towers the rugged Brabazon range with dozens of peaks up to 14,000 feet and some of the wildest, most primitive country on the North American continent. It was in this area that part of a search was directed for a U. S. C-54 which vanished in January 1950, with 44 persons aboard. The wreckage was never found. Rescue planes were standing by in Washington, British Columbia and Alaska to launch an aerial search for the DC-4 when weather permits.

Even though the missing plane carried rubber life rafts and other emergency equipment, the chances of survival fo the 38 passengers and crew were considered slim if the plane went down in the icy sea off the Alaska coast. Rescue officials say the maximum survival time for anyone directly in the 50-degree water is about an hour.

Billings Gazette Montana 1951-07-22

--------------------------------------------------

SEARCH FOR LOST PLANE CONTINUES

Yakutat, Alaska, July 23 -- (U.P.) -- Search planes scanned the mountainous, glacier-covered southeastern Alaska coast Monday for traces of a Korean airlift DC-4, missing since Saturday with 38 persons aboard. No sign of the Tokyo-bound Canadian Pacific Airlines plane was reported as 21 planes from a coast guard airstrip at Yakutat dipped into glaciated ravines and topped jagged peaks of the Fairweather range in "the land of lost airplanes."

Aboard the missing four-engined plane were 26 United States servicemen, three civilian government employees, two Canadian navy men and a crew of seven. United States Tenth Rescue Squadron planes searched the craggy, glacier-studded Mount Fairweather area, 60 miles north of Cape Spencer, Alaska, where the C.P.A. transport last reported its position early Saturday. Mount Fairweather itself rises 15,300 feet. Pilot of the missing DC-4 reported he was flying "on schedule" at 9,000 feet when over Cape Spencer. Searchers also hunted over the Barbazon range near the towering St. Elias mountains and scanned a heavily glaciated area farther north. The missing ship was en route from Vancouver, British Columbia, to Anchorage, Alaska, on the first leg of a flight to Tokyo.

The area being searched was one where several planes have disappeared in the past. In November 1948 an Alaska Air Express DC-4 with 17 persons aboard vanished on a trip from Anchorage to Alaska. No trace was found. The coast guard on the chance that the plane went down soon after its last report, Monday concentrated its efforts in the waters of the Gulf of Alaska. Officers said it would be possible to live only about one hour in the icy water.

The plane left Vancouver Friday night with enough gas to stay aloft until about 9:30 a.m. (E.D.T.) Saturday. A faint radio signal was received for a time Saturday. It was impossible to tell whether it was distress message from the plane. Later the signal faded.

Billings Gazelle Montana 1951-07-24
---
Unfair Weather of Mount Fairweather
Canadian Shirlee Smith Matheson, author of several aviation books, has written a book entitled, Amazing Flights and Flyers. In it, a story in one chapter is devoted to the disappearance of Canadian Pacific Airlines Douglas CF-CPC 10367. The chapter is called, "The Unfair Weather of Mount Fairweather".
Matheson's book is available through Amazon.com. The book cover features artist Dan Ryan's painting of the Douglas C-4 lost near Sitka, Alaska. The original hangs in the south terminal of the Vancouver International Airport and is the artist's rendition of how the airlines, with its crew and passengers, might have looked when it was about to disappear forever in the vicinity of Mount Fairweather on July 21, 1951. The KWE has not yet reviewed the book and is therefore not endorsing it, but Amazon's promotional blurb on the book states:
Audacity and the Occasional Bad Luck and Hijinks - Some accomplishments seem to be beyond human endurance, such as the two mid-winter medical evacuation flights pioneered by the intrepid crew of Kenn Borek Air; the continuing efforts by volunteers from CASARA to search for lost people and planes; the determination of aviation pioneers who fight to fly the volatile conditions experienced in our Maritime provinces; the amazing lifestyles of those who choose to live in the Far North and never want to leave. On the other side of the flying field are those who used flight as an opportunity for personal escapes or hijacking capers, or whose fates were suddenly decided by bad luck engine failure, sudden weather changes, or chances taken with unfamiliar machines and terrain. A high-risk wartime story chronicles the attempt of enemy forces to dock their U-boat on Canadian soil to install a weather reporting station. All are remarkable stories, and most are little known. Flight can be a combination of thrills beyond compare and sudden full stops. The stories in Amazing Flights and Flyers encapsulate nearly every human emotion and scenario, and range from the early days of the 20th century to the present.
Paperback: 286 pages
Publisher: Frontenac House Ltd.; first edition (February 28, 2010)
Language: English
ISBN-10: 1897181299
ISBN-13: 978-1897181294
---
Readers' Comments