Introduction:
The "Lubricating Lady" B-29 Superfortress #44-61751 went down in waters 110 nautical miles from Okinawa on October 31, 1952 while returning from a night combat mission over North Korea. Debris washed up at Naha Harbor. The plane's fuselage sank. The aircraft was nicknamed "Lubricating Lady" because of its tendency to leak oil from her engines. There were fourteen onboard the aircraft when it crashed into a heavy sea with 10-20 foot waves. There were only three survivors. To add information to this page of the Korean War Educator contact Lynnita by e-mail or call her at 217-253-4620 Illinois time.
---
Aircraft Crew:
Captain Robert G. Harvey
1st Lt. Gordon W. Froisness
2nd Lt. Michael Bochnovic
2nd Lt. John H. Haun
1st Lt. Robert F. Phalen
Captain Donald L. Adams
M/Sgt. Marvin Elwood Sleppy
A/2C Harry T. Peoples Jr.
A/2C Donald H. Wilson
A/2C Robert Q. Hopkins
A/1C Jimmy C. Sides
1st Lt. James E. Knox
A/1C Edward B. LeMaster III
A/2C Charles H. Rees
---
Details about Crew Members:
Adams, Capt. Donald Lester
Extra Navigator. Missing. Born March 20, 1925, Captain Adams was from Houstonia, Missouri.
Bochnovic, 2nd Lt. Michael
Navigator. Missing. Born May 08, 1930, he was from Jersey City, New Jersey.
Froisness, 1LT Gordon Nowell
Pilot. Missing. Born June 25, 1917, Lieutenant Froisness was from San Lorenzo, California.
Harvey, Robert Gordon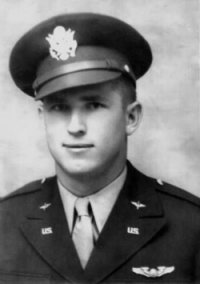 Captain Robert Harvey
Aircraft Commander, age 33. Missing. In World War II, Air Force Captain Robert Harvey flew the B-24 Liberator bomber in the Pacific theater and was also a bomber test pilot. He was awarded the Distinguished Flying Cross. Robert returned to civilian life in San Diego and became a vice squad policeman and also worked in the police department business office. Because he had a reserve commission, he was called to active duty in early 1952. Both Robert and his wife, Mary, attended San Diego State, and they had three children. A son was born on the day his plane was reported missing. [Information supplied by San Diego State University Librarian Robert Fikes Jr.]
Haun, 2LT John Henry
Bombardier. Missing. Born August 26, 1925, he was living in Overland, Missouri when he enlisted in the Air force.
Hopkins, Airman 2C Robert Quinton
Tail Gunner. Missing. Born June 29, 1933, Robert was from Lynn, Alabama.
Knox, 1Lt. James
Bombardier. Rescued by helicopter.
LeMaster, Airman 1C Edward B. III
Radio Operator. Rescued by helicopter.
Peoples, Airman 2C Harry Thomas Jr.
Left Gunner. Missing. Son of Harry Thomas Peoples (2878-1961) and Elsie Bush Peoples (1887-1979) from Raleigh, North Carolina.
Phalen, 1LT Robert F.
Radar Observer. Missing. Born in 1922, he was the son of Donald L. (1895-1973) and Florence M. Phalen (1893-1981) of New York.
Rees, Airman 2C Charles H. "Chuck"
Central Fire Control Gunner. Rescued by helicopter.
Sides, Airman 1C Jimmy Carter
Extra Tail Gunner. Missing. Born December 03, 1933, his home of record was London, Arkansas.
Sleppy, MSgt. Marvin Elwood
Flight Engineer. Missing. Born November 5, 1921, his hometown was Minneapolis, Minnesota.
Wilson, Airman 2C Donald Harold
Right Gunner. Missing. Wilson was alive after the crash but lost his life successfully saving the life of Chuck Rees, who was pinned in the wreckage. Born July 25, 1933, his home of record was Hillsdale, Illinois.