Introduction
A US Air Force Boeing B-29-85-BW Superfortress, 44-87651, of the 99th Bomb Squadron, 9th Bomb Group, 9th Bomb Wing, carrying a Mark 4 nuclear bomb, suffered two runaway propellers and landing gear problems on takeoff at Fairfield-Suisun Air Force Base, Fairfield, California. The crew attempted an emergency landing but crashed, causing a huge explosion that killed 19 aboard the plane and on the ground, including mission commander Brigadier General Robert F. Travis. The airfield was later renamed Travis Air Force Base in his honor.
Numerous nearby mobile homes were severely damaged and many civilians, firefighters, and USAF ground crew were injured. Of the 49 military personnel, 47 required hospitalization. A Civil Service assistant fire chief was injured and three civilian dependents were injured (two while attempting to remove effects from trailers and one when a fire extinguisher fell through the roof of quarters). In addition to the 53 major and minor injuries, there were 78 who were injured and treated but not admitted to a hospital, and an estimated 50 who were treated but not recorded.
The Air Force attributed the explosion to ten or twelve conventional 500-pound HE bombs aboard the B-29 and claimed that the nuclear bomb's fuel capsule was aboard a different aircraft, but admitted that the bomb casing contained depleted uranium used as ballast. A public health assessment of the crash site was later ordered.
To add more information about this accident and its fatalities, contact Lynnita in Illinois at 217-253-4620 or 253-5171 or e-mail Lynnita.
Page Contents:
---
Crew and Casualties
Crew Members: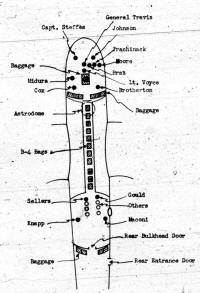 Diagram showing crew placements on the B-29 44-87651
(Click picture for a larger view)
General Robert Falligant Travis
Captain Eugene Q. Steffes
Captain Jack R. Cox
1/Lt Carter W. Johnson
1/Lt Matthew A. Midura
1/Lt William G. Braz
T/Sgt Donald W. Moore
PFC Jack Lloyd Gould
PFC Roy Sellars
1/Lt Robert G. Brotherton
S/Sgt Lloyd Francis Knapp
S/Sgt Joseph Maconi
1/Lt Charles E. Voyce
S/Sgt Joseph Prachinack
1/Lt James Arthur Stubblebine
Sgt Richard D. Vanderpool
PFC Leonard Andrew Reeve
M/Sgt James Land Mclelland
PFC Merrit Donald Judd
Cpl John L. Tucker
Fatalities:
Bender, Pvt. Emil G. Jr. - base firefighter. Emil was born April 24, 1927 and died August 11, 1950, several days after the explosion. He was the son of Emil G. Bender Sr., and a US Army and US Navy veteran. He served in World War II. He is buried in Long Island National Cemetery, Farmingdale, New York.

Boyles, Pvt. John Hastings - volunteer from the base. John was born September 28, 1929, a son of Elliott Wilson Boyles Sr. (1880-1953)and Ada I. Wiggins Boyles (1905-1964). He was from Savannah, Georgia. He was survived by his parents, his wife Eleanor Ann Boyles, and a brother Elliott Wilson Boyles Jr. John was an Army private scheduled to leave on August 6, 1950 to join an infantry outfit on the battlefields of Korea. While trying to help base firefighters rescue victims of the crash, he was killed when the plane exploded. The mother of Brigadier General Robert F. Travis of Savannah, who also lost his life in the explosion, attended John's funeral as a way of "paying a silent debt of gratitude to the young private who died in a vain effort to rescue her son." John Boyles is buried in Greenwich Cemetery, Savannah.

Goins, Pvt. Edward - base firefighter. Born January 12, 1930 in Alabama, the son of William and Sarah Davis Goins, Edward died August 17, 1950 at Letterman General Hospital in San Francisco, California. He is buried in Long Island National Cemetery, Farmingdale, New York.

Gould, Pfc. Jack Lloyd - radio operator from Oakland, CA. Born May 26, 1920 in California, the son of Benjamin F. and Winifred Foreman Gould, Jack was married to Wilma Virginia Becker (1927-1996). Wilma gave birth to Jack's child after Jack's death. PFC Gould is buried in Golden Gate National Cemetery, San Bruno, California.

Gould, PFC Jack Lloyd - radio operator. Born May 26, 1920, he was 30 years old and from Oakland, California.

Hansted, Cpl. Doyle Dennis - base firefighter. Born May 13, 1930 in Nebraska, he is buried in Highland Home Cemetery, Jamestown, North Dakota.

Judd, Cpl. Merritt Donald - maintenanceman. Age 19, Merritt was born in North Brunswick, New Jersey on November 8, 1930, a son of Arthur Merritt and Irma May Dayton Judd. His siblings were Anita Judd, Kenneth A. Judd, and Janet Lou Judd. Corporal Merritt enlisted in the Air Force on February 21, 1949. He is buried in Van Liew Cemetery, New Brunswick.

Knapp, Sgt. Lloyd Francis - passenger (an aerial gunner). Age 28, Lloyd was from Ridgefield Park, New Jersey. He was born on April 19, 1922, the son of Lloyd and Drusilla Knapp. He is buried in St. Josephs Cemetery, Lyndhurst, NJ.

Maconi, SSgt. Joseph - Age 24, Joseph was an aerial gunner from New Brunswick, New Jersey. He was born December 2, 1925 in New Jersey, the son of Frank and Mary Maconi. He was seated in the rear of the plane at the time of the explosion. He was serving with the 99th Bomb Squadron at Fairfield-Suisan AFB. He is buried in St. Peters Cemetery, New Brunswick.

McCollum, SSgt. John Edens - base firefighter. Born April 27, 1917 in Missouri, he was the son of Perry Andrew and Josephine Skyles McCollum, and the husband of Mary Arlene Balcom McCollum. He is buried in Golden Gate National Cemetery, San Bruno, CA.

McLelland, MSgt. James Land - maintenanceman. Age 40, he was from Lucien, Mississippi. He was born November 27, 1910.

Prachniak, SSgt. Joseph - maintenanceman (crew chief). Age 36, Joseph was from New Bedford, Massachusetts. He was one of eight children born to Frank and Rose Prachniak. The World War II veteran was born October 26, 1913. He is buried in St. Marys Cemetery, New Bedford.

Ramoneda, Sgt. Paul Prosper - Born March 14, 1924 in Los Angeles County, California, he was one of eight children born to Francis "Frank" and Irene Renaud Ramoneda. Paul was a decorated Marine veteran from World War II. On 5 Aug 1950, Sgt Ramoneda was working at his job as a baker in food services (5th Food Service Squadron) at Fairfield-Suisun AFB when a B-29 crashed near his work station. Sgt Ramoneda witnessed the crash and he and his fellow bakers immediately went to help rescue the ten men on the plane. They were able to rescue eight of the ten men in the forward part of the burning plane. Sgt. Ramoneda returned to the plane to help rescue the remaining crew and passengers who were in the rear part of the plane. After the firefighters arrived at the crash, the plane exploded, killing Sgt Ramoneda, five base firefighters, and Pvt John Boyles. For his heroic and repeated efforts to save the men on the B-29, Sgt Paul Ramoneda was posthumously awarded the Soldier's Medal, the Purple Heart, and the Cheney Medal--awarded annually since 1927 "for an act of valor, extreme fortitude or self sacrifice in a humanitarian interest performed in connection with aircraft".

Reeve, Pfc. Leonard Andrew - maintenanceman. Age 20, Leonard was born April 10, 1930, the son of Victor and Ellen Stewart Reeve. He was from El Cerrito. He enlisted in the US Air Force on January 6, 1949, and was serving with the 99th Bomb Squadron of the 9th Bomb Wing at Fairfield-Suisun AFB (later Travis AFB) when the tragedy occurred. He is buried in Sunset View Cemetery, El Cerrito, CA.

Sellars, Pfc. Roy - tail gunner who died the next day (August 06, 1950). Born February 6, 1925 in Cherokee County, South Carolina, he was the son of William Horace Sellars (1892-1969) and Minnie Coyle Sellars (1898-1975). His siblings included sisters Paunice Sellars (1922-2011), Estelle Sellars Gilfillan, and Minnie Lee Sellars Nance; and brothers Rayford Sellars (1927-1993), Bobby E. Sellars, Garland Sellars, and Olin Dewey Sellars (1934-2004). Roy is buried in Oakland Cemetery, Gaffney, South Carolina.

Stubblebine, 1LT James Arthur - passenger. Born July 30, 1924, he was age 26 and from Reading, PA. He is buried in Llano Cemetery, Amarillo, Texas, beside his wife, Mable F. French Stubblebine (1906-1976).

Travis, Brig. Gen. Robert Falligant - commander, 5th SRW & 9th Bombardment Wing. Also listed as command pilot. Robert Falligant Travis was born on 26 December 1904 in Savannah, Georgia. He entered the University of Georgia in 1924, but then received an appointment to the U.S. Military Academy at West Point, New York. Upon graduation from the Academy, in June 1928, he was commissioned a Second Lieutenant of Infantry. Travis entered the U.S. Army Air Corps Primary Flying School at Brooks Field, Texas, in September 1928 and, after completion of the course, attended the Air Corps Advanced Flying School at Kelly Field, Texas. He graduated in September 1929, and was sent to the 1st Observation Squadron at Mitchel Field, New York, as an Engineering Officer. In July 1932, he entered the Air Corps Engineering School at Wright Field, Dayton, Ohio, and completed the course in July 1933. In August 1933, he was ordered to the 59th Service Squadron at Langley Field, Virginia, to serve as Supply Engineering and Operations Officer. From February to May 1934, during the Air Mail scandal, Travis served as the Engineering Inspector for the Eastern Zone of the Army Air Corps Mail Operation (AACMO) based at Floyd Bennett Field, Brooklyn, and Mitchel Field, Long Island, in New York. Upon completion of this assignment, he returned to Langley Field, where he became the Engineering and Armament Officer of the 49th Bombardment Squadron, 2nd Bombardment Group, in December 1934. In March 1935, he was made a Flight Commander in the 49th Bombardment Squadron and, in October 1937, he transferred to the Headquarters Staff of the 2nd Bombardment Group as the Group Intelligence and Armament Officer. In March 1939, Travis went to the 72nd Bombardment Squadron at Hickam Field, Hawaii, to serve as Operations Officer and a Flight Commander. In July 1939, he became the Commanding Officer of the 72nd Bombardment Squadron. He was named Materiel Officer of the 5th Bombardment Group in September 1940. Major Travis returned to the U.S. mainland in May 1941, when he was assigned to the 29th Bombardment Group, MacDill Field, Florida, to serve as Commanding Officer of the 43rd Bombardment Squadron. He was subsequently elevated to Group Executive Officer and later to the position of Group Commander of the 29th Bombardment Group. As a Lieutenant Colonel, he moved with the 29th BG in June 1942, when the unit was relocated to Gowen Field, Idaho. In September 1942, as a Colonel he became Commanding Officer of the 15th Bombardment Training Wing, Gowen Field. He moved with the 15th Bombardment Wing when the unit was transferred to Sioux City AAB, Iowa, in February 1943. After his promotion to Brigadier General on 4 May 1943, he became Commanding General of the I Bomber Command, El Paso AAF, Texas, in July 1943. Brig Gen Travis was assigned to the European Theater of Operations in August 1943, and assumed command of the 41st Combat Bombardment Wing of the Eighth Air Force in September 1943. During this time, he flew 35 missions over enemy-occupied territory, including a mission to destroy the Focke-Wulf AGO Flugzeugwerke fighter plant in Oschersleben, Germany. He returned to the U.S. in September 1944 and was named Commanding General of the 17th Bombardment Training Wing, Grand Island AAF, Nebraska, which later moved to Sioux City AAB, Iowa. In August 1945, Brig Gen Travis was assigned to command the Sioux Falls Army Air Field in South Dakota. Approximately one year later, Travis attended the National War College. He graduated in June 1947 and in August became Chief of Staff of the Seventh Air Force at Hickam Air Force Base, Hawaii. He later assumed command of the 7th Air Division (formally the Seventh Air Force) at Hickam AFB. In September 1948, he was appointed Commanding General of the Pacific Air Command at Hickam, a position he held until June 1949. On 17 June 1949, Travis became the Commanding General of the 9th Strategic Reconnaissance Wing at Fairfield-Suisun AFB, CA. He assumed command of the 5th Strategic Reconnaissance Wing on 8 November 1949, commanding both Wings at the base.

Tucker, Cpl. John L. - passenger. Age 20, John was born February 10, 1930, a son of Clarence and Effie Tucker. He was part of a large family. He enlisted in the Air Force on January 5, 1949 and was serving with the 99th Bomb Squadron of the 9th Bomb Wing at the time of the tragedy. He is buried in Manasota Memorial Park, Bradenton, FL.

Vanderpool, Sgt. Richard Dale - passenger. Richard was born February 27, 1924 in Shelbyville, IL, the son of Clark and Alice Bryson Vanderpool. His family moved to Peoria, and there he was employed by Schelm Brothers of East Peoria until he enlisted in the US Air Force in Michigan in 1946. He re-enlisted in 1946 and was a technical expert on bomb sights. He served two years in Japan after the end of World War II. He was serving with the 99th Bomb Squadron based at Fairfield-Suisun AFB (later Travis AFB) at the time of the tragedy that took his life. He was survived by his parents, one daughter Kathryn Marie Vanderpool of South Bend, Indiana, and three sisters: Mrs. Joan Mason and Mrs. Jack Hillyer of Peoria and Mrs. Betty Russell of Shelbyville. He is buried in Glenwood Cemetery, Shelbyville.

Vetter, Pfc. William R. - base firefighter. He was the son of Mrs. Edward (Violet L.) Valibile of Manitowoc, WI. William was born October 24, 1931 in Wisconsin. He is buried in Evergreen Cemetery, Manitowoc.
Among the Seriously Injured:
Braz, Capt. William Gedman - age 28, bombardier, Chicago, IL. He was born December 21, 1920.

Brotherton, 1Lt. Robert G. - age 28, pilot. He was also listed as an auxiliary aircrew member. From Vacaville, California, he was born September 25, 1923.

Case, Marvin - base personnel

Cox, Capt. Jack R. - age 28, radar observer. Born December 21, 1921, he was from Hereford, Texas.

Lowther, Clifford - base personnel

O'Brien, Francis D. - base personnel
Among the Less Seriously Injured:
Johnson, 1Lt. Carter W. - age 25, pilot, Neubert, Tennessee. He was listed as co-pilot at the time of the accident. He was born November 28, 1924.

Midura, 1Lt. Matthew Anderson - age 33, navigator. From Cumber, Rhode Island, he was born November 25, 1916.

Moore, Tech. Sgt. Donald W. - age 31, flight engineer. He was from Denver, Colorado.

Steffes, Capt. Eugene I. Jr. - Age 28, he was an aircraft commander, also listed as pilot. From East Chicago, Indiana, he had minor injury but lost two left fingers. He was born September 06, 1921.

Voyce, 1Lt. Charles E. - passenger. Born May 24, 1921, he was an aide to the General, San Mateo, California. he was from Knoxville, Iowa.
---
News Articles
News Article, August 9, 2011
by Mark Wilderman
60th Air Mobility Wing History Office

8/9/2011 - Travis Air Force Base, Calif. -- On August 5, 1950, the worst disaster in the history of Travis occurred. Brig. Gen. Robert Travis, commander of the 5th Strategic Reconnaissance Wing and the 9th Bombardment Wing at Fairfield-Suisun Air Force Base died at age 46 in the crash of the Boeing B-29 "Superfortress" in which he was traveling. The aircraft crashed five minutes after a nighttime takeoff at Fairfield-Suisun AFB as part of a 15-ship deployment to the Pacific just after the beginning of the Korean Conflict.

The crash killed 11 other crewmembers and passengers aboard the B-29 and seven people on the ground, including base firefighters and volunteers attempting to rescue the crew. In addition, 49 injured people were admitted to the hospital and 124 others received minor injuries. Eight of the B-29's crew and passengers (including both pilots) survived the crash.

According to the Air Force accident report, the cause of the crash was a number two engine propeller malfunction at liftoff, combined with the failure of the landing gear to retract, causing the aircraft to be unable to climb from an altitude of 200 feet. The aircraft's left wing struck the ground at 120 mph as the pilots attempted to make a 180-degree turn to the right back towards the base for a landing. Approximately 20 minutes after the crash and fuel fire, the highly-explosive filler in the aircraft's bomb casing ignited, resulting in a blast that severely damaged a base trailer park near the main gate and was clearly heard 30 miles away in Vallejo.

The bomb explosion killed five base firefighters, Pvt. Emile Bender, Jr., Pvt. Edward Goins, Cpl. Doyle Hanstead, Staff Sgt. John McCollum, and Pfc. William Vetter. Two volunteers also lost their lives, Sergeant Paul Ramoneda of food services, who died heroically while attempting to rescue twelve passengers and crew trapped aboard the burning B-29, and Private John Boyles. Sergeant Ramoneda, a decorated World War II Marine Corps veteran, was posthumously awarded the Soldier's Medal, the Purple Heart and the Cheney Medal, (awarded annually since 1927 for an act of valor, extreme fortitude or self-sacrifice in a humanitarian interest performed in connection with aircraft. The Travis Airman Leadership School was later named in his honor.

General Travis saw combat action in World War II as commander of the 41st Combat Wing in England, personally leading 35 combat missions over Nazi-occupied Europe.

On Oct. 2, 1950, an Air Force special order officially renamed Fairfield-Suisun AFB in honor of the fallen commander. The formal Travis AFB dedication ceremony was held on April 20, 1951, presided over by the governor of California, Earl G. Warrem, many prominent dignitaries and the Travis family. The dedication ceremony included a parade and a flyover of the massive Convair B-36 "Peacemaker" heavy bomber."
News Article, Air Force Magazine, February 1986, Vol. 69, No. 2
authored by John L. Frisbee
Greater Mark of Valor

"The B-29 was about to explode. Sgt. Paul Ramoneda knew there were survivors in the tangled wreckage."

The sky was clear with 10 miles' visibility on the night of Aug. 5, 1950, as the B-29 Superfortress lined up for takeoff from Fairfield-Suisun (now Travis) AFB in California, its destination Hickam AFB, Hawaii. Aboard were 19 members of the 9th Bomb Group and Brig. Gen. Robert F. Travis, 9th Bomb Wing Commander--10 men forward and 10 in the rear pressurized compartment.

It looked like a routine flight: good weather, an experienced crew, and only minor write-ups in the plane's Form 1-A. But as the B-29 broke ground an hour before midnight, aircraft commander Capt. Eugene Steffes reported a runaway propeller. He was cleared for an emergency landing on runway 21-L.

Then, Steffes tried unsuccessfully to raise his landing gear in order to reduce drag while he came around for the landing. At an altitude of 200 feet, he notified the tower that the gear would not retract. The Superfort, heavily loaded with fuel, bombs, and ammunition, never made the runway. Its left wing hit the ground near the border of the base and sheared off, rupturing the fuel tanks. The rear compartment was immediately engulfed in flames. As the bomber careened toward a trailer park near the main gate, the fuselage broke at the forward bomb bay, the nose section cartwheeling past the base bake shop.

Four airmen on duty in the shop saw the plane hit, burst into flames, and skid past them. All four ran toward the B-29, Sgt. Paul P. Ramoneda in the lead. As they approached the nose section, they heard cries for help. All the crew members and passengers in the forward compartment were injured, dazed by the violence of the crash, and disoriented in the tangle of darkened wreckage.

In the minutes before the crash crew arrived, Ramoneda and his companions managed to extricate eight men from the nose section and carry them to safety. One of the injured men told the rescuers to get away from the plane before it exploded. Already, .50-caliber ammunition and flares were cooking off, and the heat from the blazing tail section was becoming intolerable. But Ramoneda knew there were still survivors in the nose section, which was now beginning to burn.

Since the crash crew had arrived, Sgt. Lewis Siqueira, the NCO in charge of the four bakers, ordered his men back to the bake shop.

"Ramoneda was behind the rest of us, and one of the other men yelled at him to come on," Siqueira later recalled. "He started toward us and then yelled back that he was going to save those men and turned around and started back for the plane. The last time I saw him, he had wrapped his apron around his head and face and was going back into the plane, which was on fire. That was when it blew up."

Exploding bombs left a crater 60 feet in diameter and six feet deep. Ramoneda, five members of the crash crew, and 12 men still aboard the B-29 were killed in the fire and explosion, and 175 others in the area were injured.

Heroism has been defined as an act performed voluntarily at the risk of one's own life--an act which, if not undertaken, would subject a person to no justifiable criticism. By that criterion or any other, Ramoneda died a hero. He was awarded the Soldier's Medal posthumously and later the Cheney Award, which has been given annually since 1927 for an "act of valor, extreme fortitude, or self-sacrifice in a humanitarian interest performed in connection with aircraft." In April 1951, Fairfield-Suisun was renamed Travis AFB in honor of General Travis, who died in the crash.

Before he joined the Air Force, Ramoneda had served with distinction in the Marine Corps during World War II. But his heroism on the night of Aug. 5, 1950 was not the spontaneous reflex that often yields unexpected bravery in the heat of combat. He had been at the crash site for at least 10 minutes, had felt the awful heat of the fire, had heard the ammunition detonating, and had been warned of an imminent explosion. Nevertheless, he deliberately accepted the certainty of painful injury and the probability of death in his attempt to save the lives of men he did not know.

For all that, his act had the greater mark of character, and of valor."
Environmental Investigation Report
Environmental Investigation Report (PDF File)
---
The Travis Crash
courtesy of Travis AFB Heritage Center
Brigadier General Robert F. Travis ... 1904-1950
Brigadier General Robert F. Travis' untimely death in a tragic crash of a B-29 on August 5, 1950, cut short a brilliant military career that had begun with his graduation from West Point in June 1928. An accomplished military aviation engineer and command pilot. Travis saw action in World War II as commander of the 41st Combat Wing in England. He personally led his men in 35 combat missions over Nazi-occupied Europe. The decorations that he received included the Distinguished Flying Cross with three oak leaf clusters, the Air Medal with three clusters, the French Croix de Guerre with palm, the Legion d'Honneur, and the Purple Heart

Scion of a prominent military family (his father was an Army general), Travis was born in Georgian 1904. He assumed his first command at Hickam Field, Honolulu in June 1939 as commander ofthe72M Bombardment Squadron. He received his brigadier general's star in September 1944 after assuming command of the 41st Combat Wing in Europe. He was then reassigned to Hickam, this time as Commanding General, Pacific Air Command. His brilliant wartime bombing record and rapid rise in rank made him an obvious choice to supervise the Strategic Air Command's development of Fairfield-Suisun AFB in 1949. Attaining command of both SAC wings at the base granted him an additional distinction during his tenure there.

Brigadier General Travis' popularity and the effect of his death in such a terrible accident led local civilian leaders and base officials alike to propose renaming the base in his honor. Their proposal was favorably received in Washington and on October 20, 1950, Fairfield-Suisun AFB became Travis AFB. California Governor Earl Warren presided over the formal dedication ceremonies, which many dignitaries and members of the Travis family attended, on April 20, 1951.


The Crash of the B-29 on Travis AFB, CA
August 5, 1950
On August 5th, 1950, Communist troops came across the Naktong River to southwest and northwest of Taegu on the Korean peninsula. They begun filtering troops to the rear of American lines, forming a tense political situation. The perimeter around Pusan was forming. The increasing hostilities, and the North Koreans numeric superiority left few options for the United Nations and American ground forces. But, on that day, a Mark IV nuclear bomb was dispatched to the eastern Pacific. It would travel in two parts. One part, the dense uranium core, and the other, the high explosive outer casing, would each be carried to the area via separate aircraft, routes, and times. A B-29 bomber left Fairfield-Suisun Air Force Base on August 5th, 1950, carrying the high-explosive portion of the Mark IV. ... About twenty minutes after the crash occurred, the high explosives in the bomb casing ignited. The blast, felt and heard over 30 miles away, caused severe damage to the nearby trailer park on base.
Travis Crash Exhibit

The explosion was heard many miles away.

Late in the evening of 5 August 1950 the lead plane of a fifteen-plane flight of B-29s lost control of an engine during take off from the Fairfield-Suisun Air Force Base. The heavily loaded airplane lost a second engine while attempting to return to the runway. An electrical power failure added to the airplane's difficulties but the pilot, Captain Eugene Steffes, was able to set the aircraft down in a controlled sliding crash that saved the lives of several crew-members.

As the aircraft slid forward it spun to the side and broke apart just forward of the bomb bay so the cockpit area became separated from the rest of the airplane. This allowed rescuers a chance to remove crew members from the forward part of the airplane. Brig. General Travis was one of several crew members rescued alive from the cockpit area but he died from crash related injuries en route to the hospital. Captain Steffes, the pilot, crawled out the pilot's window and fell to the ground. He was rescued by members of the 9th Food Service Group who were working near the crash site.

The rest of the aircraft was loaded with fuel and caught fire before rescuers could save any of the ten people from the rear of the airplane. As the fire burned, the 5000 pounds of high explosive inside the Mark IV atomic weapon became overheated and exploded. This explosion was very powerful and was heard many miles away. Several people were killed by the blast and others suffered from loss of hearing and other injuries. The explosion also scattered wreckage over a wide area.

At the time of the crash the people of the United States were in turmoil about "atomic spies" stealing U.S. Government secrets and giving them to the Russians. Fear of the Communist successes in Europe and Asia was pervasive and there was a nationwide consensus to hide military information from "Communist spies." In this social climate people were willing to close ranks behind official stories claiming that the mission was "a routine training flight" even though the local press and most of the community knew there was much more to the story. Civic leaders stood squarely behind the tragic training mission story as they openly campaigned for the base to be renamed for General Travis. Many notables including the California Governor Earl Warren attended the dedication ceremony. Interest in the incident gradually faded away and newcomers to the community seldom heard of the crash. The rapid growth of Solono County insured that what had been a well-known incident within the community became a forgotten footnote of the cold war.

Complete coverage of the Travis Crash Exhibit is found in an article written by Jim Houk in the October 1999 Travis Air Museum News. This was a special edition which was devoted to the Travis Crash Exhibit.

Another story about the Travis Crash from the Spring 2005 Travis Air Museum News:
The Crash of General Travis: The Virginia Esh Story
- By Sandra Miarecki
Here's the story of Virginia Esh who witnessed the crash of General Travis' B-29 in August 1950. I met Virginia while selling air show coins at the BX in June, 2000. She saw the General Travis face on a coin and said he was a very nice man. I asked her some questions and found out she knew him and was on the base at the time of the crash. I later called her to get her story.

Virginia moved to this area in 1943 when her parents relocated. She went to Armijo High School and then worked for the telephone company doing the billing for the people who lived at Fairfield-Suisun Airfield. She met her future husband Bobby Chase through her telephone dealings. They were married and lived in base housing, which at that time was located directly beneath the eucalyptus trees in today's Eucalyptus Park. Her husband ran Base Operations at the time, and the base was busy with folks returning from the Pacific after World War II ended.

On the day of the crash, she was at home having a late dinner with her husband. He got a phone call that there were some B-29s preparing to take off, and he left to go launch them. Virginia was recovering from polio at the time and was in a back brace. The planes took off, and Bobby returned home. A little while later, Virginia heard aircraft engines and mentioned it to Bobby. He said all the planes had left, but then a very low flying aircraft flew over their house. It was a very cold and foggy day in August, and she said she thought the plane was trying to find the runway to land. Her husband grabbed her and they both hit the floor. The second time around, the plane struck the tops of the eucalyptus trees and crashed just south of today's Family Camp Ground. There were some folks at the bakery not too far away, and they were the ones who ran over to help, pulling people out of the plane. Because of the fire, oxygen bottles were shooting out of the aircraft and flying in the air, striking the roof of a nearby house. It was some time later that General Travis died from his injuries.

She remembers General Travis well. He and his wife were good friends of theirs. In fact, General Travis loved to build model airplanes and used the Chase's spare bedroom as his workshop. She said he was a sweet man, and the base was very sad when he died.

At the time of the crash, the people at the base were trying to think of a new name for the base because it was hard to say Fairfield-Suisun. The city council members didn't like that idea, but when General Travis was killed, it seemed a perfect way to honor him and find an easier name. This helps explain why the renaming went so quickly.

Ironically, Virginia's current house in Vacaville was directly under the flight path of a C-5 when it made a flyby for a special occasion over the baseball stadium in Vacaville. When she heard and saw the plane, which was flying quite low, it immediately brought back memories of the crash of the B-29. However, with her vast experience with aircraft during her husband's Air Force career, she soon realized that the plane was merely flying low, so she was not among those who called in to report a crashing C-5!
---
Investigation Findings

Report Page 1
(Click picture for a larger view)

Description Page 1
(Click picture for a larger view)

Description Page 2
(Click picture for a larger view)

Description Page 3
(Click picture for a larger view)

Description Page 4
(Click picture for a larger view)

Findings Page 1
(Click picture for a larger view)

Findings Page 2
(Click picture for a larger view)

Recommendations
(Click picture for a larger view)